Cash Coaster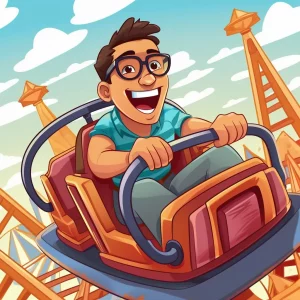 Get ready to ride the thrill of a lifetime with Cash Coaster – the 5-reel, 30-payline video slot game that pays both left to right and right to left. That's right – you'll be getting paid no matter what direction you're spinning those reels in!
And, of course, it wouldn't be Cash Coaster without the roller coasters! Once you've covered reels 1 and 5 with Wilds, these spinning carriages of terror can swing by and contribute to this game's unique and enjoyable theme. Be sure to hold on tight to your seat (or your phone, if you're playing on the go)!
But that's not all – Cash Coaster also features two special symbols that can take your gameplay mechanics to the next level. First up, we have the Wild symbol, which can substitute for any other symbol in the game (except for the Scatter) to help you create winning combinations. Then, there's the Scatter symbol, which can trigger the Free Spins bonus round.
This is where players can benefit from either reel 1 or 5 (or both!) going completely Wild at the same time. It's like a carnival game where you never know what surprise is around the corner – except in Cash Coaster, the surprises come in the form of potential big wins!
So if you're looking for a slot game that's equal parts fun and thrilling, look no further than Cash Coaster. Just don't blame us if you get a little dizzy from all the excitement!
Special Symbols
Cash Coaster is an exciting and dynamic casino slot game that features two special symbols. First up, there's the Wild symbol, which we all know and love. This symbol has the power to replace all others on the reels except for the Scatter symbol and can help you create more winning combinations. It's like having a secret weapon at your disposal, and who doesn't love that?
Next, we have the Scatter symbol, which is represented by the Free Spins ticket. When you land three Scatter symbols, you'll trigger the free spins feature, which is always a crowd-pleaser. And if you're lucky enough to get three free spins tickets on the reels during the feature, you'll earn an additional six free spins. That's more free spins than you can shake a stick at!
Overall, the special symbols in Cash Coaster really add to the excitement and gameplay. They're like the cherry on top of an already delicious sundae, or the sprinkles on a cupcake. Okay, now we're getting hungry.
Get your Thrills with the Free Spins Feature
When it comes to online slot games, nothing beats the thrill of a good free spins feature. And the Cash Coaster slot game delivers just that, with its exciting free spins round that promises to take your gaming experience to the next level.
As soon as you land 3 Scatter symbols on the reels, the free spins feature is activated. And once you're in, get ready for the ride of your life! You'll be given the chance to choose one of three ticket booths on the screen to reveal how many free games you'll play. And here's the best part – during the free spins round, reels 1 and 5 turn wild, giving you even more chances of hitting the jackpot.
And if you're lucky enough to reactivate the feature, you can keep spinning and winning to your heart's content. So fasten your seatbelts and get ready to take a ride on the Cash Coaster.
Overall, we think the free spins feature is the highlight of this slot game. With the potential to win big and reels turning wild, it makes for an exciting and immersive gaming experience. So if free spins are your thing, we highly recommend giving Cash Coaster a spin. Who knows, you might just get lucky and win big!
Recommendations for Similar Games
Looking for other slot games with a theme park vibe? We have you covered! If you're feeling nostalgic for the classic arcade-style game, try your luck with Roller Coaster Slot from Novomatic. With 9 paylines and stunning graphics, it's sure to thrill.
Or maybe you're looking for something a little more wild? Check out Crazy Carnival from Playtech, where the rides are just as vibrant and unpredictable as the prizes you could win! This game offers a whopping 25 paylines and some seriously entertaining bonus features.
But if you're not quite ready to let go of the thrill ride that is Cash Coaster, don't worry – you can still keep spinning and racking up those wins! Keep playing and see if you can break your own high score and win even bigger prizes. Just be careful not to get too dizzy!
FAQ
What is the theme of Cash Coaster?
The theme of Cash Coaster is a carnival or amusement park ride.
How many paylines does Cash Coaster have?
Cash Coaster has 30 paylines.
Does Cash Coaster pay out left to right and right to left?
Yes, Cash Coaster pays out both left to right and right to left.
What are the special symbols in Cash Coaster?
The special symbols in Cash Coaster are Wild and Scatter symbols.
What is the Random Wilds feature in Cash Coaster?
The Random Wilds feature in Cash Coaster can cause reels 1 or 5 or both to go completely Wild at the same time.
What happens in the Free Spins feature in Cash Coaster?
In the Free Spins feature of Cash Coaster, players can win 4, 5, or 6 free spins with reels 1 and 5 completely Wild for the duration of the feature. If 3 free spins tickets appear during the feature, players earn an additional 6 free spins.
What is the RTP of Cash Coaster?
The RTP of Cash Coaster is between 91.99% and 96.06%.
What is a similar slot machine to Cash Coaster?
A similar slot machine to Cash Coaster is Roller Coaster Slot, produced by Novomatic and featuring stunning graphics and 9 paylines.
What we like
Pays out both ways
Good theme park experience
Free spins with Wild Reels
Random Wilds feature during base game
What we don't like
No bonus game
Can be a bit noisy