Cash Camel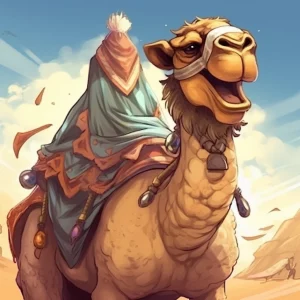 Cash Camel is not only an entertaining slot game, but it also offers a straightforward gameplay experience, suitable for both novice and experienced players. The game features five reels and twenty flexible pay lines, providing more than enough opportunities to make some serious cash.
If there's one thing that we loved about Cash Camel, it's its betting range – you can bet as little as 20 cents or as much as 20 $ on each spin. That's right – you can now play your favorite slot game without breaking the bank! And with each coin's value ranging from a cent to 1 $, you can customize your bets as you please.
Cash Camel offers an Autoplay feature, allowing you to sit back and relax while the game automatically spins the reels for you. You can set the number of automatic spins you want, and then sit back, sip your coffee and wait for the magic to happen.
We have to admit, playing Cash Camel was a lot of fun. We loved the wild and scatter symbols, which added an extra layer of excitement to the game. Oh, and did we mention that they even offer free spins? Get three or more scattered symbols on the reels and trigger up to 10 free spins. If that's not enough to make you jump for joy, then we don't know what is.
In conclusion, Cash Camel is a fantastic slot game that we recommend to anyone looking for an entertaining and potentially lucrative experience. So go ahead, give it a spin, and let's see if you can win the ultimate prize – the treasure hidden in the desert sands!
Graphics
The game graphics are cartoonish and aesthetically pleasing, capturing the player's attention with a vibrant color palette and visually stunning icons. You'll feel like you're playing in a desert wonderland with all of the vibrant colors in this game.
It's almost like Cash Camel is a welcome respite from the hustle and bustle of the typical casino experience, transporting you to some mysterious Arabian night. Plus, the tent-stall setup of the reels adds to the game's overall excitement and makes it feel like you're really camping with some funny looking camels by your side.
The graphics in Cash Camel will have you feeling like you're on a wild, fun-filled adventure, complete with comically animated symbols. You might even question whether or not you're playing a slot game or participating in some weird cartoon race. It's certainly one of the more visually appealing games out there, and it's guaranteed to grab your attention right from the get-go.
Special Symbols: Wilds and Scatters
Cash Camel, the slot game that takes you on a magical journey through the desert, features two special symbols that you should be on the lookout for. These symbols are none other than the Wild and Scatter. If you're lucky enough to stumble upon them, you're in for some excellent rewards and a whole lot of fun.
The Wild symbol is embodied by a cactus, which can replace all other symbols except for the Scatter. The cactus is one chatty fellow, always ready with a quip or a joke to brighten up your day. But don't let his thorny exterior fool you. The Wild can provide you with some fantastic value, getting you closer to those big wins you've been dreaming of.
And speaking of big wins, let's not forget about the Scatter symbol. The charming and influential camel is the Scatter in Cash Camel, and landing three or more of them will trigger ten free spins. If you're lucky enough to land four camels, you'll get twenty free spins to keep you going. And if all five reels light up with the camel symbol, you're in for a treat, as you'll be awarded the maximum of thirty free spins.
But the fun doesn't stop there. During these free spins, the Wild symbol multiplies your winnings up to 10x. So, if you thought the camels were generous, the cactus is here to blow your mind.
All in all, Cash Camel is a slot game that delivers on its promises. The Wild and Scatter symbols add an extra level of excitement to the game, not to mention the great rewards they bring. So, saddle up, and join our friend Mr. Cactus and his camel companions for a wild ride in the desert.
Return to Player (RTP)
Are you ready to explore the vast desert with Cash Camel slot game? Before you start spinning the reels, it's essential to know that the return to player (RTP) is 95.96%. This rate is pretty standard when it comes to online slot machines, so you can expect a fair and balanced gaming experience.
With this RTP rate, you won't be winning big bucks instantly, but you can still make a decent profit while having fun. After all, who doesn't love the thrill of betting it all in hopes of hitting that massive payout?
However, remember that Cash Camel is not solely about winning big. There are plenty of other exciting features, such as free spins, multipliers, and bonus rounds that will keep you entertained for hours. So, go on an Arabian adventure with the Cash Camel and soak in all the desert has to offer!
Volatility
What's the point of playing a slot game if you're not in it to win it? Luckily, Cash Camel understands this universal truth: in order to succeed, you need to take risks.
With a high volatility grade of 4/5, this game is not for the faint of heart. Brace yourself for a wild ride, because the wins won't come easy. But when they do, boy are they satisfying. It's like finding a needle in a haystack or a diamond in the rough. Except instead of a needle or a diamond, it's money. Lots and lots of money.
But don't take our word for it. Why not try your luck and see if you have what it takes to ride the Cash Camel to victory? Just don't be surprised if you find yourself feeling like a kid in a candy store, giddy with excitement every time those reels spin.
Free Spins
Free spins are the Holy Grail of any online slot game, granting players the chance to rack up winnings without spending a single dime. While some games make you jump through hoops to activate these coveted free spins, Cash Camel provides players with not one but two opportunities to trigger this feature.
The first way to get free spins is triggered when the cactus lands on the third reel during standard spins. This will cause barrels to appear on the main screen that can give you anywhere from 5 to 10 free spins. That's right– just one lucky spin and you could be well on your way to a big payout!
The second way to activate free spins is by landing the Scatter symbol on the reels. If you're lucky enough to get the Scatter three times, ten free spins will be activated. Land it four times and you'll get twenty free spins. But if you manage to land the Scatter symbol on all five reels, you'll trigger a whopping thirty free spins! And to make things even sweeter, multipliers up to 10x can be attained during these free spins, providing players with the chance to really rack up some big winnings.
Overall, the free spins feature in Cash Camel is not only lucrative but also quite easy to activate, providing players with plenty of chances to keep the reels spinning without breaking the bank. So go ahead and give it a spin– who knows, you could be the next big winner!
Multipliers: Get More Bang for Your Buck
When it comes to online slot games, one of the most exciting features players look for is the opportunity to increase their winnings with multipliers. Cash Camel takes this to the next level, offering up to 10x multipliers during free spins! That means you can potentially walk away with a huge payout if the reels are in your favor.
Of course, multipliers are only available during free spins. But that doesn't mean you're out of luck during regular gameplay. The game's Wild symbol is still a valuable asset, as it can replace all other symbols except for the Scatter. So while you won't be getting those sweet multipliers, you'll still have plenty of chances to rack up some significant wins.
And let's be honest, there's nothing quite like the thrill of hitting a big win with a multiplier attached. It's like hitting the jackpot twice! So if you're feeling lucky, give Cash Camel a spin and see if you can multiply your way to riches.
Autoplay Function: Set It And Forget It
The Autoplay function in Cash Camel is a dream come true for avid players who want uninterrupted gameplay throughout the entire game. With this function, players can set the number of automatic spins they want, sit back and relax while watching the reels spin to reveal hidden treasures.
It's like having your own personal assistant spinning the reels for you, without any breaks! Players can take a much-needed break and come back to the game to see their potential winnings accumulate while they're sipping on a Mai Tai by the beach.
However, keep in mind that leaving the Autoplay function on can be a bit like leaving your teenage kids alone for too long – you never know what kind of trouble they're going to get into! The last thing you want is to come back from a relaxing break to find that your credit balance has dwindled down to nothing because of a few unlucky spins.
All jokes aside, the Autoplay function in Cash Camel is a great feature for those who want to enjoy the game without the need for constant clicking. Just set it and forget it, and you might even come back to a nice surprise waiting for you. But always be cautious and play responsibly, you never know when Lady Luck might decide to lend you a helping hand!
FAQ
What is the RTP of Cash Camel?
Cash Camel has a return to play (RTP) of 95.96%, which is similar to most online slot machines.
What is the volatility of Cash Camel?
The volatility of Cash Camel is 4/5, which means you can expect some significant wins although they may not be very frequent.
What are the regular symbols in Cash Camel?
The regular symbols in Cash Camel include the numbers and letters of poker cards from 10 to Ace, and four desert animals: the snake, wolf, scorpion, and iguana.
What is the Wild symbol in Cash Camel?
The Wild symbol in Cash Camel is a cactus. It can replace all other symbols except for the Scatter to form winning combinations.
What is the Scatter symbol in Cash Camel?
The Scatter symbol in Cash Camel is the main character, a smiling camel with a hat. Landing it three, four, or five times triggers ten, twenty, or thirty free spins respectively.
What are the special features of Cash Camel?
The special features of Cash Camel include a bonus game triggered by the cactus Wild symbol during regular spins, where barrels appear that can award free spins. The other feature is the ability to earn multipliers up to 10x during free spins when the Wild symbol appears on the third reel.
How many pay lines does Cash Camel have?
Cash Camel has a total of twenty pay lines that are flexible, which means players can choose how many of them to activate when placing bets.
Does Cash Camel have an Autoplay function?
Yes, Cash Camel comes with an Autoplay function that allows players to set a specific number of automatic spins and sit back to enjoy the game without manually spinning the reels.
What we like
Flexible betting range
Appealing cartoonish graphics
Two chances for free spins
High volatility with great rewards
What we don't like
Average return to player score
Low frequency of wins