Bubble Craze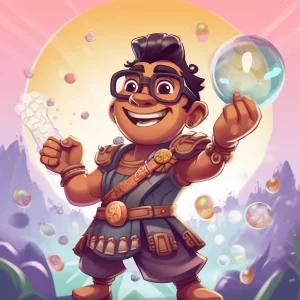 Bubble Craze is like that cool kid in school who didn't follow the rules. Instead of playing in the typical slot machine style, you'll need to align symbols in formations of four or more with the same color. Let's be honest – who needs boring old reels, anyways?
To make things even more peculiar, the game takes place on a hexagonal grid. Because, you know, rectangles are so passé. The bubbles float up into position from the bottom of the screen, waiting for you to make your move.
If you're not successful in creating a winning combination, the bubbles will burst, adding some drama to your gaming session. It's like watching a thrilling episode of your favorite TV show, except you're the one in control.
But don't worry, it's not over yet! New bubbles will take the place of the old ones, giving you another shot at greatness. And let's be honest, who doesn't love a second chance? It's like going back to high school but making all the right choices this time.
If you're looking for a unique and innovative gaming experience that doesn't stick to the status quo, Bubble Craze might be the perfect game for you. Who said slot games had to be boring, anyways? Give it a shot and watch your world get turned upside down – metaphorically speaking, of course.
Symbols and Payouts
Have you ever thought that bubbles could be a source of winning payouts? Well, Bubble Craze is here to prove you wrong! Catchy bubbles in different colors, including red, blue, green, orange, yellow, purple, and brown, are present on the reels, along with standard slot machine symbols. Do not burst them too early!
Delve deeper into the game, and you'll discover that payouts can reach heights of 1,000 coins for a full grid of brown and purple bubbles, and the maximum available win is 10,000 coins, but only if all 19 silver bubbles transform. It's like finding a pot of gold at the end of a rainbow.
The game also features a free spin bonus round triggered by landing three or more atom-like bubbles, and you are awarded five free spins. Could there be a better way of rewarding you for bursting only a few bubbles than the chance to spin the reels at no cost? I don't think so!
Graphics and Design
Get ready to be mesmerized by the bubbly atmosphere of Bubble Craze's graphics. The game is a visual treat with an exciting theme of colorful bubbles that pop with every win. The hexagonal grid adds a unique touch to the traditional reels and makes the game stand out from the crowd of slot games.
Everything from the bubbly sound effects to the mesmerizing animation is designed to keep you engaged and entertained. The staggering detail put into the graphics and the design is commendable. Bubble Craze is truly a feast for the eyes with its bright and vibrant color scheme, which makes it an ideal spot for anyone looking to uncover a bubble-tastic adventure.
The bubbly background image is a stroke of genius as it complements the theme perfectly. The image of bubbles blends perfectly into the background, creating a stunning and immersive gameplay experience. The graphics are so well done that it's hard to decipher whether you're playing a slot game or caught up in a realm of bubbles and magic!
One thing's for sure, though – Bubble Craze is a game that's worth its weight in entertainment and graphics gold. The graphics and design make for one juicy game that everyone will enjoy.
Bonus Features
If you're looking to get the most bang for your buck, then the Bubble Craze slot game might be the perfect fit for you. The game features several bonus rounds that can help you rack up big wins quickly and easily.
The game's primary bonus feature is triggered by landing three or more atom-like bubbles. Once triggered, you'll be awarded five free spins. What's even better is that every spin is a winner, giving you even more chances to strike it rich. During this bonus round, more Transform and Multiplier bubbles are added to the reel set, making it easier to trigger even bigger wins.
The multiplier bubbles in this game can multiply your winnings by 2x or 5x, adding an extra layer of excitement to each spin. And, to make things even better, only one multiplier bubble can be active for each win. Fortunately, it's always the highest one, so you can rest easy knowing that you're always getting the most out of every spin.
Overall, the bonus features in Bubble Craze are simply top-notch. With multiple ways to win big, you never have to worry about getting bored. So why not give it a try and see if you can pop your way to a huge payout?
Developer and Provider Information
So, you're looking for a new online slot game to play? Look no further than Bubble Craze from IGT – the perfect game if you're seeking something fresh and exciting! IGT is one of the top providers in the online gaming industry, and they have a glowing reputation for delivering high-quality games. Bubble Craze is no exception to this – it is a unique and enjoyable experience from start to finish.
If you're sick of more traditional slot games that focus solely on reels and paylines, Bubble Craze is the perfect antidote. Instead of traditional symbols and paylines, Bubble Craze uses brightly coloured bubbles of various shapes and sizes to create winning combinations. It's a refreshing change from the norm, and it makes for a fun and engaging gameplay experience.
But don't think that this game is all style and no substance – Bubble Craze has plenty of impressive features to keep you entertained for hours on end! One of the standout features is the multiplier bubbles, which can boost your winnings by up to 5x. Plus, the game has an impressive RTP of 96.2%, meaning that you have a great chance of winning big.
So, if you want a game that is a little bit different from the norm, Bubble Craze is definitely worth checking out. With its bright and colourful bubbles, engaging gameplay, and exciting features, it's a game that is sure to put a smile on your face. Give it a try today and see why it's quickly becoming one of the most popular online slot games around!
FAQ
How many symbols do I need for a winning combination?
You need to align four or more symbols with the same color to have a winning combination.
What kind of symbols are in the game?
The symbols in the game are bubbles of different colors, including red, blue, green, orange, yellow, purple, and brown, as well as the transformation bubble and the multiplier bubble.
How many bubbles are in a grid?
There are spaces for 19 bubbles on the hexagonal grid.
Does every spin lead to a winning combination?
No, if the bubbles do not form a winning combination on a spin, they will burst, and new bubbles will take their places.
How much do I win for a full grid of brown bubbles?
A full grid of brown bubbles awards 1,000 coins.
What happens if I land on a multiplier bubble?
If you win with a multiplier bubble, your winnings will be multiplied by the value on the bubble.
How is the free spins bonus feature triggered?
The free spins bonus feature is triggered by landing three or more of the atom-like design bubbles.
Is Bubble Craze similar to other slot machines?
Bubble Craze is a unique game, but if you enjoy bubble-themed games, you may also like Bubble Bubble by Real Time Gaming.
What we like
Unique gameplay mechanics and rules
Excellent graphics and design
Free spins bonus feature with guaranteed wins
Developed by a leading provider in the industry
What we don't like
Bonus round can only be triggered once
Limited number of bonus features