Beetle Jewels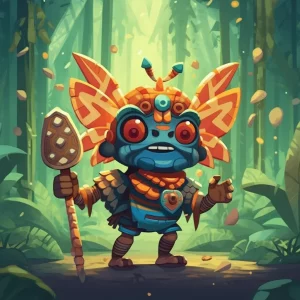 It's time to get your insect game on with Beetle Jewels! This slot machine game comes with five reels and ten pay lines that are filled with dazzling beetles adorned with precious stones. But don't worry if bugs give you the creepy crawlies, these little critters are downright cute!
The simplicity of the game is part of its charm. It's easy enough for beginners to pick up, while seasoned players will love the intuitive structure. You can choose to bet anywhere between 10 cents and 10 $, making it perfect for every level of gambler.
And let's talk about those chips, shall we? Beetle Jewels offers players a range of chip values from one cent to $1. You can bet up to 10 chips per spin, one for each line, giving you plenty of opportunities to win big.
So come on, don't be bugged out! Give Beetle Jewels a spin and see if you can match those beetles and grab yourself some shiny, precious rewards! Who knows, maybe you'll even learn to love bugs in the process.
Winning Potential
If you're looking for a slot game that can give you a decent chance of winning big, then Beetle Jewels might just be the game for you. With an RTP of around 96.4%, you can expect to see a good return on your investment. Of course, we can't guarantee that you'll win big, but who knows? Maybe Lady Luck will smile on you.
One of the things we love about Beetle Jewels is that the volatility is medium-high. That means that you might not win as often as you would with a low-volatility game, but the prizes when you do win will be much higher. And let's face it, who wouldn't want to win big? And with the red beetle with the orange body being the highest value symbol, you could win up to 5000 coins if it appears on all five reels. Cha-ching!
So, if you're feeling lucky and want to give Beetle Jewels a spin, head on over to your favorite casino and get to it. And remember, even if you don't win big, you'll still have fun trying. Who knows, you might even find yourself humming that classic Beatles tune "Come Together" as you spin those reels.
Bonus Features
Who knew that beetles could be so lucrative? In Beetle Jewels, the purple beetle with the blue gem on its back is the star of the show. This little critter is not only a Wild, but it also serves as a Scatter, making it the most coveted symbol on the reels. It's like having a two-for-one deal, but instead of buying a pair of shoes, you're cashing in on some serious winnings.
When the purple beetle appears as a Wild, it's like having a good luck charm by your side. It can replace any other symbol on the reels, which means your odds of winning just got a whole lot better. And when the beetle appears as a Scatter, things get even more exciting. If you see it pop up three, four, or five times, you'll be whisked away to the free spin round.
During the free spins round, the real magic happens. A special symbol is randomly selected to become expansible, which means it can cover an entire reel, increasing your chances of hitting it big. It's like having your own personal genie granting you wishes, only instead of three wishes, you get ten spins to make your dreams come true.
So, if you're looking for a little luck in your life, or just want to experience the thrill of being a beetle whisperer, then Beetle Jewels is the slot game for you. Just be careful not to squish any real beetles when you're celebrating your big win.
Visual Design
When it comes to visual design, Beetle Jewels really hits the mark. The enchanted forest theme is perfectly executed, and the beetles as the main characters add a touch of whimsy to the game. It's not often that you come across a slot game that actually makes you smile, but Beetle Jewels manages to pull it off.
But the real star of the show here is the graphics. They're advanced and visually striking, which is no small feat in the world of online slot games. The attention to detail is impressive, from the fluttering butterfly animations to the intricate beetle symbols.
Overall, I'd say that Beetle Jewels is definitely a looker. The game design is easy on the eyes, with vibrant colors and an engaging soundtrack that perfectly complements the visuals. It's the kind of game that's just as enjoyable to watch as it is to play.
Availability on Online Casinos
Are you ready to bug out with Beetle Jewels? You'll be happy to know this game can be played for free or with real money in all major online casinos. Whether you're saving up to buy a Volkswagen Beetle or you just want to have a good time, Beetle Jewels is accessible to a wide audience of players.
Don't worry about being tied down to your desktop. This game is portable and compatible with all devices, including mobile phones and tablets, providing convenient and uninterrupted gameplay. You'll be able to collect those shiny beetles on the go, no matter where you are in the world.
Beetle Jewels is one of those games that will have you buzzing with excitement. With its user-friendly interface and colorful graphics, you'll be able to navigate your way through the game with ease. And with the chance to win big bucks, you won't be able to resist the allure of those glittering beetle jewels.
So whether you're a seasoned slot player or a newbie looking for some fun, Beetle Jewels should be at the top of your list. Head to your favorite online casino and give it a spin. You won't be disappointed.
FAQ
What is Beetle Jewels?
Beetle Jewels is a slot machine game produced by iSoftBet with exciting graphics and gameplay set in an enchanted forest with beetles as symbols.
What is the return to player percentage of Beetle Jewels?
The return to player (RTP) of Beetle Jewels is around 96.4%, which is quite high compared to other slot games.
Is Beetle Jewels suitable for new or inexperienced players?
Yes, Beetle Jewels is simple and intuitive to play, making it ideal for new or inexperienced players. You can also play in play for fun mode to learn before playing with real money.
What is the maximum bet limit of Beetle Jewels?
The maximum bet limit of Beetle Jewels is $10, and you can bet up to 10 chips per spin, ranging from one cent to 1 $.
What is the volatility of Beetle Jewels?
The volatility of Beetle Jewels is medium-high, meaning that although winnings are not so frequent, you can aspire to obtain high-value prizes.
What is the highest value symbol in Beetle Jewels?
The highest value symbol in Beetle Jewels is the red beetle with an orange body, which can win you a maximum of 5000 coins if it appears on all five reels.
What is the special symbol in Beetle Jewels?
The purple beetle with the blue gem is the special symbol in Beetle Jewels as it plays the role of both Wild and Scatter.
What happens during free spins in Beetle Jewels?
During free spins in Beetle Jewels, a special symbol is randomly selected and becomes expandable, thus increasing the chances of winning.
What we like
High RTP at 96.4%
Engaging Wild and Scatter symbols
Appealing graphics and soundtrack
Compatible with all devices
What we don't like
Limited pay lines at 10
Medium-high volatility could deter some players