Baywatch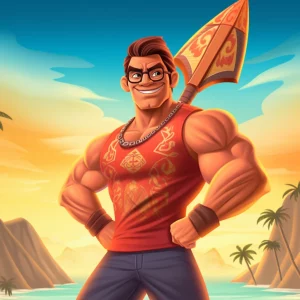 Are you ready to hit the beach? Baywatch is a slot game that will make you feel like you're right there on the sand, with the sun shining and the waves crashing. Created by IGT, this 5-reel, 15-payline game is perfect for players who love the beloved TV show. And let's be honest, who doesn't love watching David Hasselhoff running on the beach?
But enough about the nostalgia! Let's talk about the game. You can play Baywatch from any device, whether you prefer to play on your desktop computer or on your smartphone while laying out in the sun. The betting sizes start at just 0.25$, making it an affordable option for players of all budgets.
The symbols in Baywatch are inspired by the TV show, with the lifeguards taking center stage. Mitch, Caroline, CJ, and Cody all make appearances on the reels, along with a variety of beach-themed symbols like surfboards, binoculars, and rescue buoys.
Overall, Baywatch is a fun and entertaining slot game that will make you feel like you're back in the '90s, watching your favorite TV show. So grab your sunscreen and head to the beach – it's time to spin those reels!
Gameplay Features and Bonuses
Baywatch is more than just a hit TV series that we all know and love. It is also a catchy casino slot game full of surprises and bonuses. Let's take a look at what this game has in store for us:
First up is the Teamwork Feature. Who knew being a lifeguard could lead to such rewards? During this mode, random lifeguard symbols get transformed into a combined team symbol that pays out big. It's a good thing these lifeguards know how to work together!
Next, there's the Tidal Wild Feature, which is perfect for all of you ocean lovers out there. The Wild symbol randomly expands as if it were a tide, covering the entire reel and leading to not one, not two, but three wild reels on reels 2, 3, and 4. Watch out for those big waves!
But wait! There's more! The Free Spin Bonus is triggered by landing the lifeguard hut Bonus symbol on reels 2, 3, and 4. Not only can players win up to 2 times their bet with bonus cash, but they can also choose their favorite lifeguard couple and find out how many free spins they will get. It's like a choose-your-own-adventure for casino lovers!
All in all, Baywatch is full of gameplay features and bonuses that will keep you coming back for more. And remember, always be on the lookout for sharks (figuratively and literally).
Symbols and Characters
Jump into the waves with the Baywatch slot game and rub shoulders with the hit TV show's iconic characters, including the four hunky lifeguards. But you're not just here to admire the view – you're here to win big! And with symbols like a 4×4 jeep and a yellow speedboat, you'll feel like you're part of the action – even if you're just playing from your living room.
But who cares about cars and boats when you can get up close and personal with Mitch himself? He's not just the leader of the pack, he's also the most profitable symbol in the game, offering players 100 coins for 5 on a payline in the standard game. And you know you're in for some serious fun when there's a Surfing Wave Wild symbol thrown into the mix, replacing all symbols except for the Bonus Scatter, which only appears on the central 3 reels. Will you ride the wave to glory? There's only one way to find out!
Volatility and Maximum Win: Is Baywatch Worth the Risk?
Baywatch isn't the world's most volatile game, but it's not exactly winning fame for its predictability either. It's worth noting that the maximum win on offer is 150 times your bet/s, which is decent, but perhaps not out of this world. However, sometimes when playing this slot, you'll come across some rather impressive wins – complete with the whole Baywatch soundtrack (because, let's face it, that's really what we came here for).
But with great wins, as the saying goes, comes greater risk. So it's important to tread lightly when playing Baywatch. Don't spend all your time fawning over the stunning cast – you're here to win some life-changing money! The good news is that Baywatch is designed to give players plenty of chances to win, thanks to all its exciting and varied bonus features. The Free Spins Bonus round is particularly thrilling. If you're really lucky, you could walk away with a ton of cash.
Overall, Baywatch is definitely worth checking out if you're a true fan of the show, or if you're just looking for a game that promises to keep things lively. The maximum win might not be a millionaire-maker, but it's still a tidy sum. Plus, the theme and overall atmosphere of the game make it an enjoyable experience. And hey, we won't judge you if you just want to look at David Hasselhoff's abs for a while!
Device Compatibility And Accessibility
Are you a Baywatch fan looking to engage in some exciting gameplay action? Look no further, as Baywatch online slot game can be played from any device. And the best part is that you don't have to download anything!
Whether you're a devoted fan of the iconic TV show or simply love to spin some reels and win big, Baywatch is a great choice. With bet sizes starting at just 0.25$, it's the perfect game for both casual players and high rollers looking to splurge.
Baywatch is filled with exciting bonus features that are sure to keep even the most seasoned players on the edge of their seats. With its fully optimized design and software, you'll enjoy smooth and fast gameplay. And if you're lucky, you might just trigger one of the game's many bonus rounds!
But what if you're not a fan of the show? Don't worry – there are plenty of other IGT slots to explore. As a matter of fact, Baywatch is just one of the many games available to play in both demo mode and with real money. So why not try a few spins to see what you think?
All in all, Baywatch is a fun and accessible slot game that's well worth your time and money. Whether you're playing on your desktop computer or from your mobile device, you can enjoy smooth and engaging gameplay on any platform. So what are you waiting for? Start spinning those reels and let the good times roll!
FAQ
What is Baywatch?
Baywatch is an online slot game based on the TV show from the 90s that follows the rescues of Mitch, Caroline, CJ, and Cody.
How many reels and paylines does Baywatch have?
Baywatch has 5 reels with 15 paylines.
What is the minimum bet in Baywatch?
The minimum bet in Baywatch is 0.25$.
What are the standard features in Baywatch?
Baywatch has 2 standard features that can be activated randomly, which can lead to 3 wild reels for every spin.
Who is the most profitable symbol in Baywatch?
Mitch is the most profitable symbol in Baywatch, offering 100 coins for 5 on a payline in the standard game.
What is the Tidal Wilds feature in Baywatch?
The Tidal Wilds feature in Baywatch is where the Wild symbol can randomly expand to cover the entire reel and can then expand horizontally to fill 1 or 2 extra reels.
How many free spins can you win in Baywatch?
The number of free spins you can win in Baywatch is determined by choosing 1 male and 1 female character to create your lifeguard couple.
Is Baywatch a fun game to play?
Baywatch is a fun game to play with some exciting features such as the Free Spins Bonus.
What we like
Many bonus features and dynamic gameplay
Can be played from any device without download
Teamwork and Tidal Wild Features for bigger wins
Fans of the TV show will enjoy the theme and characters
What we don't like
Average volatility with a maximum win of 150x the bet per spin
Players who are not fans of the show may not find it as engaging