Balloonies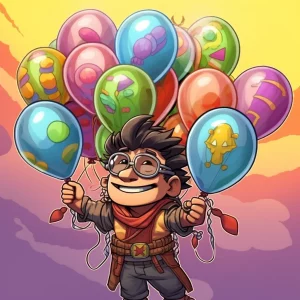 Balloonies, the most refreshing slot game you'll play today, by IGT, is the perfect antidote to the traditional slot gameplays. The game is full of balloons that will float your boat, and your winnings if you're lucky. The symbols coming into the game grid from the bottom will make sure that surprises keep coming. Just like a party, you never know who'll show up next!
The floating reels mode of Ballonies is what makes it stand out from the rest. The game is like a breath of fresh air, bringing new balloons into the game constantly. Just when you thought the fun was over, a new balloon enters the game! It presents an exciting and engaging gameplay that keeps the players hooked.
The gameplay is straightforward with five reels, each with three boxes and 20 paylines. It's easy to get the hang of things, even if you're new to the slot game universe. Don't be fooled by its simplicity though, the rewards are still big and exciting! So, blow up some balloons, pop them and let the winnings flow like confetti at a party!!
Graphics and Design
Balloonies is a game that really pops. The graphics and design are top notch, featuring a colorful and cartoonish theme that will leave you feeling light and fluffy. Unlike other slot games with their boring old designs, the Balloonies game has a unique and enjoyable visual experience.
The symbols on the reels are various animal characters such as Elephant, Dog, Monkey, and Giraffe, along with 3 letters (A, K, and Q) and 3 different special icons. It's like visiting the zoo with extra padding. The animations are beautiful, offering fantastic rendering and fluidity of movement at every spin. It's like watching a circus show right on your computer screen. Speaking of circus, it's time to celebrate the Balloonies visuals as they are truly a work of art.
The high-quality visuals are not only visually appealing but they also enhance the gaming experience. It's like eating cotton candy for the first time, it's satisfying and just makes you feel good. The graphics and design in Balloonies makes the game stand out in the crowd of other slot games. It's like finding the needle in the haystack, but instead of a needle, it's a high-quality and visually stunning game. So, breathe in some helium and let's continue with the fun festivities.
What A Balloon-tastic Bonus Features!
Are you ready to pop some balloons and win big time? Balloonies has got you covered with their fantastic array of bonus features that offer significant chances of winning.
The star-shaped balloon is like the cherry on top; it doesn't matter what the spin outcome is—the star-shaped balloon offers multipliers of x2, x3, and up to x5. You can only find this balloon on reels 1, 2, and 3. It's like a gift from the Balloon gods – pop it open, and you might just be in luck.
The Wild symbol represented by a balloon-shaped icon with a Hedgehog can pop up anywhere on the reels, helping you complete combinations that didn't quite get there. It's like Hedgehogs have come to town and brought their positive energy; we just can't help but smile.
The Scatter symbol takes the form of a red Bonus balloon that can only appear on reels 1, 2, and 3. Spying three of these symbols will activate the free spins bonus round, and whichever parts of the bonus round is your favorite, there is something for everyone. How? Once you activate the free spins, you have to choose one of the three colored balloons; red, blue, or green, which will indicate the number of free spins you've won. You may get anything between 4 and 14 free spins, but who's counting at that point? A bonus is a bonus, right?
So, go balloon crazy – with the different multipliers at play, you can win substantial sums. Spin it, pop it, and win it. Balloonies is waiting for you.
Payouts
Are you curious about the payouts in Balloonies? Well, hold onto your balloons because we're about to break it down for you.
First, let's talk about the RTP. At 94.3%, it's not the highest we've ever seen, but it's still good news for players. That means that for every $100 that's wagered, the game will pay out an average of $94.30. Not too shabby, right?
Now onto the fun stuff – the actual payouts! With 20 paylines and some exciting modifiers like the star-shaped balloon, Wild symbol, and Scatter symbol that can activate free spins rounds, you have a chance to walk away with some decent wins.
But let's be real, we're all in it for the big payout. And in Balloonies, that big payout comes from hitting 5 Elephant symbols along the payline. That'll earn you a whopping 1000 coins! Just imagine all the balloons you could buy with that kind of cash.
Overall, while Balloonies may not have the highest payouts in the world of online slot games, it's still worth playing for its fun, colorful atmosphere and chance to win some decent cash. And who knows, you may just hit that 1000-coin payout and become a balloon animal-making pro.
Overall Experience
Balloonies is a great online slot machine that will satisfy every type of player, from beginners to veterans. Flying Reels' amazing gameplay mechanics, combined with the high-quality graphics and thrilling bonus features, make it an unmissable gaming experience. And trust us, we know a good online slot game when we see one!
The best thing about Balloonies is that it strikes an excellent balance between fun and excitement, without being too risky. So, if you're a casual player or just want to take it easy, then this game is perfect for you. But don't think that means it's not worth a try if you're a more seasoned player. Balloonies has something for everyone.
And the cherry on top? Balloonies has a free-to-play demo version, so you can practice as much as you like before playing with real money. That means you can get a feel for the game and develop some strategies without spending any money.
Overall, we highly recommend Balloonies, whether you're a seasoned slot player or just starting. And if you enjoy it, be sure to check out IGT's other online slots, like Balloonies Farm and Da Vinci Diamonds. They're just as entertaining!
FAQ
What are the special functions of Balloonies?
Balloonies offers special functions such as Floating Reels mode and multipliers up to x5 with the Star symbol. The Wild symbol can help complete combinations and the Scatter can trigger a bonus game with free spins.
What is the Wild symbol in Balloonies?
The Wild symbol in Balloonies is a balloon-shaped icon featuring a Hedgehog, which can appear anywhere on the reels and helps complete combinations.
What is the Scatter symbol in Balloonies?
The Scatter symbol in Balloonies is a red Bonus balloon icon, which can only appear on reels 1, 2, and 3. Three of these symbols can trigger a bonus game with free spins.
What is the Floating Reels mode in Balloonies?
The Floating Reels mode in Balloonies allows new balloons to enter the game in place of exploded balloons that were part of a successful combination, with the possibility of creating further winning combinations during the same spin.
What is the demo version of Balloonies?
The demo version of Balloonies is a free-to-play version of the slot machine, which is good for those who want to practice the game before betting real money.
What are the similar slots to Balloonies?
The similar slots to Balloonies are Balloonies Farm and Da Vinci Diamonds, both of which are other products from IGT.
What is the graphic design of Balloonies like?
The graphic design of Balloonies is cartoonish and colorful, featuring various animal-shaped balloons as symbols. The animations are of good quality and offer excellent rendering and fluidity of movement.
How many paylines and game reels does Balloonies have?
Balloonies has 20 paylines that move on 5 game reels of 3 boxes each.
What we like
Refreshing and unique gameplay dynamic
Colorful and cartoonish design with excellent graphics
Exciting array of bonus features
Decent chance of winning with good payouts
What we don't like
Limited availability of the bonus features
RTP could be higher