Hyper Burst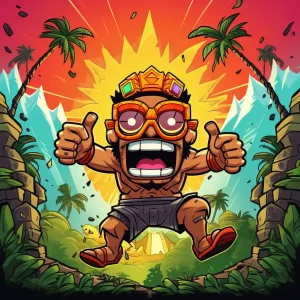 If you're looking for a new slot game to set your world ablaze, Hyper Burst might just be the game for you. With stunning visuals and immersive sounds, this game will transport you to a tropical paradise – complete with a smoking hot volcano in the backdrop.
Boasting 6 reels and 25 paylines, Hyper Burst offers an RTP of 96.02% – so you have a good chance of hitting it big. With bets ranging from a mere 10 cents to a spicy $100 per spin, the game is accessible to players with any budget.
Not only that, but the game's mobile version is also a mobile wonderland, running smoothly on any device. For those looking to add some heat to their online gambling experience, Hyper Burst is definitely worth a try. Who knows, you might just strike gold amidst all that molten lava!
Jackpot And Payouts
Get ready to cash in big with Hyper Burst's potential for wins up to 12,800x your original bet! However, don't be surprised if it takes a few spins before you hit the jackpot – but hey, good things come to those who wait.
At 96.02% RTP, you can trust that your odds of winning are higher than trying to win a staring contest with a statue.
Special Features
Get ready to burst with excitement! The Hyper Burst slot game offers a truly volcanic experience with its Respin mode, triggered by every win. With each respin, the colossal lava reel grows larger and hotter, reaching up to 4×4 in size. This mode comes with a progressive win multiplier of up to 10x, which can really make your winnings explode.
Unlike Mount Vesuvius, this game has no limit on the number of respins that can accumulate. As long as you keep winning, the game will give you more chances to fill your pockets with molten gold. So go ahead and give it a spin – just make sure to bring a bucket of ice water, because things are about to get seriously heated!
Graphics And Sound
Hyper Burst is just a feast for the eyes! The fantastic Tiki-theme, breathtaking eruptions from the volcano, and prehistoric set-up make the game nothing short of impressive. It immerses the player into a world of thrill and anticipation!
Whether you're on your commute to work or lazing away on your couch, the game's quality remains excellent on both desktop and mobile. Technology is wild these days! So, you don't have to be chained to your desk to get your gaming fix.
Mobile Compatibility
Who said you need a desktop to have some fun? Hyper Burst is compatible with all mobile devices and desktops. You can now take your fiery luck with you wherever you go! Whether you're playing on your phone, tablet, or laptop, this game will dazzle you with its high-quality graphics and phenomenal sound effects.
Not a fan of desktops? Neither are we! Luckily, Hyper Burst's mobile version works like a charm on any device! Glide through the game with ease from anywhere you want, while the adrenalin-pumping experience follows you on your phone like your own personal cheerleader.
The Bigger the Risk, the Bigger the Reward: RTP and Volatility
Let's address the elephant in the room: Hyper Burst is not for the faint of heart. This game is like skydiving – risky, exhilarating and possibly life-changing. With a medium to high variance and an RTP of 96.02%, players need to be prepared to take a leap of faith. However, if you're brave enough to hang in there, the potential rewards are massive.
Don't expect the paylines to rain money all the time, but the Respin mode can really bring out some massive wins, especially if you manage to trigger those sweet multipliers. Who says the house always wins? With payouts of up to 12,800x your stake per respin, you might be leaving the casino as a millionaire.
FAQ
What is the RTP of Hyper Burst?
The RTP of Hyper Burst is 96.02%.
What is the maximum win in Hyper Burst?
The maximum win in Hyper Burst is 12,800x your stake.
What is the lowest bet amount in Hyper Burst?
The lowest bet amount in Hyper Burst is 10 cents per spin.
What are the features of Hyper Burst?
Hyper Burst features Respin mode and Hyper mode, with a colossal lava reel that increases in size with consecutive wins.
What is the hit frequency of Hyper Burst?
The hit frequency of Hyper Burst is 22.3%.
What is the volatility of Hyper Burst?
The volatility of Hyper Burst is medium to high.
What is the most rewarding symbol in Hyper Burst?
The most rewarding symbol in Hyper Burst is the red Tiki mask, which gives you up to 8x your stake for 6 in combination.
Are there similar slot machines to Hyper Burst?
Yes, other volcano-themed slot machines include Gold Volcano by Play 'n GO and Jackpot Giant by Playtech.
What we like
Impressive visuals and sounds
Exciting potential for huge payouts
Unique Respin mode with progressive win multipliers
Top-notch graphics and sound on all platforms
What we don't like
Wins may not be very frequent
Paylines are not particularly effective at bringing in wins