Hades Gigablox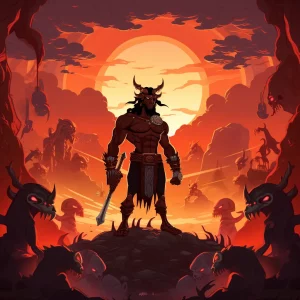 Hold onto your pitchforks and step into the fiery abyss of Hades Gigablox, the online slot game from Yggdrasil. These developers are known for their innovative and high-quality games, and this one does not disappoint. The game takes place in the netherworld, where demonic creatures roam on a 6×6 grid.
But that's not the only thing that's larger than life in this game. The Gigablox mechanic makes symbols expand to cover even more space, upping your chances of hitting the jackpot. And with medium volatility and several betting options, you'll be able to play for hours without feeling like a tortured soul.
Plus, with Autoplay mode, you can maximize your time in hell without even having to lift a finger. Just sit back and watch as the flames of fortune engulf you.
Hades Gigablox: Bigger Symbols, Bigger Wins!
Move over little symbols, it's time for the big leagues! Hades Gigablox features the innovative Gigablox mechanic, which allows symbols to become gargantuan, making winning combinations as big as the gods themselves. These giant symbols can range from covering internal blocks to the entire grid, giving players even more chances to win. And speaking of gods, Hades Gigablox brings a whole cast of characters from Greek mythology to your screen – from the feared Cerberus to the mighty Cyclops, and of course, the lord of the underworld himself, Hades.
Hades: Gigablox Brings the Dark World to Life
Get ready to journey to the underworld and come face to face with some demonic creatures that would give Satan a run for his money! Hades: Gigablox is a visually stunning slot game that will transport you to a world of darkness and danger!
The 3D computer designs used for the demonic creatures are so lifelike that you almost forget you're not really in the underworld! The game's dark tones and eerie soundtrack add to the ominous atmosphere, making this game a thrilling adventure.
In addition to the four playing card suits, you'll encounter an array of Greek mythology figures, including some of the underworld's most famous residents: the Minotaur, Harpies, Cyclops, snakes, Hades himself, and Cerberus.
The Best Way to Win Big: Betting Options and Volatility
If you're looking to reach the underworld riches, you better be aware of the betting options for Hades: Gigablox. The good news is that you can bet as little as 10 cents or as much as 100 $, depending on your preferences. Just select the value of the token, which ranges from 0.002 to 2$ and bet on all 50 paylines for the ultimate payout. But hey, don't forget to assign the highest value to the token, you never know how Hades likes to operate his magic.
As for the volatility, it's like dealing with the gods themselves – sometimes you'll get a low-value prize that won't do much, other times you'll get a higher payout that'll make you want to do a victory dance on Mount Olympus. So, if you have the patience of a saint, Hades might just reward you for your efforts. The theoretical return to the player (RTP) is 96% – not too shabby for a trip to the underworld, right?
Mobile Optimization: Slots on the Go!
Hades: Gigablox is the ultimate game for those who like to bring their slot games on the go! With excellent optimization for any type of mobile device, you can carry Hades around in your pocket and show it off to all your friends. Just make sure not to cause any accidents while distracted by its exciting gameplay, attractive graphics, and sound effects.
And here's the best part: Hades is also available in Play for Fun version, so you can enjoy the experience without spending a single penny or going through any registration hassle. However, be warned that you might get so hooked that you end up investing more than just your time!
FAQ
What is Hades Gigablox?
Hades Gigablox is an online slot game from Yggdrasil with a dark underworld theme and innovative gameplay featuring giant symbols that can cover entire reels.
What is the betting range for Hades Gigablox?
The token value can be set between 0.002 and 2 $, with a total range of bets from 0.10 $ to 100 $ if you bet on all 50 paylines.
What is the volatility of Hades Gigablox?
Hades Gigablox has medium volatility, with both low-value prizes and higher winnings, but you will need patience for the latter.
What is the RTP of Hades Gigablox?
The theoretical return to player for Hades Gigablox is 96%, which is typical for most slot machine games.
What symbols can be found in Hades Gigablox?
In addition to playing card suits, Hades Gigablox features demons and figures from Greek mythology related to the underworld, including Hades himself and Cerberus, the three-headed dog.
What is the special function of Hades Gigablox?
One special function of Hades Gigablox is the ability to transform regular symbols into Wild icons, increasing the likelihood of winning combinations.
Can Hades Gigablox be played on mobile devices?
Yes, Hades Gigablox is optimized for any type of mobile device in addition to computer play.
Is there a free version of Hades Gigablox?
Yes, a Play for Fun version of Hades Gigablox is available for players who want to enjoy the game without investing real money or registering.
What we like
Innovative Gigablox mechanic for more chances of winning combinations
Attractive graphics and sound effects that bring the game to life
Beautifully designed symbols and dark themed soundtrack
Excellent optimization for mobile devices
What we don't like
Medium volatility may require patience for bigger winnings
Limited betting options compared to some other online slot games