Golden Knight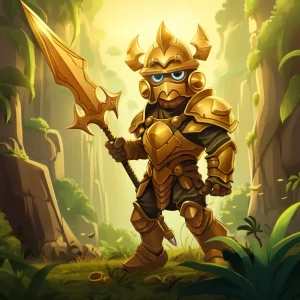 Are you ready to take on the challenge of Golden Knight? This casino slot game features a traditional five-reel, four-row grid structure, along with 40 pay lines that you can aim for to strike it big. And let me tell you, the knight in this game is truly golden!
As with most slot games, players have to land combinations of identical symbols on adjacent reels, starting from the left and going right, in order to win big. The game mechanics are incredibly straightforward and easy to understand making it accessible for beginners. For those of you advanced players looking for a challenge, the simplicity of Golden Knight might not be as exciting. Although, let's be real, who doesn't appreciate a bit of simplicity sometimes?
If you're looking for a slot game that's straightforward yet fun, Golden Knight is definitely worth checking out. Just remember, if you want to win big, you'll need more than just the luck of the draw – but if the knight in shining armor is on your side, anything is possible!
Betting Options And Accessibility
If you're looking for a game that suits your budget and betting style, Golden Knight has got you covered. With a betting range that goes from $0.40 cents (1 cent per line) to an impressive $800, you can choose to play safe or go all-out. It's like dining at a lavish buffet where you get to decide how much you're willing to spend on your plate. Except, instead of food, you get a chance to win some real money!
And that's not all. Golden Knight has something for everyone. Whether you're a beginner or a seasoned gambler, the game is designed to cater to all kinds of players. With low and high stake options, you can enjoy the game no matter what level you're at. It's like a carnival ride that accommodates riders of all heights. So, if you're new to the game, start small and work your way up. And if you're a high roller, let it ride, baby!
Unleash the Excitement with Special Features and Bonus Rounds
Get ready to be thrilled with the fantastic special features of Golden Knight slot game. This slot game has the perfect combination of exciting features and huge payouts that make it stand out from the rest. The game features the wild symbol, which is labelled just "wild." The symbol can replace other symbols to complete a winning combination. You'd better pay close attention and keep your fingers crossed to get lucky with this wild symbol.
Another exciting feature of Golden Knight is the 'Free Games' scatter symbol. When this symbol appears on the central three reels, it activates the Free Spins feature. This means that you can enjoy up to seven free spins. That's just the start! You can reactivate this feature and earn up to 98 free spins! It's like Christmas came early when the free spins are triggered.
But that's not all! Golden Knight really sets itself apart from the pack with a unique feature that you won't find anywhere else – the Scatter Bucks feature. To activate it, you need to play on all 40 pay lines and the 40 pay lines of the free spins. This fantastic feature will add additional value to your scatter symbols, giving you a chance to huge payouts. The Scatter Bucks feature doesn't trigger every time, but when it happens, you can rest assured that you will get the chance to win big.
Overall, Golden Knight is a fantastic slot game that stands out from the crowd. The special features are unique, thrilling, and potentially hugely rewarding. Give it a spin today, and you might just be the next lucky winner to take home the crown jewel of fortunes!
Graphics and Design
Golden Knight's graphics are definitely on point for a medieval themed game, featuring all the staples of the time period, including valiant knights, fair maidens, imposing castles, and majestic creatures such as dragons and horses. It's like stepping into a fairytale with a noble, knightly twist. However, don't expect any 3D animations that pop out of the screen and blow your mind like a knight on a dragon's back. This game doesn't offer as many special effects as some other slots. While this may disappoint hardcore gamers who are used to being dazzled and amazed with every spin, casual players will appreciate the simplicity of the design and lack of sensory overload.
All in all, Golden Knight does a solid job of embracing the medieval theme without going overboard. If you're looking to indulge your inner knight in shining armor and win some riches in the process, give this slot a try. Just don't expect the graphics to be so spectacular, you'll start to feel like you're actually riding through a medieval battlefield.
Disappointing Return to Player percentage (RTP)
Golden Knight may be a shining example of medieval-themed online slot games, but its Return to Player percentage (RTP) is not as grand as its title implies. With a meager RTP of just 95%, this game offers below-average odds to its players, which doesn't bode well for your bankroll.
Truth be told, the chances of securing a payout with Golden Knight are quite slim, especially considering the vast range of betting options it offers. High-stake players, in particular, might be turned off by the lackluster RTP, which makes the game less profitable for them.
We're not saying that Golden Knight doesn't have its charms – the graphics are quite impressive, and the game is easy to navigate. But if you're someone who values the return on their investment, then Golden Knight might not be worth it. Besides, who likes a knight in shining armor that doesn't deliver?
FAQ
What is Golden Knight?
Golden Knight is a slot game produced by High 5 Games with a medieval theme.
What is the RTP for Golden Knight?
Golden Knight has an RTP of 95%, which is below average for slot games.
What are the minimum and maximum bets for Golden Knight?
The minimum bet for Golden Knight is 40 cents, while the maximum bet is 800$.
What symbols can I expect to see in Golden Knight?
Golden Knight has both thematic and non-themed symbols, with the thematic ones having the highest value.
What is the Wild symbol in Golden Knight?
The Wild symbol in Golden Knight serves as a wild card and helps complete winning combinations.
What is the Scatter symbol in Golden Knight?
The Scatter symbol in Golden Knight is represented by the label 'Free Games,' which unlocks the Free Spins function when it appears on the three central reels.
How many free spins can I get in Golden Knight?
You can begin with 7 free spins in Golden Knight and can reactivate them up to a maximum of 98.
What is the Scatter Bucks feature in Golden Knight?
The Scatter Bucks feature in Golden Knight can be activated by playing on all 40 pay lines in conjunction with the 40 pay lines of the free spins.
What we like
Range of betting options from $0.40 to $800
Exciting special features with potential rewards
Easy gameplay mechanics
Accessible to all kinds of players
What we don't like
Low Return to Player percentage (RTP) of 95%
Lacks visually stunning three-dimensional animations