Fox Fire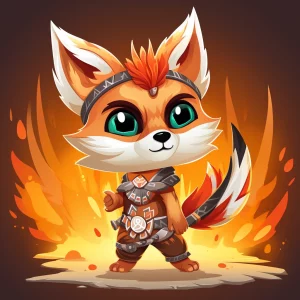 If you're looking for a slot game that's quick and easy to play, then Fox Fire by High 5 is the perfect choice for you. With its 3 rows and 5 reels, this game is straightforward yet still provides exciting winning opportunities that can be expanded with the Ways Out Ways feature!
It's easy to get started – simply place bets of anywhere between 25 and 2,500 credits. Pro tip: if you're feeling lucky, go for the maximum bet and let the foxes take you on an unforgettable journey. Speaking of foxes, they're the key to this game. When you land fox symbols on a reel, you can activate extra rows, increasing the available winning modes in the game. It's like the foxes are saying: "More reels, more fun!"
Overall, Fox Fire is an engaging game that's perfect for anyone who wants to have a good time while playing slots. It's not too complicated, but it's not too simple either, making it a great choice for both novice and seasoned players. Don't be surprised if you find yourself starting to like foxes a little bit more after playing this game. After all, they do have the power to add some sizzle to your winnings!
Design
Fox Fire has a stunning and eye-catching design that is sure to capture your attention as soon as you launch the game. With vibrant colors and graphics, you are instantly transported to a magical world where a sly fox leads the way. The precious stones shimmer and shine, adding an extra layer of glamour to the already visually appealing game. The developers at High 5 have done a fantastic job, making sure that the graphics and sound effects complement each other to create a unique and captivating gaming experience.
If you're anything like us, you'll love playing a game that looks as good as Fox Fire. The colorful and cheery graphics make it a lot of fun to watch and play, even when you're not winning. Whoever said that slot games can't be pleasing to the eye certainly hadn't played Fox Fire before! It's also a perfect game to play if you're in need of a little pick-me-up. The game's cheerful design and music are sure to put a smile on your face.
Overall, we think Fox Fire's design is a winner. Its unique design and pleasing graphics make it stand out from other slot games, and it's evident that a lot of painstaking effort went into creating a captivating gaming experience. We can't help but feel that the sly fox has a few tricks up his sleeve when it comes to making us all winners!
Special Features
Fox Fire, the slot game that will set your heart ablaze with excitement! This game may not have a bonus round of free spins, but it's got something even better – the exclusive Ways Out Ways feature. It's like getting a bonus within a bonus! Sounds too good to be true? Well, try it out for yourself and you won't be disappointed.
What is Ways Out Ways, you may ask? It's the feature that can activate extra rows on the reels, giving you even more chances to win. The more rows, the merrier! Once activated, the reels can expand up to 7 rows, which means more symbols and even more winning combinations. And that's not all – above each reel is a meter that fills up as you hit winning combinations. When the segment becomes full, the reel will contain all 7 symbols for the next five spins before starting over again.
What's great about Ways Out Ways is that it keeps you on your toes and makes every spin more thrilling than the last. You never know when the next row will be added, so you have to keep your eyes peeled and your fingers ready to press that spin button. So whether you're a seasoned slot player or a newbie looking for some fun, Fox Fire with its Ways Out Ways feature is definitely worth a try.
Symbols
Let's talk about the symbols in Fox Fire. First of all, can we appreciate how bright and beautiful they are? It's like looking into a kaleidoscope that could potentially make you rich – what a time to be alive.
My personal favorite is the Wild symbol, represented by the word WILD in fancy purple and gold letters. It's like the symbol is screaming, "hey, look at me, I'm here to help you win big, baby!" And boy does it deliver – it can substitute for any symbol to boost your wins.
But don't forget about the Scatter symbol, because it's just as important. Not only does it transform into an adorable Arctic fox, but it also triggers the Ways Out Ways feature, expanding to 7 rows. Talk about being an overachiever! Plus, it can give you some serious cash if you're lucky enough.
In conclusion, the symbols in Fox Fire are not only pretty to look at, but they also pack a punch when it comes to winning potential. Who knew precious stones and cute animals could be so lucrative? Keep an eye out for these symbols, and they might just make you a winner!
Betting Options
Are you ready to get your betting game on? Before you take a spin in Fox Fire, make sure to check out the rules and paytable. You don't want to be caught unawares – that's not a good look, trust me.
Once you've figured out the game's ins and outs, it's time to modify the value of your bet. Take a deep breath, click on the BET button in the bottom of the controls on the right and get ready to roll! Did you know that Fox Fire has a multiplier that increases as you play? That's right, my friend – the more you play, the better your chances of winning big! Feelin' lucky yet?
You can spin the reels once or choose to set AutoSpins and limits. Personally, I always choose AutoSpins because I'm all about the lazy life. During the game, you can keep tabs on your balance, winnings and bets in the nifty sections right below the reels. It's like having a personal accountant, but without all the boring paperwork.
FAQ
What is Fox Fire?
Fox Fire is a free online slot game by High 5 that features beautifully colored precious stones and an adorable Arctic fox character that expands the reels and gives players greater chances to win.
What are the main symbols in Fox Fire?
Aside from the Wild and Scatter, the symbols in Fox Fire are all brightly colored precious stones that offer generous rewards.
What is the Ways Out Ways function?
The Ways Out Ways function is an extra feature in Fox Fire that activates when the fox Scatter symbol lands on a reel, expanding the available winning modes in the game. The activated reels expand to include one more position per spin up to a maximum of 7 rows.
What is the Wild symbol and how does it work?
The Wild symbol in Fox Fire is the word 'WILD' in purple and gold that can substitute for any other symbol to help create higher winning combinations. The Wild can appear on reels 2, 3, and 4, plus reel 5 when that reel has been activated by the Ways Out Ways feature.
How do I play Fox Fire?
To play Fox Fire, first check the rules and paytable, then adjust your bet by clicking on the BET button. Click the large arrow in the middle right of the screen to spin the reels once, or choose the smaller button to set AutoSpins and limits. During the game, keep an eye on your balance and winnings by checking the sections below the reels.
What is the maximum bet size in Fox Fire?
In Fox Fire, you can place bets ranging from 25 to 2,500 credits, with a multiplier that increases as you increase your play to offer you greater winnings.
What is the maximum prize for each symbol in Fox Fire?
The maximum prize for each symbol in Fox Fire is as follows: Fox: 250x, cluster of red or green precious stones: 100x, cluster of blue or pink precious stones: 80x, and single gem of a coordinated color: 10x.
Does Fox Fire offer a bonus round?
No, Fox Fire does not offer a bonus round of free spins, but the Ways Out Ways feature can increase your chances of winning by expanding the reels and available winning modes in the game.
What we like
Stunning design with bright and beautiful colors
Unique Ways Out Ways feature that can expand the reels
Generous rewards offered by brightly colored precious stone symbols
Flexible betting options with adjustable multipliers
What we don't like
No bonus round or free spins feature
High minimum bet of 25 credits