Fort of Fortune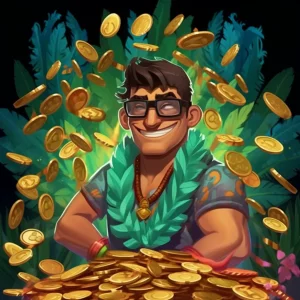 Are you ready to storm the Fort of Fortune? This thrilling slot game features a 5-reel and 3-row grid with 20 fixed paylines. The game has a total bet range starting from a reasonable $0.20 and going all the way up to a massive $200 for high rollers.
With an RTP of 97%, the game offers players a much higher chance of winning as compared to other casino games. That's right, this is no place for losers! Be careful, though, the high volatility can make those wins a bit less frequent. But, when they do come, they are sure to knock your socks off!
Fort of Fortune also boasts the Tumbling Reels feature which is sure to delight all those who enjoy the cascading reel feature. Basically, the symbols that contribute to a win explosion and are replaced with new ones, giving you another chance to win big. Don't forget to activate the Spin-Crease function that unlocks special symbols with very high values. It's like finding a hidden treasure!
Lastly, there's an Autoplay button with loss limits and turbo mode for all those lazy bones who can't be bothered to keep clicking on the spin button. So what are you waiting for? The Fort of Fortune is yours for the taking and the treasure is ripe for the plucking!
Graphics and Design
The graphics of Fort of Fortune are visually attractive and detailed. The game is so aesthetically pleasing that it allows you to immerse yourself in the enchanted world of castles. If you're like me, you'll feel the excitement of the game so much you'll feel like you're being whisked away from the couch and transported to a real-life castle! Now, we can't guarantee that you'll find a knight in shining armor, but you'll definitely find yourself intrigued and entertained.
Speaking of knights and castles, let's talk about the music. The epic soundtrack that accompanies the game will make you feel like you're in the middle of a medieval battle or a grand feast. With the sounds of cymbals and drums in the background, how can you not feel like a king or queen?
The Start and Autoplay buttons are conveniently located at the bottom of the screen, and the settings for the bet are easy to use. And let's be honest, we all need things to be simple when we're winning big in a game like Fort of Fortune!
Bonuses and Special Features
Get ready for some serious win potential with Fort of Fortune's bonuses and special features. Not only does this game have the classic Tumbling Reels function, but it also has the Spin-Crease feature where each consecutive win increases the multiplier up to 5x.
But that's not all, folks! Fort of Fortune also offers high-value symbols that are just waiting to be unlocked. Look out for the demon statue – it acts as the Wild symbol and can replace all symbols except the Scatter, which is represented by the dragon. And if you manage to land the Scatter at least three times, 11 or 12 free spins could be yours for the taking.
So sit back, relax, and let Fort of Fortune's bonuses and special features take you on an adventure. Just don't forget to bring your lucky charm (or your mom's spaghetti). Who knows? You could be the lucky one to unlock those high-value symbols and score some seriously impressive riches!
Payouts
Are you tired of playing online slot games that don't pay out well? Look no further than Fort of Fortune! With a high return to player value of 97%, players have a better chance of hitting those big wins that we all dream of. Of course, the catch is that the volatility is also high, so brace yourself for a bumpy ride. But hey, who doesn't like a little risk and excitement?
Have you tried unlocking the Spin-Crease function? This feature leads to special symbols with incredibly high value, making the potential payouts even higher. It's like finding hidden treasure at the end of a rainbow, except you don't have to go outside and get rained on. Score!
So go ahead, give Fort of Fortune a spin, and see if you can strike it lucky. Who knows, maybe with a little bit of luck and a whole lot of fortitude, you could be the next big winner!
Overall Experience
Looking for a medieval adventure without leaving your couch? Look no further than Fort of Fortune! This slot game transports players to a time of knights, castles, and treasure.
But it's not just the theme that makes this game exciting. With its high RTP value and high volatility, Fort of Fortune offers experienced gamblers a thrilling and rewarding experience.
These keep the gameplay exciting and unpredictable, just like a battle in the middle ages.
But what really sets Fort of Fortune apart is the attention to detail in the graphics and soundtrack. From the clanging of swords to the galloping of horses, players will feel fully immersed in the medieval atmosphere.
All in all, Fort of Fortune is a slot game fit for a king. So why wait? Charge into battle and spin those reels!
FAQ
What is Fort of Fortune?
Fort of Fortune is a slot game set in medieval times with high-quality graphics and sound.
How many paylines does Fort of Fortune have?
Fort of Fortune has 20 fixed paylines.
What is the bet range in Fort of Fortune?
The total bet ranges from $0.20 to $200 in Fort of Fortune.
What is the RTP value of Fort of Fortune?
The RTP value of Fort of Fortune is 97%, which is very high.
What is the volatility of Fort of Fortune?
The volatility of Fort of Fortune is high, which means there are less frequent but significant winnings.
What is the Tumbling Reels function in Fort of Fortune?
The Tumbling Reels function in Fort of Fortune causes the explosion of winning symbols that will be replaced by new symbols, increasing your chances to win.
What are the Wild and Scatter symbols in Fort of Fortune?
The Wild symbol is the demon statue, and the Scatter symbol is the dragon.
How do I activate free spins in Fort of Fortune?
To activate free spins in Fort of Fortune, the Scatter symbol must appear at least 3 times, which will award you 11 or 12 free spins.
What we like
High RTP value of 97%
Tumbling Reels function
Spin-Crease function with special symbols
Epic soundtrack that matches the theme
What we don't like
High volatility
Minimum bet may be too high for some players