Football Glory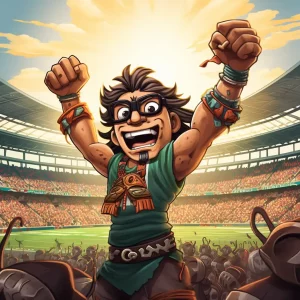 Football Glory is a game that takes you right into the middle of an exciting football stadium. It's hard not to get swept up in the excitement of the crowd and the thrill of the game. And the graphics only help add to the experience!
The game's illustrations are so realistic that you might just feel like you're watching a game on TV. And the bright and vibrant colors really grab your attention and make you feel like you're right in the middle of the game. The designers clearly put a lot of effort into making this game look and feel amazing, and it really shows.
With all of the great graphics and attention to detail, it's easy to get lost in the world of Football Glory. And let's be honest, that's exactly what you want from an online slot game – to escape your day-to-day life and have a little fun. So go ahead, let yourself get lost in the stadium and see if you can score yourself a big win!
Game Mechanics of Football Glory – A High-Stakes Game for Football Fanatics
Are you ready for some football on your computer screen? Then you might want to check out Football Glory, a slot game that promises to bring the thrill of kickin' it to the virtual casino.
With a 5×4 layout, this game dares to be different from the usual online slot setup. It offers plenty of special symbols and features that can help you score some big wins. For example, the Wild symbol can substitute for all other symbols except the Free Spins icon and the Cup symbol. And speaking of the Free Spins icon, hitting three or more of these in a spin can trigger up to 21 free spins!
The Cup symbol is the one to watch out for. This icon can award either additional free spins or a random win. How's that for a game changer? The mechanics of Football Glory have been designed to keep players engaged and excited. You can hear the crowd roar as you spin the reels, and every win is like a goal scored in the championship match.
Overall, Football Glory certainly deserves its place in the online casino world, especially if you're a football aficionado with a love for high stakes. Try your luck and see if you can make it to the top of the leaderboard! Or if you're like me, just enjoy the game and make some bad puns about 'kicking' butt and taking names.
Football Glory: Special Symbols
Are you ready to score big in Football Glory?
This game includes some special symbols that can turn your losing game into a winning one in no time! The Wild symbol, for example, is like the star player in your team. It can substitute for any other symbol on the board, giving you a much better chance at hitting that winning combination.
The Free Spins symbol is like the referee giving you extra time to play. Land on three or more of these symbols and bam, you'll get free spins. And who doesn't love free stuff?
You can win additional free spins by getting the Cup symbol. This symbol can also give you the chance to get an extra bonus win. Think of it like winning a penalty shootout – it's not always easy, but the rewards are major!
Overall, these special symbols can definitely boost your game. So get out there and show off your skills on the reels! Who knows, maybe you'll even score a hat-trick!
Experience the Thrills of Football Glory's Bonus Features
If you're a sucker for free spins like we are, then you'll be thrilled with Football Glory's main bonus feature. All it takes is landing three or more Free Spins symbols, and you're off to the races!
Once you're in Free Spins mode, the game's excitement only intensifies. Keep an eye out for the Cup symbol – it can award additional free spins or a random win. And don't forget about the fixed Wild symbols. It can increase your chances of a larger payout and keep things interesting.
With all these additional bonuses on the table, Football Glory has been our go-to online slot game to play lately. It's definitely a step above its competitors.
Plus, the backgrounds and sound effects will make you feel like you're watching the game live from the stands! Although, fair warning, if you're not careful, you may start to feel like a coach, screaming at the screen. We've definitely started giving halftime speeches to ourselves a few times while playing.
In conclusion, we highly recommend giving Football Glory a shot, whether you're a sports lover or just someone in search of a little gambling fun. Who knows, you could score a big win in the process!
Similar Games
Are you a fan of football-inspired slots? Well, if you are, then you'll be glad to know that there are several other games to try out after you've played Football Glory. Whether you're looking for more bonus features or a unique twist on the football theme, we've got you covered.
First up, we have Football Mania Deluxe. It's similar to Football Glory, but with a bit more pizzazz. The graphics are brighter, the sound effects are louder, and the bonus features are even better! Plus, who doesn't love deluxe versions of things, am I right?
Next on the list is Football: Champions Cup. This game is perfect for players who dream of the World Cup and want to get a taste of what it's like to be on the field. With its immersive gameplay and stunning visuals, it's no wonder this game is so popular amongst football fans.
But if you're looking for something a bit more out there, then look no further than The Cup. This game takes the football theme and turns it on its head by introducing a group of adorable animals as the players. From cats to dogs, each animal brings its unique charm to the game.
Finally, there's Soccer Safari. This game combines both football and wildlife in a bizarre yet entertaining twist. Go on a wild safari with animals playing football in the savannah. Who knows, you might even score a goal against a majestic lion.
So, if you enjoyed Football Glory, give these games a try. They offer similar gameplay mechanics and bonus features, making them a great complement to Football Glory. And who knows, you might even find your new favorite game amongst them.
FAQ
What is Football Glory?
Football Glory is an online slot game with a football theme, developed by Yggdrasil.
What is the gameplay of Football Glory like?
The game grid is a 5×4 scheme, which shows 20 symbols at each turn. The game includes special symbols like the Wild symbol and Free Spins symbol leading to the free spin mode.
Are there other football-inspired slots?
Yes, some other great football-inspired slots include Football Mania Deluxe, Football: Champions Cup, The Cup, and Soccer Safari.
What is the main feature of the free spins mode?
During the free spins mode, there are fixed Wild symbols and you can also find the Cup symbol, which will allow you to obtain a random win or additional free spins.
What is the graphic quality of Football Glory like?
Football Glory is a very well-crafted slot that has a graphic design that is both clear and essential. The slot also boasts realistic illustrations with some vivid colors that are easy on the eye.
Are there any tips for playing Football Glory?
Understand the game mechanics, including the special symbols and free spins feature, and adjust your bet size accordingly. Also, be sure to try out other football-inspired slots to find your favorite.
What is the RTP of Football Glory?
The Return to Player (RTP) of Football Glory is 96.1%, which is generous compared to many other online slots.
Is Football Glory a mobile-compatible game?
Yes, Football Glory is fully optimized for mobile play, so you can play on your phone or tablet on the go.
What we like
Well-crafted graphics with realistic illustrations and vivid colors
Unique 5×4 layout that sets it apart from other online slots
Special symbols like Wild and Free Spins for bigger wins
Exciting bonus features, including the Free Spins mode
What we don't like
Limited selection of football-inspired slots
May not appeal to non-football fans