Easter Island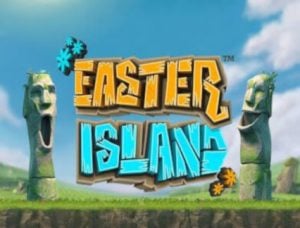 Easter Island is an egg-citing five-reel, 25 paylines slot game that will crack you up! The game is a basket of fun with a variety of bonus features that will definitely satisfy your needs as a slot player. The game offers a hopping mad time with standard options like any other slot video game, such as the Auto Play button for the laziest of bunnies, and the Max Bet option for the riskiest of players.
When it comes to gameplay, Easter Island is an egg-ceptional slot game that is easy to understand, even for those who are new to slot gaming. The game has a user-friendly interface, egg-cellent graphics and sound effects that are perfect for the Easter season. The reels are filled with Easter-themed symbols, including decorated eggs, bunnies and flowers that will put a hop in your step and a smile on your face.
Graphics
If you're looking for unrealistically detailed graphics that make you feel like you're staring into a portal to another world, then Easter Island may not be for you. But let's be real, if you're playing online slots for that level of realism, you may want to consider taking a break and going for a walk outside.
That being said, the graphics of Easter Island are still enjoyable and pleasant to look at. The bright green field and palm trees in the background make you feel like you're taking a much-needed vacation, while the sound effects make you feel like you're actually on the island (minus the sunburn and sand).
Overall, the graphics are simple, but effective in creating a peaceful atmosphere for the player. It's not every day that you can take a mini-vacation right from your couch!
Symbols
If you're a fan of Easter and bunnies, you're in for a treat with Easter Island slot game!
The bunnies in this game are more than just cute and fluffy creatures that hop around the reels. They have a special ability to replace every other symbol on the reels, except the scattered Easter bird! The Easter bird symbol is what triggers the bonus feature of this game. Hopefully, you won't have to look too hard for it as it's more elusive than the Easter bunny himself.
Aside from the bunnies and the Easter bird, you'll find an array of colorful Easter-themed symbols on the reels. The happy symbols include pink flowers, a bucket of eggs, and palm trees. Beware though, not all symbols in Easter Island are created equal, and you'll definitely want to avoid the skull and the broken Easter egg symbols.
Bonus Features
Let's talk about the best part of this slot game: the bonus features! Although there are only two bonus features in Easter Island, they are definitely worth playing for. Trust us, this game isn't called Easter Island for nothing – there are plenty of eggs to crack open.
The Prize Pick bonus feature gives players the chance to pick from a selection of eggs to reveal a prize inside. Now, we know what you're thinking – this sounds like playing chicken with your luck, right? But fear not, because the rewards in these eggs are worth it! Just be sure not to pick the rotten egg…
Next up, we have the Free Spins bonus round. In order to trigger this feature, you'll need to land three or more of the Easter Island scatter symbols on the reels. The number of free spins you get depends on how many scatters you land. Remember to watch out for those expanding wilds during the free spins – they can really boost your winnings!
And for all you high-risk players out there, don't worry – there's a gamble option too. Are you feeling lucky? Then go ahead and take that chance. Just be sure to keep your chicken wings crossed and your hopes high!
Paylines
Are you ready to hop your way to riches with Easter Island? This 5-reel slot game comes packed with 25 egg-citing paylines! That's right, you'll have 25 chances to hatch a winning combination and score big. Keep in mind, the more you bet, the higher the potential payout can be.
In order to make a winning combination, you'll need to land at least two or three matching symbols depending on the value. But don't worry, it's not as hard as finding a needle in a haystack! With fun and friendly Easter Island themed symbols like Moai heads and happy little birds, it's a hoppin' good time!
These little rascals can help you crack open some massive payouts. So keep your eyes peeled for the wild bird and the Easter Island surprise box. They just might be the key to unlocking some amazing bonuses and free spins.
Our Recommendations
Looking for a fun and engaging slot game? Look no further than Easter Island! With its simple features and easy gameplay, it is perfect for novice and experienced players alike. The graphics and sound will transport you to a tropical paradise, making you feel like you're soaking up the sun on Easter Island itself.
You never know when you could trigger a winning combination and hit the jackpot!
If you're a fan of Easter-themed slots, we also recommend giving Easter Eggs from Play 'N Go a spin. It has a similar fun and festive vibe, and who doesn't love an Easter egg hunt?
Overall, we highly recommend Easter Island for a chance to win lucrative rewards and experience the joys of spring in a fun and exciting way.
So, what are you waiting for? Grab a fruity drink, put on your best grass skirt, and start spinning those reels!
FAQ
How many paylines does Easter Island have?
Easter Island has 25 paylines.
What is the RTP for Easter Island?
The average return to player (RTP) for Easter Island is 95.39%.
What are the important symbols in Easter Island?
The important symbols in Easter Island are the bunny and the scattered Easter bird.
What is the maximum payout for landing 5 rabbits?
The maximum payout for landing 5 rabbits is 5000 coins.
What bonus features does Easter Island have?
Easter Island has 2 bonus features: the Prize Pick bonus feature and the Free Spins bonus round.
What is the Gamble option in Easter Island?
The Gamble option in Easter Island is where players can test their luck after a win, with the chance to double their winnings.
What is the highest value symbol after the rabbit?
The bunny in a boat is the highest value symbol after the rabbit in Easter Island.
Are there any similar slot machines to Easter Island?
Yes, you can try playing Easter Eggs produced by Play 'N Go, which has a similar Easter theme and the chance to win multipliers up to 500x.
What we like
Satisfying bonus features
Engaging gameplay
Transporting graphics and sound
Multiple paylines for winning combinations
What we don't like
Limited number of bonus features
Not many standout symbols