Eagles Flight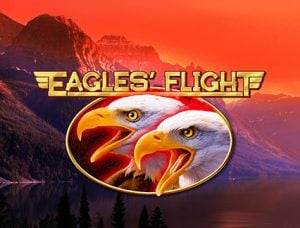 Are you ready to soar with the eagles? Look no further than Eagles Flight, the latest five-reel, four-row slot game from High 5 Games. With 40 paylines and stunning eagle and totem animal designs in Aztec style, you'll feel right at home in the naturalistic North American west. It's almost like you're in the middle of a John Denver song.
But don't let the serene setting fool you – this game is packed with excitement and big win potential. With thrilling bonus features and a chance to strike it rich, you'll be crying 'Eagle!' in no time. Just make sure you don't fly too close to the sun, Icarus.
Features
Get ready to soar to new heights with Eagles Flight! This online slot game has all the features you need for an exciting gambling experience. With wilds, scatters, free spins, and bonuses aplenty, Eagles Flight is packed with entertainment value.
That's not all – the double eagle symbol is here to replace the single eagle symbol and boost your chances of winning. And if you're lucky enough to land three, four, or five free game scatters, you'll activate the free spins feature and soar even higher. With seven free spins on the line, your chances of winning big have never been better.
But the fun doesn't stop there – Eagles Flight has yet another exciting bonus feature that players can access during the game. One or more reels can be upgraded, giving you even more opportunities to land that big win. Who says eagles are the only ones who can fly high? With Eagles Flight, you'll be soaring to the top of the leaderboard in no time.
Design
Eagles Flight has incredible graphics with vibrant colors. I mean, who doesn't love vibrant colors? It's like opening a fresh pack of markers, except you can win loads of money. Winning combinations trigger cinematic effects of eagles and feathers. It's like watching an episode of Planet Earth, but with the added excitement of potentially hitting a jackpot. The game's logo appears against a bright red sky background, with two majestic eagles enclosed in a golden border and shaded mountainous terrain background. It's like the designers took a painting of an American landscape and made it come to life – but without the sunburn or bug bites.
The reels are red and gold, with the two majestic eagles in the header silhouetted beautifully against the red skies of North America. It's like you're playing slots on the Fourth of July (minus the burgers and beer, unfortunately). Who needs boring old cherries and lemons when you could have eagles and feathers?! Eagles are America's national bird for a reason – they're majestic, powerful, and just plain cool. You know what's not cool? Losing. So, play Eagles Flight and let these majestic eagles guide you to victory!
Bonus Bonanza: The Features that Make Eagles Fly High
If you're looking for a slot game that's more than just a pretty penny, Eagles Flight is the one for you. And the bonus features are the MVPs of this game. The free bonus feature is the ultimate game-changer. It'll make at least one reel upgrade during the game. And that's not all — it could upgrade multiple reels too! Kind of like getting a promotion at work, but better. Suddenly, every eagle symbol will be upgraded to a double eagle, which doubles your chances of winning big bucks. We love to see eagles soar, but it's even better to see them double up like best friends playing tag.
When you see three scatter golden eagles, get ready to count your lucky stars because you're about to win big. You'll trigger not one, not two, but seven free spinning games. That's more than a week's worth of fun packed into one slot game. Your chances of hitting a jackpot have never been better! So, don't be afraid to close your eyes and pray to the eagle gods. They just might answer you.
It can replace most symbols in the game but only appears on reels four and five. But when it does appear, it creates infinite opportunities for you to win. Just like a wingman who's always got your back, the wild symbol is a true friend in need.
All in all, the bonus features of Eagles Flight are not to be missed. They elevate this game from being just another slot game to being the talk of the town. So spread your wings and fly high with Eagles Flight. Trust us, you won't regret it.
Symbol Values
If you're a player who loves a good slot game, you probably know that the best part of it is the thrill of the win. And with Eagle's Flight, that win can come in eight different ways with the single eagle symbol. That's right, eight! So don't be surprised if you find yourself jumping around like an eagle when ten of these symbols appear on the reels at once. You might even feel like soaring through the sky with your newfound riches.
Now, if you're like me and prefer to aim high, you'll want to keep your eyes peeled for the higher value symbols. These are the themed symbols and offer even higher rewards. So don't settle for a measly payout from the lower value card symbols. Instead, go all in and aim for the sky where the big wins are waiting.
The double eagle symbol is the real feather in your cap here. Not only does it replace the single eagle symbol, but it can also lead to even bigger and better wins. Just like a bird in the sky, these symbols can bring you success from unexpected directions.
Game Rules
Do you believe in cracking the code of online slot games? Well, think again because it's impossible! Talking about the Eagles Flight, it's essential to know there's no trick or cheat that could enhance your chances of winning. So, players must take time and read the instructions carefully before spinning the reels.
Although, it's not rocket science, but if you're a rookie player, it's necessary to conduct thorough research on the rules and instructions of the game. After all, you don't want to lose your hard-earned money on a game that you didn't understand.
It's imperative to be aware of the symbols and their corresponding values. Furthermore, players must also understand what each symbol means and represents in the game. Knowing this can help you create winning combinations with ease.
Now, let's talk about the free spins and bonus features in the game. These features may vary for every slot game, and even if they're from the same provider. So, players must go through the game's paytable before spinning the reels to stay in the know. Additionally, the volatility and return-to-player ratio of the game can determine the outcome of your game. Hence, it's critical to keep these factors in mind while playing Eagles Flight.
So, before you take flight into the world of Eagles Flight, do your homework and remember that luck plays a massive role in online slot games.
FAQ
What is Eagles Flight slot game?
Eagles Flight is a naturalistic slot game set in the North American West with stunning eagle and totem animal designs in Aztec style boasting an impressive 40 paylines.
What is the maximum payout of Eagles Flight slot game?
The maximum payout of Eagles Flight slot game is 2,000x.
What are the features of Eagles Flight slot game?
Eagles Flight slot game has features like wilds, scatters, free spins, and bonuses, not to mention split boosted symbols.
What is the wild symbol in Eagles Flight slot game?
The wild in the Eagles Flight slot game is represented by a ruby red and platinum symbol highlighted by the word 'Wild'.
What is the double eagle symbol in Eagles Flight slot game?
The double eagle symbol replaces the single eagle symbol in Eagles Flight slot game.
What are the ways to trigger free spins in Eagles Flight slot game?
Three, four, or five free game scatters that appear on reels two, three, or four trigger the seven free spins awarded for landing this combination.
What is the volatility of Eagles Flight slot game?
Make sure you're aware of the game's volatility and return-to-player ratio.
What are some similar slot machines to Eagles Flight?
For something similar and modern with greater potential, players can try Birds of Pay developed by Aristocrat, which is a five-reel, 25-payline video slot with a bald eagle as the wild.
What we like
Stunning eagle and totem animal designs in Aztec style
Wilds, scatters, free spins, and bonuses
Incredible graphics with vibrant colors and cinematic effects
Free bonus feature allows for reels to be upgraded during the game
What we don't like
Wild symbol only appears on reels four and five
No specific strategy or tricks can guarantee wins