Double Dinosaur Deluxe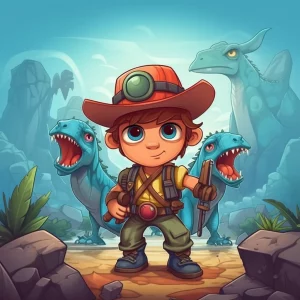 If you're looking for some prehistoric fun, Double Dinosaur Deluxe is the slot game for you! This 5-reel, 50-payline game will have you roaring with excitement as you spin the reels filled with T-Rex, Stegosaurus and other dinosaur symbols.
But it's not just the fun theme that makes this game worthwhile – Double Dinosaur Deluxe also boasts stacked wilds and split symbols that could lead to some big wins. Just be sure not to let the dinosaurs get too carried away and eat up your betting credits!
Speaking of betting, the game allows players to wager from a modest 0.50 credits up to a hefty 500.00 credits per spin. So whether you're a penny pincher or a big spender, Double Dinosaur Deluxe has you covered.
Last but not least, let's talk about the Dino Eye Free Spins bonus round – the most exciting feature of the game. Triggered by landing three or more volcano scatter symbols, this bonus round can award up to a jaw-dropping 96 free spins! That's right, 96 FREE spins to try your luck at winning some dino-sized payouts. Just try not to go extinct from excitement!
Graphics And Design:
Are you ready to travel back in time to the prehistoric age with Double Dinosaur Deluxe? This online slot game boasts some of the most impressive graphics and sound effects that will make you feel like you are truly in a different world. The symbols are so well-drawn that the dinosaurs on the reels seem like they could come to life and roar at any moment.
From the way that the herbivore dinosaurs munch on leaves to the ferocious way that the carnivores hunt and defend their territory, the animations are really incredible.
To top it all off, the ominous and suspenseful soundtrack adds even more to this game's overall theme and feel. You'll feel like you're on the edge of your seat with every spin, waiting to see what prehistoric creature will appear next.
In short, the graphics and design of Double Dinosaur Deluxe are jaw-dropping. It's almost as if the developer went back in time themselves to get firsthand experience with these majestic animals, before returning to bring them back to life in the game.
Volatility and RTP:
Double Dinosaur Deluxe is a game for those who aren't afraid to take risks. With its medium to high volatility, it's not for the faint-hearted. But if you're a high-level player who loves a challenge, you're going to love this slot game.
As far as the RTP goes, at 95%, it's about what you would expect from a game of this nature. While you won't see big wins with every spin, the base game modifiers still offer some decent payouts.
Personally, I love the thrill of playing high volatility games like Double Dinosaur Deluxe. It's like skydiving, except without the parachute – and with better graphics, of course!
But if you're the type of person who prefers to play it safe, you might want to give this one a miss. Unless, of course, you're feeling brave – in which case, buckle up and get ready for the ride of your life.
Bonus Rounds:
Double Dinosaur Deluxe may be lacking in the bonus features department but don't fret, the Dino Eye Free Spins bonus round is a real Jurassic treat! This round is triggered by landing three Dino Eye scatter symbols on reels 2, 3, and 4, which rewards six initial free spins. Don't let the small number of spins discourage you, as up to 96 additional free spins can be won by landing more scatter symbols during the bonus feature.
The Dino Eye is a curious sight to see, it's like the lovechild of a dinosaur and a chameleon! If only we could borrow its powers of invisibility to help us avoid certain tasks in real life… Special powers aside, this bonus round is where the real excitement lies, imagine all the dinosaur eggs you can hatch in those 96 free spins! But remember, the house always wins, so make the most of every spin and cross your fingers for some explosive wins.
Winning Potential:
Get ready to embark on an adventure of colossal proportions with Double Dinosaur Deluxe – a slot game that offers mammoth chances to win big. The game offers multiple opportunities to strike it big, with its unique split symbols feature. Not only does this feature add excitement to the gameplay, but it also doubles the possibility of combinations up to ten symbols for the biggest wins. Now, that's what we call a roaring good time!
The expedition leader symbol is the undisputed king of this prehistoric slot game. It is the highest-paying symbol and can reward you with up to 5000 coins when ten of them hit a winning payline. With this payout, you could buy yourself a Tyrannosaurus rex and ride it to work, if that's your thing.
Compatibility And Accessibility:
Double Dinosaur Deluxe is more than just a game, it's a portable Jurassic Park adventure! The game is compatible with both desktop and mobile devices, so that means you can take the prehistoric thrill with you on the go! Whether you're roaring through the city or sitting on the toilet, you can always be sure that Double Dinosaur Deluxe is there to keep you company.
And don't worry about having trouble accessing the game – it's available on various online casinos that feature High 5 Games slots. So no matter where you are or what you're doing, as long as you have an internet connection, you can unleash your inner dino and play to your heart's content. Just be sure to keep an eye out for any T-Rexes on your commute – they can be a bit of a distraction!
Alternative Games:
Looking for some more Jurassic fun? You're in luck! Dino Dollars by High 5 Games packs a prehistoric punch with not one, not two, but 12 reel sets. That's right – a dozen! And if that's not enough to get your dino-loving heart racing, the Symbol Fusion feature and giant wilds sure will.
Free games are also up for grabs in Dino Dollars, giving you even more chances to win big and go on a Jurassic journey. It's the perfect way to switch things up when you want a break from Double Dinosaur Deluxe.
And as they say, variety is the spice of life, so why not mix up your slot game experience with this mighty alternative? You'll roar with excitement and may even unearth some dino-sized payouts!
FAQ
What is the maximum number of paylines in the Double Dinosaur Deluxe slot?
There are 50 paylines in this game.
What is the RTP of the Double Dinosaur Deluxe slot?
The theoretical RTP of Double Dinosaur Deluxe is 95%.
What is the highest-paying symbol in the Double Dinosaur Deluxe slot?
The expedition leader is the highest-paying symbol in the game, rewarding the player with 5000 coins when ten symbols hit a winning payline.
What is the Dino Eye Free Spins feature in Double Dinosaur Deluxe?
Dino Eye Free Spins is the only bonus feature in Double Dinosaur Deluxe that has a maximum of 96 free spins to offer.
What is the volatility of the Double Dinosaur Deluxe slot?
The volatility is medium to high, which suits high-level players, hence the higher values per spin.
What are split symbols in the Double Dinosaur Deluxe slot?
Split symbols in Double Dinosaur Deluxe create the possibility of doubled combinations of up to ten symbols for the biggest wins. Symbols appear with a single image or with the same image replicated.
What is the Access Paytable feature in the Double Dinosaur Deluxe slot?
Access Paytable feature is a menu option that provides information about how paylines behave and how symbol payouts are calculated.
What is the minimum betting range for the Double Dinosaur Deluxe slot?
The game is playable on all devices from 0.50 to 500.00 credits per spin.
What we like
Stacked wilds and split symbols feature
Dino Eye Free Spins bonus round with up to 96 free spins
Impressive graphics and sound effects
Medium to high volatility with multiple opportunities for big wins
What we don't like
Only one bonus round available
Theoretical RTP is around the industry average