Brazil Bomba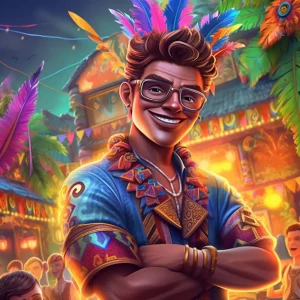 Brazil Bomba is not just a slot game, it's a party on the reels! If you're looking for some sizzling hot samba action, then put on your dancing shoes and get into the groove with Brazil Bomba, an invigorating online slot developed by the mighty Yggdrasil Gaming!
With a tropical theme that is inspired by the famous carnival in Rio de Janeiro, Brazil Bomba is a high-octane game that boasts a 6×8 game board with 48 symbols per turn, guaranteeing you a wild ride! The symbols are adorned with colorful blocks and gems that will transport you to a vibrant world of fun and excitement!
But that's not all! Brazil Bomba comes equipped with a unique drop mechanism where symbols fall from above and winning combos disappear, making room for even more winning potential! What's more, there's a special cannon that the dancer on the left uses to activate during various combinations, adding another layer of excitement to this already thumping party on the reels.
With festive and typical carnival music accompanying your every spin, Brazil Bomba is a game that'll set your pulse racing and your hips swaying. So get ready to join the parade and dance your way to the top of the leaderboard with Brazil Bomba!
Gameplay Features
Brazil Bomba is a game that is sure to keep you on your toes. With its unique drop mechanism, it sets itself apart from other slots. The massive 6×8 game board displays a whopping 48 symbols per turn, and with every winning combination that you hit, the multiplier increases, giving you the chance to win big in a single round. It's like trying to eat a burrito the size of your head – you never know what you're going to get, but it sure is exciting!
The game has a bomb symbol that detonates and deletes a huge number of symbols, creating the opportunity for a semi-free spin. And if you thought that was all, think again – there's a special cannon activated by a dancer that enhances the gameplay with more ways to win. It's like being in the middle of a Carnival parade with all the confetti and dancing – just without all the crowds, sweat and samba music.
So saddle up, put on your best beachwear and get ready to spin the reels with Brazil Bomba. Who knows? You might just hit the jackpot and be able to afford that trip to Rio you've been dreaming of for years. All from the comfort of your own home (or wherever you may be playing from).
Visuals and Audio
If you're a player that appreciates a visually appealing slot game, then Brazil Bomba is right up your alley. When you start the game, you're greeted with an incredible sight of a stunning beach and Rio's lights in the background. It's like you're already on vacation in Brazil!
The colors used in the game are vivid, but not over-the-top flashy, which is perfect for the carnival theme. The decorations on the game board with wood and plants make you feel like you're in a lush tropic jungle. Moreover, the gems and colorful blocks used as symbols make it look like you're playing with jewels.
The slot game's audio is just as incredible as its visuals. The sounds of the dancer's cannon and the lively music playing in the background draw you into the carnival atmosphere. It's like you're dancing and partying in Brazil instead of sitting in front of a computer or phone. Yggdrasil has certainly done an exceptional job creating a game that immerses you completely!
A word of warning, though: Be careful not to get too carried away with the dancing and the music, or you may end up losing your shirt (or pants!) in no time. As tempting as it is to get up and dance, remember that your priority should be to win big on Brazil Bomba.
Payouts and RTP
Are you looking to maximize your winnings in an online slot game? Look no further than Brazil Bomba, which boasts a solid return-to-player (RTP) rate of 96.3%. That's enough to make even the shrewdest slot players grin from ear to ear. With such a high RTP, it's clear that the developers at Yggdrasil Gaming put in the time and effort to create a game that rewards its players.
But it's not just the RTP that makes Brazil Bomba such an enticing game. The multiplier system is also a highlight of this particular slot. Every time you hit a winning combination, the multiplier will increase. Keep hitting those combos and watch as the multiplier grows bigger and bigger, leading to some seriously impressive payouts. It's like a snowball effect – once you get going, it's hard to stop.
Now, some players might be put off by the fact that Brazil Bomba doesn't offer the biggest jackpots on the market. And sure, if you're solely focused on chasing life-changing sums of money, there are other titles out there that might better suit your needs. But for the rest of us who just want a solid chance at winning some significant prizes, Brazil Bomba is a great choice. One well-timed spin could be all it takes to score big.
Overall, we have to say we're impressed with Brazil Bomba. The RTP and multiplier system are both top-notch, and the chance to win big is always a plus. So why not give it a spin and see for yourself?
Final Thoughts
Are you ready to samba your way to some serious cash? Then Brazil Bomba is the online slot game for you! It's like a carnival in your pocket with its fun and festive theme that will transport you straight to Rio. The graphics are so good, you'll practically be able to feel the tropical sun on your skin, and the sounds of the reels spinning are like your own personal soundtrack to the biggest party of the year.
Trust me, I'm no math wiz, but even I could figure out my chances of hitting the jackpot. And with a RTP rate of 96.3%, your odds of walking away with a little extra cash are pretty good.
The multiplier system is what really sets Brazil Bomba apart from the rest – it's like the game is giving you a little extra oomph to really rack up those winnings. And who doesn't love a good multiplier? It's like getting a bonus prize for being awesome. Besides, who doesn't love a good bonus?
In conclusion, Brazil Bomba is a game that will keep you entertained for hours on end. Whether you're a seasoned pro or a newbie to the world of online slots, this game is perfect for anyone who wants a little bit of fun and a whole lot of cash. So go ahead, give it a spin – you just might hit the jackpot!
FAQ
What is Brazil Bomba?
Brazil Bomba is an online slot by Yggdrasil that is themed around the carnival in Rio, Brazil.
What sets Brazil Bomba apart from other online slots?
Brazil Bomba has a unique gameplay with a game board of type 6*8, and a drop mechanism where symbols fall from above and winning combinations remove symbols from the board, increasing the multiplier for winnings.
What is the bomb symbol in Brazil Bomba?
The bomb symbol in Brazil Bomba is a special feature that can detonate, removing a large number of symbols and giving rise to a semi-free spin.
What are the graphics like in Brazil Bomba?
The graphics in Brazil Bomba are vivid, yet not too flashy, and give us symbols in the form of blocks and colorful gems. The game board is decorated in wood and plants, with the backdrop of a beautiful beach during sunset and the lights of Rio in the distance.
What is the recommended player type for Brazil Bomba?
Brazil Bomba is recommended for anyone who wants to try a gameplay slightly different from usual and more dynamic than other online slots.
What other similar online slots are there to Brazil Bomba?
Some similar online slots to Brazil Bomba include: Rio Riches – Stacked Up, Rio Fever, Carnival Forever, Oba Carnaval! or Road to Rio.
Does Brazil Bomba have a multiplier for winnings?
Yes, Brazil Bomba has a multiplier for winnings that increases with each concatenated win in a single round.
What is the backdrop of Brazil Bomba?
The backdrop of Brazil Bomba is a beautiful beach during sunset and the lights of Rio in the distance, with bleachers in the foreground.
What we like
Themed after the famous carnival in Rio de Janeiro
Drop mechanism adds excitement to gameplay
Multiplier system for big wins
Excellent graphics and audio create an immersive experience
What we don't like