Baron Samedi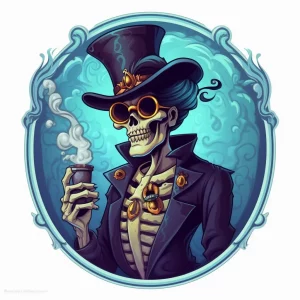 Baron Samedi? More like Baron Saturday Night Fever! This video slot game will have you dancing in your seat with its five reels, three rows, and 25 paylines. And the best part? You can play it on all devices! Just be sure to set aside some wiggle room in your budget, as it's playable between 0.25 and 125 Dollars.
With 36 collectible features, including wilds, multipliers, guaranteed win lines, stacks, and mysterious symbols, this game is like a box of chocolates – you never know what you're going to get. (Unless you're playing for an extended period of time and can muster up some sort of pattern recognition, but let's not go there).
It's like Christmas morning when one of the features pops up on your screen, but none of the symbols appear stacked in normal mode, which means you have to rely on the feature card to generate wins. It keeps you on the edge of your seat and ready to bust out some more dance moves when the feature does finally come around.
Bonus Features
Who doesn't love a good bonus feature? Well, Baron Samedi has got you covered. This game comes with a set of 36 collectible cards, each representing a feature. That's right, a whole set of cards just for you. It's like collecting baseball cards, only much more exciting.
These cards are ranked in strength from 1 to 4 – the higher the rank, the stronger the card. It's like Pokemon, only with real money. Activate the feature by landing three, four, or five skulls anywhere on the reels, and you'll get 7, 12, or 15 free spins respectively.
And that's not all. On each and every spin, you will get three more cards and their associated features, which will then be added to your ever-growing collection. If a collection of cards is completed, then three extra spins are awarded with that card locked in the first position above the reels. It's like a game within a game. And who doesn't love that?
Theme
The Baron Samedi slot machine takes players into the bizarre world of voodoo, where you'll be spellbound by mystical rituals and dark magic that will keep you on the edge throughout the game. The game is based on Baron Samedi, a trickster spirit of the dead, who is known for his eccentricities and nonchalant attitude towards death. In fact, he is immortal! As you spin the reels, the wooden and metal tray, decorated with bones, cigars, candles, dice, and alcohol, will take you to a world filled with mystery and wonder.
Loa are the central theme of the game. For those who don't know, Loa are the spirits of Haitian Vodou and Louisiana Voodoo, who are not worshipped, but served. The game highlights different kinds of loa, each with their own distinct personality traits, sacred rhythms, dances, songs, ritual symbols, and specific modes of service. You'll be enchanted by their beauty, but beware of their wrath, for they can turn your fortune upside down in an instant!
Overall, this unique blend of voodoo and gambling is a must-try for all slot game enthusiasts. So, join Baron Samedi and the loa spirits on this eerie journey and see if you can strike some magical wins with their divine intervention. May Baron Samedi bless you with good luck! (Or at least, not curse you too much).
Graphics
The graphics of Baron Samedi are phenomenal, transporting players into the mystical world of voodoo. The game is set against a background of flickering candles and dimly lit voodoo paraphernalia, adding to the overall vibe of the game. The reels themselves are placed on a beautifully-designed, ornate metal tray adorned with glittering bones, smoking cigars, and gleaming dice, exuding an air of magical mystery.
The symbols on the reels are equally alluring, featuring some of the most iconic figures from voodoo mythology. The high-value symbols on the Baron Samedi slots include the sinister Baron himself, accompanied by his wife Maman Brigitte, and a pair of chilling voodoo dolls. Watch out for the animal skull, though, as it could potentially be your ticket to big wins! Acting as the wild, it substitutes for all other symbols on the reels except for the skull bonus symbol.
Playing Baron Samedi is a game experience that's truly unlike any other. One of the fun things about playing this game is choosing symbols that are synonymous with voodoo! You'll be able to enjoy spooky imagery such as black cats, potions, and just about any other type of dark magic you can imagine. The cool, slightly menacing atmosphere of the game is perfect for those who enjoy the thrill of a spine-chilling slot that keeps them on their toes.
Sound Effects: Trick or Treat?
Baron Samedi is a game with all the tricks to keep you entertained, and the sound effects are definitely a treat. As you play, the game's intense drumming and chanting will keep you dancing with the voodoo spirits.
I personally love how the sound effects go hand in hand with the game's mysterious nature. The sound quality is impressive for an online slot game, and it definitely enhances the gaming experience.
If you're looking for a game with sound effects that will make you feel like you're at a Halloween party, then Baron Samedi is the perfect pick for you. The sound effects will keep you engaged, even when you're not in the mood for spinning the reels.
But sometimes, there can be too much of a good thing. If you find the sound effects overwhelming as the game progresses, you can always adjust the volume or turn them off completely. But let's be honest, where is the fun in that? The sound effects are part of the overall experience, and they're worth experiencing to the fullest.
Similar Games
Are you a fan of magic, voodoo, and everything that goes bump in the night? Then Baron Samedi is the perfect slot game for you. It's filled with beautiful graphics, mysterious symbols, and a thrilling storyline that will keep you on the edge of your seat.
But if you're looking for more games like Baron Samedi, consider checking out Voodoo Vibes – the slot produced by NetEnt. Just like Baron Samedi, it's set in a world of mysterious magic and dark rituals. With the potential to win up to 75,000$ on a single play, it's definitely worth giving a try.
Of course, if you're not a fan of voodoo-themed slots, there are plenty of other options out there for you. From classic fruit machines to action-packed adventure slots, the world of online gaming is vast and varied.
However, if you're feeling daring and in the mood for some spooky fun, give Baron Samedi a try! Who knows, maybe the Baron himself will grant you some lucky spins… just watch out for those mischievous spirits!
FAQ
What is Baron Samedi?
Baron Samedi is an online slot game with a voodoo and spiritual theme. It was produced by Yggdrasil and has 5 reels, 3 rows, and 25 paylines.
What is the RTP of the game?
The RTP of Baron Samedi is 97.00%, which is a nice and high percentage.
What are Loa?
Loa are spirits in the Haitian Vodou and Louisiana Voodoo religions. They are not prayed to, but served instead.
What are the collectible cards in the game?
There are 36 collectible cards in Baron Samedi. Each card represents a feature and is ranked in strength from 1 to 4. Higher ranking cards are stronger.
How do I activate the free spins feature?
To activate the free spins feature, you need to land three, four, or five skulls anywhere on the screen. You will receive 7, 12, or 15 free spins respectively.
What happens during the free spins feature?
During the free spins feature, you will receive three more collectible cards on each spin. If you complete a collection of cards, you will receive three extra spins with that card locked in the first position above the reels.
What is the most valuable symbol in the game?
The most valuable symbol in Baron Samedi is Baron himself, who rewards 120 coins for landing five on a complete payline.
What are some similar slot machines to Baron Samedi?
If you enjoy the voodoo and spiritual theme of Baron Samedi, you may also enjoy Voodoo Vibes, a slot produced by NetEnt.
What we like
Exciting gameplay features with collectible cards and various bonuses
Immersive voodoo theme with stunning graphics
Excellent sound effects that enhance the game's atmosphere
Opportunity for big wins with a maximum payout of 75,000$
What we don't like
Heavy reliance on the feature card for generating wins
Limited to players who enjoy the voodoo theme