Ape's Dynasty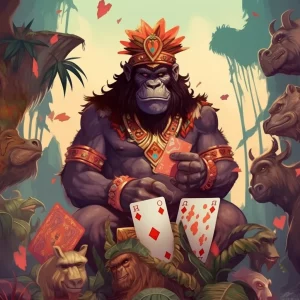 Are you ready to activate the jungle adventure with Ape's Dynasty? Then you'll want to keep your eyes peeled for the Scatter symbols. Once you land three, get ready for some free spins! With up to 25 free spins available initially and the potential to reactivate to 200, you'll have plenty of chances to hit it big.
And that's not all – during your free spin rounds, all of your winnings will be tripled thanks to the 3x multiplier. If you find one of the coveted Wild symbols in a combination, your multiplier can be amplified to 6x. It's hard not to get excited about the potential for some serious wins with Ape's Dynasty.
Now, if only we could train those monkeys to press the spin button for us…just kidding (kind of). In all seriousness, Ape's Dynasty delivers some serious fun, bonuses, and features to keep you on the edge of your seat. What are you waiting for? It's time to monkey around!
Check Out These Hilarious Graphics and Features
Ape's Dynasty is one heck of a wild ride, with graphics as funny as a monkey in a top hat! Everything from the vibrant jungle backdrop to the animal symbols is designed with a cartoon style that will make you want to swing from the trees with excitement.
But don't let the playful visuals fool you – this game still has plenty of exciting features to offer. With a 5×3 layout and 10 paylines, there are countless chances to win big. And with symbols including green parrots, slithering snakes, ferocious tigers, cheeky monkeys, and even some playing cards thrown in for good measure, there's never a dull moment. You could even say this game is more fun than a barrel of… well, you know!
Keep an eye out for those forest animal symbols, as they offer payouts of up to 75 times your bet. Meanwhile, playing cards provide slightly smaller payouts of 25 times. But with all the entertaining graphics and exciting features, who cares about the size of the payout? This game is worth it just for the laughs and thrills alone!
Unleashing the Ape in You with Free Spins Feature
Are you aching for some free spins that could send you on an adventure of a lifetime? Look no further than the thrilling slot game of Ape's Dynasty. This casino game offers a superb free spins feature that is nothing short of amazing. If you're seeking big payouts and a chance to turn up the excitement, then you'll want to learn more about this feature.
The free spins feature in Ape's Dynasty can be activated when three Scatter symbols land anywhere on the reels. You'll be amazed at how quickly the excitement grows as you watch the reels align and start racking up the bonuses. Initially, the feature rewards players with 25 free spins – more than enough chances to rake in significant rewards. But hold on – the adventure is far from over. The feature can be reactivated up to a maximum of 200 spins to ignite your senses.
In Ape's Dynasty, the free spins feature applies a 3x multiplier to all winnings. Now, that's something worth going bananas over! The winnings just keep growing with each spin, as you hold on to hope and pray for the next big win. When Wild symbols are present in a combination, they create an even higher power to multiply your winnings with up to a 6x multiplier. It's the fusion of the Wild and free spin features that take the game to the next level.
So, go ahead, tap on your inner ape, and jump into the fray. Who knows, with the free spins feature, you may end up swinging all the way to the bank with a big payout. Don't miss your chance to experience this breathtaking slot game and its coveted free spins feature.
RTP and Volatility
So, you're wondering about the RTP and Volatility of Ape's Dynasty? Well, let me tell you – this game is just as volatile as that one friend we all have who always orders the spiciest food on the menu. But don't worry, the risk is definitely worth it.
With an RTP of 96%, you're more likely to walk away with some banana-loving winnings than not. And let's be honest, who doesn't love some extra cash to play with?
Overall, the combination of the medium level of volatility and the 96% RTP make Ape's Dynasty a great game for those looking for a solid balance between risk and reward. Just remember to have your bananas ready!
Symbols and Winnings
Ah, the animal kingdom. A wonderland of fascinating creatures, where the deadliest predators and cutest critters alike reign supreme. Ape's Dynasty features a variety of symbols embodying animals, including tigers, monkeys, snakes, and parrots, all ready to help you win big. Now, I'm all for paying respect to Mother Nature, but let's be honest: we're here to make some money. Well, you're in luck, because these forest animal symbols can offer payouts of up to 75 times, while playing cards provide payouts of 25 times.
Players can increase their chances of winning by landing Wilds and Scatter symbols. Don't you just love a good Wild? It's like a free pass to more winnings – the kind of win-win situation I can't even find in my personal relationships. And let me tell you, the Scatter symbol is just as exciting. With the potential to unlock various bonuses, it's like finding a buried treasure filled with gold coins and dancing skeletons. Okay, maybe not the dancing skeletons. But you get the idea.
FAQ
Is Ape's Dynasty available on mobile devices?
Yes, this slot is optimized for mobile betting.
What are the special features of Ape's Dynasty?
The game has a free spins feature with multipliers, offering 25 spins initially and can be reactivated up to a maximum of 200 spins.
Can Ape's Dynasty be played without real money?
Yes, there is a 'For Fun' version of Ape's Dynasty available, allowing players to try the game before investing real money.
What is the RTP of Ape's Dynasty?
The game has an RTP of 96%, which is considered in line with the industry average.
What is the volatility level of Ape's Dynasty?
Ape's Dynasty has a medium level of volatility, allowing for a balance between risk and potential rewards.
What is the playing grid layout of Ape's Dynasty?
Ape's Dynasty has a 5×3 layout, with 10 paylines available for betting.
What symbols can be found on the reels in Ape's Dynasty?
The game features forest animal symbols, classic playing cards, Scatters, and Wild Symbols.
What is the maximum payout in Ape's Dynasty?
The game's maximum win can be achieved during the free spins feature, with a possible 6x multiplier for combinations including Wild Symbols.
What we like
Exciting free spin feature with up to 200 spins
Cartoon-style graphics and soothing jungle atmosphere
Medium volatility for regular wins
Multiple symbols and bonuses for increased chances of winning
What we don't like