Alexander's Conquest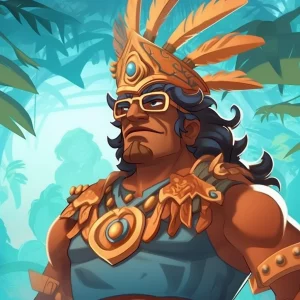 Are you ready to conquer the reels with Alexander's Conquest? Brace yourself for a thrilling gaming experience that will leave you amazed by the innovative gameplay it has to offer. With each spin, the grid structure changes, adding an exciting element of surprise and enabling up to 1,000,000 ways to win! That's right; you read it correctly. There are millions of ways to win, and you could be the next lucky player to land a massive payout.
Don't be intimidated by the gameplay mechanics, as this game is beginner-friendly and easy to understand. All you need to do is reach the extremities of the battlefield while forming winning combinations of adjacent reels from the left. Choose your bets wisely, starting from a minimum of 20 coins, and let the reels spin!
The Autoplay function allows you to choose between 10 and 80 automatic spins, while the Turbo mode accelerates the speed of falling symbols. It's like having your own pit crew, but for online slot gaming!
With so much excitement and anticipation packed into one game, we can safely say that Alexander's Conquest will keep you on the edge of your seat and leave you craving more. So what are you waiting for? Join the conquest and claim your wins today!
Graphics and Sound Effects
Alexander's Conquest is set during Alexander the Great's epic military campaign, depicted on an artistic and detailed open parchment grid design that showcases army movements. You'll find the usual suspects on the reels: soldiers, effigies, royal treasures, and golden coins that imply untold riches and conquest. Although the graphics are attractive, the icons appear relatively small, which could be better unless you have the eyesight of the gods themselves. Nevertheless, the game's overall aesthetic is impressive, and the visuals are especially innovative for this type of game.
The soundtrack is a joy to listen to. The mix of knightly music and the sound of horse hooves and armor clanking creates a highly entertaining and immersive experience. It makes you feel like you're right in the middle of a fierce battle, sword in hand, and ready to strike. You might want to invest in a good pair of headphones or a speaker system to take advantage of the sounds' full range and clarity.
This game is perfect for those who like to be fully immersed in an adventure. So, what are you waiting for? Get ready to experience the life of a conqueror in this fantastic slot machine with top-notch graphics and immersive sound effects. But be warned, with Alexander behind the wheel, you might not come back empty-handed! That is unless you're too busy enjoying the horse hooves and musical score!
Historical Context
If you're a history buff looking to conquer the slots world, look no further than Alexander's Conquest. This game is all about Alexander the Great's military triumphs and before you know it, you'll be feeling like you've conquered a big payout.
The authentic symbols and sounds make this slot game feel like you've been transported back to ancient times. You might even feel like you're part of the conquering army charging down the reels!
And if you're not a history buff, don't worry – this game has plenty of great features to keep you entertained, too. With its smooth gameplay and exciting bonus rounds, you'll be fighting to keep spinning those reels.
If you do happen to know a thing or two about Alexander's historical conquests, you might even start spotting familiar symbols on the reels. Just don't get too caught up in reliving history or you might miss out on the chance to win big!
All in all, if you're looking for a slot game that combines exciting gameplay with a bit of historical context, Alexander's Conquest is a sure bet. So what are you waiting for? Get spinning!
The Bonuses and Special Symbols of Alexander's Conquest
Are you ready to conquer the online slot world? Then head for Alexander's Conquest and experience the thrill of the chase plus the excitement of several bonuses and special symbols.
First, let's talk about the Wild. You can count on it to replace other symbols except the Scatter. The expandable reels give Wild the power to appear when a reel touches the upper or lower frame. Add to that the arrow pointing up or down, and you have Wild occupying a number of symbols ranging from 1 to 3. This means your next spin will be even wilder because the Wild remains fixed, and the reel returns to its original position.
But we're not done yet. You'll also see the Bonus, another Scatter symbol. This symbol can trigger Free Spins in numbers from 18 to 25, depending on how many Bonus symbols appear on the reel. And just when you think things can't get better, we introduce to you the Bonus Wild symbol. This replaces other symbols to form combinations before the Free Spins commence, adding even more to your winning potential!
Playing Alexander's Conquest will surely leave you feeling like a winner. With Wilds, Bonus symbols, and Bonus Wilds, you'll feel like you're taking on the world and victorious with every spin. So come on, grab your helmets and let's conquer the online slot universe! Remember, luck favors the bold!
Volatility and RTP
Are you ready to conquer the world like Alexander himself? Well, you better get your game face on because Alexander's Conquest is not for the faint of heart. This slot game has a theoretical return to player of 96%, which is not too shabby. But be warned, it does come with high volatility. That means you might have to wait a while before seeing any wins. But when those wins do come, they could be game-changing!
If you're the kind of player who likes to play it safe, Alexander's Conquest might not be for you. But if you're a thrill-seeker looking for a challenge, this game might just be your match. With its high volatility and the chance to win big, this game can give you an adrenaline rush like no other.
So, grab your shield and sword, and get ready to conquer Alexander's Conquest. But don't be surprised if you end up doing the victory dance when you see that big payout. All hail Alexander!
FAQ
What is the minimum bet for Alexander's Conquest?
The minimum bet is 20 virtual coins.
Can you play Alexander's Conquest with real money?
Yes, the slot is regularly featured in online casinos where you can bet with real money.
What is the theoretical return to player?
The theoretical return to player is 96%.
Does Alexander's Conquest offer special features?
Yes, in addition to the expandable reels that increase the paylines, it also features free spins from a minimum of 18 to a maximum of 25 spins.
What is the volatility of Alexander's Conquest?
The volatility is high, meaning that wins will come less often, but if you're lucky, you could win big.
How many symbols are needed to form a winning combination?
To win, it is necessary to form combinations of identical symbols on adjacent reels, starting from the first on the left.
Can you speed up the gameplay of Alexander's Conquest?
Yes, there is a turbo function that speeds up the fall of the symbols.
What symbols are Scatters in Alexander's Conquest?
The 'Bonus' and 'Bonus Wild' symbols are Scatters in the game. The first awards Free Spins, while the second replaces symbols to form a combo before the free spins begin.
What we like
Innovative gameplay
Graphics and sound effects
Historical context
Bonuses and special symbols
What we don't like
Small symbols
High volatility