Alchemistress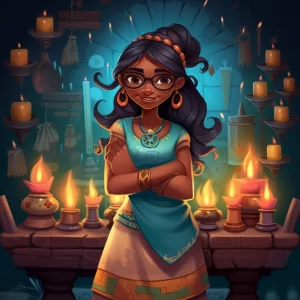 Alchemistress, the online slot game, offers a classic 5×3 grid with 20 fixed paylines. As with many things in life, size does not always matter. 20 paylines may seem like a short change, but it's how you use it that counts. Plus, it's better than many people's work emails, which have no payout rate at all – just deleted deadlines.
The minimum bet that players can place in the game is 20 credits. Don't worry, credits aren't like student loans; they're much more fun to pay off. Besides, each credit will only set you back $0.01. So, don't go raiding your little brother's piggy bank just yet.
Players can start or paint the town red with the Autoplay button. Just click it, sit back, and watch the magic happen. With Alchemistress's Turbo button, players can create a tornado that whips up insanely fast spins. Similar to the 'world-famous' toilet-paper shortages, Alchemistress also offers what seems like a scarce find in the online slot-world – a 96% return.
The game's volatility is medium, but there is an excellent balance between spins and winnings, unlike the stock market, where the balance is more like a seesaw that you can't control.
The Magic Of Thematic Symbols And Design
Prepare to be spellbound by Alchemistress' captivating Harry-Potter inspired design that transports you to a magical world of potions, spells, and wizards. And no, you won't find any mundane fruits or 7s on these reels – just symbols that are consistent with the game's intriguing theme.
As you spin the reels, the vials on the board start filling up. And with each paying combination, your payout gets multiplied. That's right – the more combinations you get, the more you win! And if all the vials fill up completely, the multiplier goes up by 1x, making way for some remarkably big wins.
But that's not all – the game board is set in a candlelit room, and if you gaze beyond the board, you can see a dark and mysterious forest looming in the background. The atmosphere is drenched in an air of mystique and magic that is impossible to resist.
Honestly, we couldn't help but feel like we were in Hogwarts while playing Alchemistress. It's the perfect game for anyone who's a fan of all things magical and mysterious.
Bonus Features and Free Spins
If you're looking for a slot game that has some extra tricks up its sleeve, Alchemistress might just be the potion you need. With both a Wild and a Scatter symbol, there are plenty of opportunities to boost your winnings and cast some winning spells.
But let's talk about that Wild symbol – a ring that only appears on reels 2, 3, and 4. If you're lucky enough to see it, it can replace all other symbols except the Scatter, meaning a big payout could be on the horizon. And speaking of Scatters, keep an eye out for the open book symbol. It awards 7 to 20 Free Spins, which can be a great way to build up your balance.
And if you're still not satisfied, there's even more. The bonus symbol is a closed book, and when it appears on the reels, it increases the multiplier found in the spell book to the right of the board. That multiplier will be applied during Free Spins, meaning even bigger winnings are possible. Plus, during Free Spins, the starting multiplier is 2x, so it's the perfect time to brew up some cash.
Just be careful not to get too lost in the magic of it all – you might forget you're playing a slot game and not actually practicing alchemy!
Volatility and Player Preferences
Are you tired of games that give you either too much or too little so often? Fear not, my avid gamblers, for Alchemistress has got you covered with its medium volatility. It's like the porridge Goldilocks had, remember that story? Neither too hot nor too cold, just right. Except in this case, neither too high nor too low winnings quite frequently. If this volatility hits the sweet spot of your taste buds, you'll definitely enjoy this game. And with a theoretical return of 96%, the chances of you leaving the game empty-handed are quite low.
Now, let me tell you that this game also has excellent balance between spins and winnings. It's like that time you finally found your balance in high heels after wearing them for several years. Except in this case, you get to feel confident every time you spin the reels! That's because you're likely to receive a return often enough to keep playing without hitting too many dry spells.
Accessing Alchemistress on Desktop and Mobile Devices
Are you a player who loves to play casino slots on the go? Or maybe you prefer sitting in front of a computer to spin the reels? Whichever it is, Alchemistress has got you covered! You can access this fantastic game on your tablet, mobile phone, or your PC, with ease.
High 5 Games has worked hard to optimize the game's performance on all devices, ensuring that players can enjoy the same experience, no matter the screen size. So, whether you are relaxing on your sofa or stuck in a long queue, Alchemistress is always ready to entertain you.
With the mobile version, playing Alchemistress on the go is a breeze. Imagine hitting the Jackpot on the bus or during your lunch break – it could be your lucky day. If you prefer the traditional desktop experience, you can still enjoy the same thrilling gameplay on your PC.
And for all the tablet lovers out there, Alchemistress is perfect for an unforgettable night of gaming. Take the action to your couch or your bed and play through the night – who needs sleep anyway?
But be aware, playing Alchemistress on mobile may cause you to miss your bus stop or forget about your lunch break. We won't take responsibility for that – be careful out there!
FAQ
What is the minimum bet for Alchemistress?
The minimum bet is set at 20 credits, with each credit costing $0.01.
What is the theoretical return to player (RTP) for Alchemistress?
The player's theoretical return is good at 96%.
What is the Wild symbol in Alchemistress and what does it do?
The ring is the Wild symbol, and it can only appear on reels 2, 3, and 4, replacing all symbols except the Scatter.
What is the Scatter symbol in Alchemistress and what does it do?
The open book is the Scatter symbol and awards from 7 to 20 Free Spins.
What is the multiplier in Alchemistress and how is it increased?
The multiplier increases with each winning combination and once all the vials on the board are full, the multiplier increases by 1x, generating substantial winnings.
What is the bonus symbol in Alchemistress and what does it do?
The closed book is a bonus symbol that increases the multiplier found in the spell book to the right of the board. That multiplier will be applied during Free Spins.
Can I play Alchemistress on my smartphone?
Absolutely, Alchemistress is available for tablets, mobile phones, and PCs.
Is Alchemistress a high or low volatility game?
Alchemistress has medium volatility, providing a balance between spins and winnings.
What we like
Medium volatility for balanced gameplay
Harry-Potter inspired design is consistent throughout the game
Multiplier increases by x1 with each paying combination for bigger wins
Optimized for desktop and mobile devices
What we don't like
Limited betting options with 20 fixed paylines
No additional bonus game or feature other than Free Spins