Age of Asgard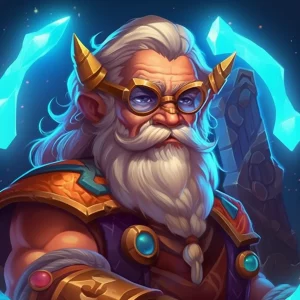 If you're looking for a slot game that will keep you on your toes, Age of Asgard is the game for you. With 2 grids that overlap, it's like playing two games at once. It's so exciting, it's like trying to pat your head and rub your stomach at the same time. But don't worry, you don't actually have to do that. Just spin those reels and let the magic happen!
One of the best things about Age of Asgard is its special symbols. Who doesn't love a good Wild symbol? Plus, there are other winning combinations that trigger some amazing features, such as respins and locked symbols. It's like winning a prize within a prize! Makes you want to do a little dance (or at least a little chair shimmy).
Experience the Mythical Battle with Age of Asgard
Are you looking for an adventurous slot game that will take you back in time to an ancient mythical world? Look no further than Age of Asgard!
Set in a snow-covered Viking village, Age of Asgard immerses you in the epic battle between the gods and their enemies. And the graphics? Let's just say they're ready to compete with the likes of Thor and Loki.
The attention to detail on the symbols, especially the Norse runes of different colors, is impressive. And the special symbols depicting famous Norse gods and their foes only add to the excitement. As you spin the reels, the top-notch graphics and soundtrack create a truly immersive experience, transporting you right into the heart of ancient Norse mythology.
So join the battle and spin to win with Age of Asgard – it's the perfect blend of mythology and slot game fun!
Unleashing the Power of Special Symbols in Age of Asgard
Your journey to the mystical realms of Asgard is lined with many tough battles and challenges, and in Age of Asgard, special symbols come in handy to help you win big and emerge victorious! This Norse-themed slot game is packed with exciting special symbols that add a twist to your gameplay and can lead to immense rewards.
Get ready to unleash the power of Wild symbols that can appear in different forms and shapes in Age of Asgard. The game has Wild symbols that can fill an entire reel, triggering a respin with fixed Wild symbols in place. This exciting feature of the Wild makes it highly lucrative and can increase your chances of winning big time.
The game also has other special symbol combinations that lead to locked symbols, which means that those symbols will remain fixed for several spins, giving you more opportunities to form winning combinations. Thor and Fenrir are two of the symbols that share the function of Wild symbols, and they can help you achieve multiple locked symbols on the reels, leading to huge wins.
But that's not all; Age of Asgard also has several other special symbols such as the scatter symbol, which can trigger the Free Spins feature, and the Free Spin symbol, which can give you extra free spins. These symbols are a great way to boost your winning chances and add an exciting twist to your gameplay.
So, buckle up and get ready to embark on a thrilling journey to Asgard and explore the powers of the special symbols in Age of Asgard. Just don't forget to keep a close eye on Thor and his mighty hammer, as they can help you unleash the biggest rewards and bring you one step closer to becoming the ultimate victor!
Looking for More Viking-Themed Slots?
Are you a fierce warrior looking to conquer new lands and reap bountiful rewards? Well, you might want to consider checking out some of these other Viking-themed online slots:
Now, I don't want to mislead you. These games won't be as epic as Age of Asgard, but they offer a pretty good battle. Beowulf, for example, draws inspiration from one of the most famous literary sagas in Northern Europe, and provides a unique twist on the Viking theme – Oh, and you might miss Grendel's mom.
Although the Norse theme is enjoying a resurgence in popularity, there are still relatively few slots that offer such an immersive and exciting experience as Age of Asgard. I mean, where else can you battle a giant wolf or a monstrous serpent and walk away with some serious loot?
Should You Give Age Of Asgard A Try? Bet On It!
Are you tired of the same old mundane slot games? Do you crave something new and exciting to keep your adrenalin pumping? Look no further than Age of Asgard. And no, this isn't just a game for the history buffs obsessed with the medieval era. You don't have to know your Valhalla from your Hogwarts to have a ball (or brag on!) with this Norse-mythology-based game.
This game has everything that makes a gambler's heart race with excitement. The two grids offer endless possibilities to rake in winning combinations, Wild symbols to help boost your chances of winning, respins to increase your winnings by leaps and bounds, and locked symbols to keep you on the edge of your seat.
It's like being in a blockbuster movie with all of the twists and turns that keep you on the edge of your seat. You don't have to be Thor himself to feel like a mighty god thanks to the rich and lush graphics and immersive experience this game has to offer.
So, whether you're a seasoned player looking for something off-the-beaten-path, or a newbie simply looking for some fun, Age of Asgard is a game you won't regret playing. Trust us; you'd be mad not to give it a spin!
FAQ
What is Age of Asgard?
Age of Asgard is an online slot game with a Norse mythology theme featuring two grids that overlap and offer many opportunities to win big.
What does the game's graphics depict?
The graphics depict an ancient Viking village in the snow with flames and warriors on both sides of the grid.
Which Norse gods are depicted in the game?
The game depicts famous Norse gods like Odin, Loki, and Heimdall, as well as their foes like the undead draugr and the giant serpent Jormungand.
What is the unique feature of the game?
The game has two overlapping grids, each with a 5×3 configuration, and the interaction between the two grids is what makes it unique.
What does Thor's symbol do?
Thor's symbol is a Wild symbol that fills an entire reel, triggering a respin with fixed Wild symbols in place.
Which other symbol shares Thor's function?
Fenrir, the wolf, also shares this function with Thor.
Are there other Viking-themed slots like Age of Asgard?
Yes, other Viking-themed slots include Vikings, Viking Vanguard, Dragon Myth, Nordic Heroes, and Beowulf.
Is Age of Asgard a good choice for experienced gamblers?
Yes, Age of Asgard is an excellent choice for experienced gamblers looking for a unique and exciting slot game that offers many opportunities to win big.
What we like
Two overlapping grids for a unique experience
Immersive Norse mythology theme and top-notch graphics
Special symbols with multiple functions for big wins
Plenty of opportunities to trigger respins and locked symbols
What we don't like
Relatively few slots with a similar immersive experience
May not appeal to players who prefer simpler slot games