9K Yeti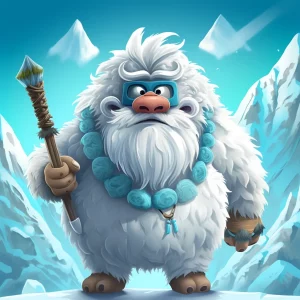 Looking for a slot game that takes you on an adventure to the top of the world? Look no further than 9K Yeti! This Himalayan mountain-themed game features stunning illustrations of the rugged landscapes and treacherous paths climbers must navigate to make it to the top. So put on your hiking boots and let's explore this exciting game in more detail!
The symbols in this game are beautifully drawn and realistic, making you feel like you're right there on the mountain with the climbers. You'll see portraits of brave mountaineers, as well as essential items for climbing such as pickaxes, tents, and ropes. And don't forget the Yeti himself, who may just make an appearance! Even the card symbols blend seamlessly with the overall theme and won't detract from your mountain adventure.
But what really sets 9K Yeti apart is the attention to detail in the illustrations. You can practically feel the biting cold and hear the gusting wind as you navigate the mountain terrain. And the Himalayan flute music that accompanies the game is the perfect touch to make you really feel like you're out in the wilderness. It's clear the developers of this game went above and beyond to create a truly immersive gaming experience.
In conclusion, if you're looking for a slot game that will take you on a thrilling adventure through the mountains and leave you feeling like you've truly been on an expedition, you won't be disappointed with 9K Yeti. So grab your warmest coat and get ready to climb that peak!
Get Ready for Big Wins with 9K Yeti
If you're bored of the same old 5×3 layout of most casino slot games, then you're in for a treat with 9K Yeti. This game boasts a unique 6×4 structure, which means there are nine more symbols per game than usual. And with more symbols comes more ways to win big.
But the real star of the show is the Yeti himself, who makes appearances on the game grid and can lead to some seriously epic wins. Just be careful – if you're not ready for his appearance, you might just get frozen in your tracks.
Keep an eye out for two special symbols in particular: the Scatter symbol featuring Yeti footprints in the snow, which can trigger some thrilling free spins, and the majestic mountain that serves as a Wild symbol, capable of replacing any other normal symbol in the game. Together, these two special symbols can help you climb all the way to the top of the mountain of riches.
With its unique structure and exciting special features, 9K Yeti is sure to keep you entertained for hours on end – and with the possibility of massive payouts, you might even break the bank. So what are you waiting for? Go face-to-face with the Yeti and see if you have what it takes to come out on top!
Unleash the Fun with Yeti, Scatter, and Mountain Symbols
Step into the world of 9K Yeti where the snowy terrains house the mythical creature and great mysteries wait to be unravelled. One of the exciting features of this slot game is the availability of three primary symbols: the Yeti, the Scatter symbol, and the mountain symbol.
The Yeti stands tall as the high-value icon on the grid. With his imposing stature and enigmatic energy, he rewards lucky players with incredibly high wins – you'll want to give him a warm hug after playing a while! In comparison, the Scatter symbol, illustrated as Yeti footprints in the snow, triggers the avalanche of rewards. Once we find at least three Scatter symbols in a single game, boom – free spins time!
And then there's the mountain symbol – the mighty Wild card capable of replacing any other symbol in the game. This symbol is like the cool side of the pillow – every gambler's dream. It appears when it's most needed and helps gamblers to complete winning paylines, increasing your chances of winning big.
With the diversity of the symbols and amazing features of 9K Yeti, it is no surprise that it has become popular among fans of online slot games. If you're in the mood for a mix of whimsical fun and big wins, then buckle up and join our Yeti on this wild ride of a game. Who knows, a chance encounter with the creature might even bring you some good luck!
Take Your Shot: 9K Yeti
If you're someone who has a competitive spirit and loves to take a chance, let me introduce you to your newest obsession: 9K Yeti. This slot game is designed to keep you on the edge of your seat, as you never know when the big bucks will be coming your way. One thing's for sure, however, the chance to win big contributes a lot to the adrenaline rush this game provides.
The Yeti is the symbol you need to keep an eye out for, as it provides some of the highest payouts in the game. And honestly, who wouldn't wanna take a chance on a creature that's part-ape and part-human? Free spins are triggered by landing the Scatter symbol and these give you a chance to make some serious bank. Just remember to breathe and don't let the excitement trip you up.
If you're feeling down on your luck, don't worry about it! The mountain symbol is your easy way out. It can replace any normal symbol in the game, catapulting your chances of finally creating a winning combination. Honestly, you could probably say this mountain is more important than the actual real-life Everest.
Overall Review and Recommendation
Looking for a slot game that will keep you entertained and give you the chance to win big? Look no further than 9K Yeti. With its 6×4 game mechanism, this game is all about the yeti – and the big wins that come with it. While the game might take a little getting used to, you'll find yourself adjusting in no time as you rack up those big wins.
Of course, there's more to this game than just the mechanics. The yeti symbol takes center stage and can really make a huge difference in your winnings. And don't forget about the free spins feature! It's the perfect way to keep the fun going even longer and score some extra big wins while you're at it.
Overall, our recommendation is clear: 9K Yeti is a must-play for anyone looking for a unique and thrilling slot game experience. With its cool theme, fun mechanics, and big win potential, it's pretty much a win-win. So what are you waiting for? Give it a spin!
FAQ
What type of game is 9K Yeti?
9K Yeti is an online slot game with a Yeti-based theme.
What is the game mechanism of 9K Yeti?
9K Yeti offers a 6×4 game mechanism, very different from the standard 5×3 skeleton.
How many symbols does 9K Yeti display per game?
9K Yeti displays 24 symbols per game, nine more than the average online slot game.
What is the maximum win in 9K Yeti?
9K Yeti offers a chance to win much higher than the average, with the Yeti himself appearing on the game grid.
What are the two special symbols in 9K Yeti?
One is the Scatter symbol, illustrated as Yeti footprints in the snow, and the other is the mountain itself which functions as a Wild symbol.
What should players pay attention to in 9K Yeti?
Players need to pay attention to the game mechanics that are different from the standard and require practice time.
What other slot games feature mythological creatures?
Other slot games like NetEnt's Dracula feature other mythological creatures as the main theme.
What is the sound component of 9K Yeti?
The sound component of 9K Yeti includes typical Himalayan flute music accompanying the wind and the tinkling of crystal ice.
What we like
Attention to detail in the illustrations of the game's theme
Unique game mechanism with 6×4 structure
Chance to win big with high-paying Yeti symbol and free spins feature
Mountain symbol can replace any normal symbol, increasing chances of winning
What we don't like
Mechanics may take some time to get used to
Card symbols lack the same level of detail as other symbols