3 Lucky Leprechauns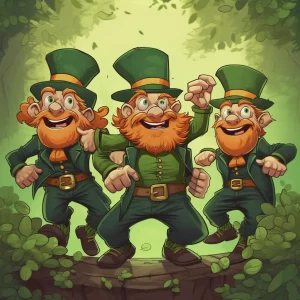 Get ready to dive into the picturesque Irish landscape as you spin the reels of 3 Lucky Leprechauns for a chance to win big! This 5-reel, 3-row video slot captures the essence of St. Patrick's Day with symbols like pots of gold, rainbows, and, of course, leprechauns.
With up to 243 winning combinations, you have endless possibilities to hit the jackpot. You can place bets ranging from $0.10 to $30 per spin in hopes of snagging the maximum potential win of $165,000. That's enough gold to make even the greediest leprechaun jealous.
Are you feeling lucky, punk? Well, you should be because 3 Lucky Leprechauns' Autoplay function allows for anywhere from 10 to 1,000 automatic spins, or you can keep spinning infinitely – it's up to you. The volatility is low, which means there's a steady stream of wins to keep you motivated. And with a theoretical RTP of 96%, you can rest assured that you're not wasting your time or money with this game.
To win big in this game, you must create a combination of at least three identical symbols, but the most profitable can be achieved with just two. So, keep an eye out for those lucky leprechauns and aim for the pot of gold to maximize your chances of winning.
Graphics and Sound
Hold on to your green hats! You're in for a treat with the graphics and sound of 3 Lucky Leprechauns. The game developers have gone all out, providing players with a stunning experience. The game grid is set against the backdrop of a wooden house, a stone path leading up to the door, and the pièce de résistance, a majestic rainbow in the sky. It truly is an immersive experience.
The symbols on the grid are equally impressive. You'll find the typical lucky charms that you associate with all things Irish, such as horseshoes, green hats, and four-leaf clovers. They're all large and of high quality, which makes spinning even more enjoyable.
Let's talk about the sound. The accompanying music during the spins is a traditional Irish melody with the sound of flutes. It's a catchy tune that you'll probably find yourself humming along to subconsciously. It's such a shame that we can't bottle up this music and sell it as a lucky charm, but sadly, its magic is best enjoyed when spinning the reels.
All in all, 3 Lucky Leprechauns is a feast for the senses with its impressive graphics and charming sound. It's a great way to immerse yourself into the world of Irish folklore and win big at the same time!
Unlocking the Pot of Gold: Maximizing Your Winnings
3 Lucky Leprechauns is the newest addition to the world of online slots, and it does not disappoint when it comes to winning potential! With a maximum multiplier of 5,500x achievable through the Bonus game, you'll be feeling lucky sitting at your computer and spinning the reels.
Now, let's get down to brass tacks. You want to win big, don't you? Well, first things first: always make sure to check the pay table before playing any slot game. Make note of the apposite symbols and their details, and take into account any special features or bonuses that might present themselves.
When you're playing 3 Lucky Leprechauns, pay close attention to the Wilds and Scatters- these symbols have the potential to unlock the Bonus game where you can hit that 5,500x multiplier and strike it rich. And don't forget about the Shamrocks- collecting these can earn you Free Spins!
It's important to keep in mind that playing slots is also a game of chance and luck. Even if you've got the pay table memorized, it's impossible to predict when that lucky spin is going to come along. But that's also what makes slots so thrilling- that rush you get when the reels finally align and the coins start pouring out. With an impressive RTP of 96%, we can at least be confident that our chances of winning big are fairly good!
Scatter and Bonus Game
Are you the type of person who gets giddy hearing the sound of gold coins clinking together? If yes, then you'll surely love the Scatter in 3 Lucky Leprechauns. It's a pot of gold coins and precious gems that can make any leprechaun's heart skip a beat!
If you're lucky enough to get at least three Scatters during the same spin, the Bonus game will kick in. And boy, is it worth it! You'll be greeted by multipliers stacked on top of each other next to the slot grid. Make sure you're quick on the clicking, though, as progressive arrows light up one after the other. Keep stepping up to the next level until you reach the seventh level, and you might just win a multiplier or some Free Spins.
Each win with Free Spins gets multiplied by 5, so it's definitely worth climbing all the way up to the top. In the last three levels, you could win a mysterious cash prize. Who knows what that could be? Maybe a pile of gold coins? Or a lucky rabbit's foot? Or a bottle of leprechaun-enhancing potion? Okay, we made the last one up, but you get the point. This slot game is loaded with exciting surprises waiting to be discovered.
Accessibility and Purchasing Options
Are you tired of being confined to your desktop computer? Fear not, my friend! 3 Lucky Leprechauns has got you covered with its HTML5 architecture, making it playable on both desktop and mobile devices! Whether you're chilling at home on your computer or out and about on your phone, you can easily access the game and give it a spin.
But what if you're feeling extra lucky and want to up your chances in the Bonus game? Well, you're in luck because you can purchase the Bonus game separately and even choose what level to start with! That's right, you can pay extra to start at a higher level and potentially win bigger prizes. Just be careful not to break the bank!
Whether you're a seasoned slot game expert or a newbie trying your luck, 3 Lucky Leprechauns has got something for everyone. So, what are you waiting for? Give it a try and may the luck of the Irish be with you!
FAQ
What is the grid size of 3 Lucky Leprechauns?
3 Lucky Leprechauns has a classic 5×3 grid configuration.
How many winning combinations does 3 Lucky Leprechauns have?
3 Lucky Leprechauns has up to 243 winning combinations.
What is the minimum and maximum bet range in 3 Lucky Leprechauns?
The minimum cost of a spin is $0.10, and the maximum bet is $30.
What is the theoretical return to player (RTP) of 3 Lucky Leprechauns?
The theoretical return to player (RTP) of 3 Lucky Leprechauns is 96%.
What is the maximum win amount in 3 Lucky Leprechauns?
The maximum potential win in 3 Lucky Leprechauns is $165,000.
What is the volatility of 3 Lucky Leprechauns?
The volatility of 3 Lucky Leprechauns is low.
What is the function of the leprechaun symbol in 3 Lucky Leprechauns?
The leprechaun symbol is the Wild symbol, which substitutes other symbols except the Scatter.
How do you trigger the Bonus game in 3 Lucky Leprechauns?
The Bonus game is triggered when three or more Scatter symbols appear on the grid.
What we like
Stunning graphics with a traditional Irish theme
Exciting Bonus game with progressive multipliers
Low volatility gameplay with frequent payouts
Maximum potential win of $165,000
What we don't like
Bonus game must be purchased separately
Limited betting range