Jungle Explorer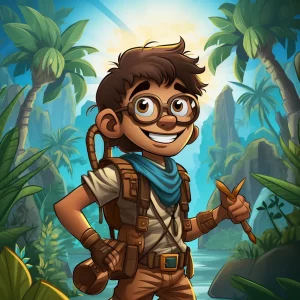 Get ready to explore the wild world of Jungle Explorer, where the grid hosts 5 roaring reels and 3 adventurous rows, with 20 fixed paylines – enough to get your heart racing! The minimum bet to join the jungle party is just 1 token per line, but if you're feeling brave, the maximum bet is a whopping 2,000 tokens! Just don't blame us if you wake up with a financial hangover the next day.
The Autoplay feature is missing a preset number of spins, which leaves it looking for adventure just like our main character in this game. Our brave Jungle Explorer knows there's no telling where the road will take you, but with each spin, your chances of uncovering riches increases. Wins occur when at least 3 matching symbols sprout up from the left reel and proceed towards the right on any of the active lines.
With an impressive RTP value of 95%, Jungle Explorer is not for the faint of heart. The high volatility means that the frequency at which you might strike it lucky may not be that often, but when it does happen – watch out, as the riches come pouring in! It's a jungle out there, but with Jungle Explorer, we promise you won't mind getting lost in the action.
The Symbols that Pay You to Play!
Hold onto your hats, jungle explorers! This game is loaded with symbols that will have you swinging from vines! Lower paying symbols include playing cards from 10 to Ace, while the higher payouts come from amulets, gold coins, and the girl of your dreams! The explorer is the Wild symbol and replaces all others except Scatter. Oh yeah, and explorer pays the most! The Scatter symbol is a golden statue with more coins than Smaug's treasure hoard, giving you up to 15 free spins and paying the same as the explorer! But even better, the Scatter also offers a multiplier of 2x, 4x, 8x, and 16x! Oh baby! And to top it all off, the game features a cascade mechanism where the winning symbols explode and more symbols fall from above! Could it get any better than this? We'll let you be the judge of that!
Explore Free Spins and Multipliers in Jungle Explorer
Jungle Explorer is not just about uncovering hidden treasures, it's also about unlocking free spins and multipliers that can help you multiply your winnings faster than a monkey can peel a banana.
Keep an eye out for the golden statue Scatter symbol, as it can grant you up to 15 free spins and multiply your winnings by 2x, 4x, 8x, or 16x. That's a lot of bananas – I mean riches – to be brought home! Even more, the Wild symbol can work its magic to replace other symbols and help you win even more free spins!
Return to Player Percentage and Volatility
Jungle Explorer is a game with serious payout potential. The Return to Player percentage comes in at a solid 95% – that's like getting a B+ in slot terms! With high volatility, Jungle Explorer can be a wild ride – but with thrilling ups and downs come thrilling payouts. Don't be afraid to take the risk and go deep into the jungle – you just might strike gold!
Usability and Design
Jungle Explorer is like going on a jungle safari, except you won't need mosquito nets and binoculars, just some good luck! The game's design is jungle-inspired, with beautiful bamboo canes framing the game grid at the center of the screen, and active paylines visible on the sides. And talk about user-friendly! The game has a ton of buttons and settings to make sure your bets are optimized, including credits, paylines, bet per line and total bet, paytable, Gamble, Start, and Autoplay buttons. Plus, you can turn off the background music anytime you want, so you can imagine your own jungle sounds, like lions roaring or monkeys chattering.
FAQ
What is Jungle Explorer?
Jungle Explorer is an online slot game with an adventurous archaeology professor tracking down hidden treasures in a lush jungle.
What are some key features of the game?
Jungle Explorer has 5 reels, 3 rows, and 20 fixed paylines. The minimum bet is 1 token per line, and the RTP value is 95% with high volatility.
What is Autoplay?
Autoplay is a feature that allows players to play continuously without manually clicking the Start button for every spin.
How do I win in Jungle Explorer?
You win by matching at least 3 symbols from the left reel proceeding towards the right on one of the active lines. In case of multiple wins on the same line, only the highest one will be paid.
What is the Wild symbol in Jungle Explorer?
The Wild symbol is the explorer, which replaces all symbols except the Scatter and is the highest-paying symbol in the game.
What is the Scatter symbol in Jungle Explorer?
The Scatter symbol is a golden statue with a sea of gold coins. It gives up to 15 free spins and offers a multiplier of 2x, 4x, 8x, and 16x.
What is the minimum bet in Jungle Explorer?
The minimum bet is 1 token per line, so 20 per spin.
Can I turn off the background music?
Yes, you can turn off the background music at any time from the menu.
What we like
Offers a high maximum bet of 2,000 tokens
Features a cascade mechanism for additional wins
High RTP value of 95%
Has a free spins feature with up to 15 spins and 16x multiplier
What we don't like
Autoplay feature does not have a preset number of spins
High volatility may not appeal to all players