Jellyfish Flow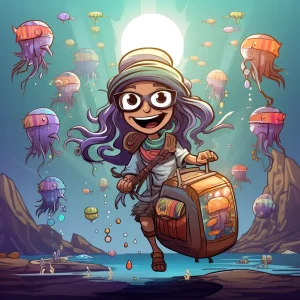 Ready to get tangled up in the mesmerizing world of Jellyfish Flow? The game aims to thrill players with its unique 3×3 reels and 27 ways to win setup that expands up to a whopping 7×7 reels, leading to up to 823,543 ways to win.
The game mechanics are simple and focus on wild and reel expansions. While the features list isn't long, the Jellyfish Wilds certainly make up for it! Not only can they substitute for other symbols but also create more winning combinations and provide an opportunity to expand the game area.
Just like the creatures, the game is both beautiful and awe-inspiring. It's perfect for players who want an immersive gaming experience without fussing over too many complicated rules and features.
Choose Your Own Adventure: Volatility Mode
Buckle up, folks! Jellyfish Flow offers players the choice between two different volatility modes. If you're feeling brave, you can opt for the regular version with its already high volatility – we're talking potential payouts of up to 32,416x your bet! The RTP sits around 96.69% (give or take depending on the online casino).
For those of you who crave a little more risk and a lot more reward, Jellyfish Flow also offers an Ultra mode. With the potential to payout up to a whopping 168,004x your bet, this mode is not for the faint of heart. Be warned – the volatility is even higher in Ultra mode (about 9 times greater than the regular version). The RTP for this mode is said to be 96.70%.
So which will it be, high roller? Regular or Ultra? Choose wisely and enjoy the ride!
Graphics and Theme
If you're like me, you're a sucker for good graphics. And let me tell you, Jellyfish Flow's graphics are more beautiful than Ryan Gosling holding a puppy. Habanero's high-end design features an oceanic and jellyfish theme that pops off the screen. You'll start off with 3 small reels, but they're covered with various types of symbols that will make you feel like you're swimming along with the sea creatures. Keep an eye out for the multicolored wild jellyfish – it's the MVP of the game. The other jellyfish symbols come in blue, green, red, and yellow – perfect for those who love a little color in their lives. And have you seen the mermaids? They're frolicking with seahorses, crabs, turtles, octopuses, and other underwater friends. The game's design is nothing short of admirable – it's what makes playing Jellyfish Flow a truly immersive experience.
Is Your Payout Potential as Big as a Jellyfish?
Ready to swim with the big fish? Then Jellyfish Flow is the slot game for you. With a whopping potential payout of up to 32,416x or 168,004x the bet (depending on the volatility option), you'll have a chance to reel in some serious cash. But don't get too excited just yet! The game's actual RTP is subject to variation, with the floating average of around 96.69% or 96.70%. So, your chances of winning big might not be as clear as the Caribbean sea.
While you're spinning the reels, keep in mind that you need to match three icons on consecutive reels to get a payout. And if you really want to take the plunge and go for the top prize, you'll need to play in Ultra mode. But, as with any high-risk maneuver, only daring high rollers should attempt it. It's time to roll the dice and see if you can make a splash.
Get Stung By Jellyfish Flow Reel Expansions And Wilds
Get ready to be electrified with Jellyfish Flow – the slot game that lights up the reels with wild features and reel expansions. The jellyfish wilds give the game a shock of excitement by expanding the game area with each appearance, and if you are lucky, the game can grow up to 7×7 size. It is not easy, but it is worth the buzz. The best part? These slippery symbols stick around and help you form more winning combinations that will make you feel like the king of the sea.
Target Audience
Jellyfish Flow is the slot game that will hook high-risk, high-reward players, the brave souls who fancy living life on the edge. If you're a veteran slot player or just enjoy the thrill of taking chances, this game is perfect for you. But if you're a scaredy-cat, steer clear of this high volatility game, and stick to the penny slots.
Don't get us wrong; Jellyfish Flow's cheerful musical theme and stunning oceanic graphics are sure to captivate anyone with a pair of eyes. So, go ahead and give it a try if you're feeling lucky, just don't come crying to us if you end up with a massive hit to your wallet!
You liked Jellyfish Flow? You'll love these too!
If the underwater world and its mesmerizing creatures is your jam and you loved playing Jellyfish Flow, then it's time to dive into some more awesome slots like Endemol's Maidens of the Sea. This slot game will make you feel like a true captain navigating through 40 paylines, 4 rows and 5 reels, with a chance to win up to 200,000x your bet. And who doesn't like that? The theoretical RTP is 96.30%, so you might have a better chance of winning than the famous Captain Nemo. To add some fun to your adventure, the game has two reel modifiers that will make the symbols switch around and create wilds on the reels, as well as a free spins bonus that will have you singing 'I'm on a boat' in no time.
Endemol has another underwater pearl – Mermaids of the Sea slot. This slot features not one, not two, but three exciting features that can increase your potential payouts or trigger a free spin bonus. The 5 reels and 4 rows in Mermaids of the Sea are also spinning on 40 lively paylines, making it an ocean of fun. With enough luck, you might catch a glimpse of Ariel or Aquaman while playing.
FAQ
What is the minimum bet for Jellyfish Flow?
The minimum bet for Jellyfish Flow is 0.15 Dollars per spin using 15 coins.
What is the maximum payout for Jellyfish Flow in regular mode?
The maximum payout for Jellyfish Flow in regular mode is up to 32,416x the stake.
What is the Ultra mode in Jellyfish Flow?
The Ultra mode is a volatility option that gives an enormous increase in rewards up to 168,004x the bet, but it is not recommended for regular gameplay.
What is the RTP for Jellyfish Flow?
The RTP for Jellyfish Flow is around 96.7%, but it can go lower or higher depending on the online casino.
What is the game mechanic of Jellyfish Flow?
Jellyfish Flow's game mechanic is based on wild and reel expansions, where a player would need Jellyfish Wilds to expand the game area up to 7×7 reels.
What are the other similar slot machines to Jellyfish Flow?
Maidens of the Sea and Mermaids of the Sea are two similar slot machines to Jellyfish Flow with a water-themed environment, reel-expanding features, and high potential payouts.
What is the maximum payout for Jellyfish Flow in Ultra mode?
The maximum payout for Jellyfish Flow in Ultra mode is up to 168,004x the stake, which is one of the biggest payouts in any regular game.
What symbols are in the Jellyfish Flow game?
The Jellyfish Flow game features jellyfish symbols of different colors, a multicolored wild jellyfish, mermaids, turtles, seahorses, crabs, octopuses, and oceanic-themed symbols.
What we like
Expanding reels and ways to win
Two different volatility options
Beautiful graphics and theme
High potential payouts
What we don't like
Varied RTP depending on online casino
Not suitable for casual players or beginners