Helloween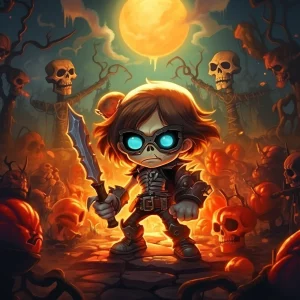 Get ready to head-bang your way to big wins with the latest slot game from Play'N'Go – featuring the iconic German metal band, Helloween! This exciting game comes to life with amazing graphics and gameplay that will keep you rocking out all night long. Start your gaming experience with a bang with the live performance video that opens the game, followed by a killer playlist of Helloween's greatest hits.
Let the music transport you to a world of head-banging fun as you spin the reels and try your luck at winning jackpots. This music-themed slot game has everything a rock fan could ever want, from iconic band members represented as symbols to concerts that take place right on your screen.
Get Ready to Rock! Helloween Slot Is Here
Are you ready to rock the reels? Helloween slot game is a classic grid game that's sure to get your blood pumping. With 5 reels and 3 rows, and 10 fixed paylines, it's easy to get lost in the fantasy world. You can bet from $0.10 to $100 and activate up to 100 automatic spins per game. Just don't forget to set your win or loss limits.
The symbols are as iconic as the band itself. You'll recognize album covers from Keeper of the Seven Keys Pt.1 and 2, Walls of Jericho, and Pumpkins United. And don't miss the Wild symbol – the Halloween pumpkin will save your day by replacing other symbols on the reels. But watch out for the Scatter symbol – represented by 7 keys orbiting around a blue sphere. If you find three, be prepared for five respins and a crazy wilds function!
Bonus Features: Rockin' Features Galore!
Helloween's got it all – rockin' features and amazing bonuses!
If you're looking for some killer Wild-related bonuses, look no further! Helloween offers up some of the best ones around, all named after famous Helloween songs.
Choose the I'm Alive feature for Wilds that will stick around and expand up or down with each respin, or the Future World feature for Wilds that expand and cover the entire reel.
Eagle Fly Free is another exciting bonus feature. With each respin, a new Wild takes flight and changes position for maximum excitement. Dr. Stein lets you choose an initial symbol that then becomes Wild after each spin.
Finally, the thrilling I Want Out feature will make you shout with excitement as Wild symbols explode and occupy 4 slots. Don't forget about the features that award 7 free spins or offer multipliers of x2, x3, x5, or x10 – there's always something exciting to uncover!
Rock Out with Helloween's Music and Audio!
If you're a fan of Helloween's music, you're in for a treat with this slot game! The soundtrack is made up of the band's famous hits and adjusts depending on the bonus features you hit, making every spin feel like a rock concert.
And let's talk about the game's audio – it's like a blast from a guitar amp! It's so immersive you might just feel like you're a part of the band. Just be sure to have some earplugs handy if you're playing in a public place.
RTP and Volatility
Are you feeling brave? Helloween is a game that'll scare you straight to the bank. Well, maybe not. The volatility is medium, but the RTP is 94.2%, which is a tad lower than other online slots. You might need to be patient for those big wins, but the entertainment value is on point. It's not all doom and gloom, though. The bonus features and gameplay are more than enough to keep you coming back for more.
FAQ
What is Helloween?
Helloween is an online slot game developed by Play'N'Go. It's based on the music and fantasy world of the German band Helloween.
How many paylines does the game have?
Helloween has 10 fixed paylines.
What is the minimum bet for the game?
The minimum bet for Helloween is $0.10.
What is the maximum bet for the game?
The maximum bet for Helloween is $100.
What is the RTP of the game?
Helloween has an RTP of 94.2%.
What are the Wild and Scatter symbols in the game?
The Halloween pumpkin is the Wild symbol and replaces other symbols except for the Scatter. The Scatter is represented by 7 keys orbiting around a blue sphere and also functions as a Wild.
What are the bonus games associated with the Wild symbols?
There are 6 bonus games associated with the Wild symbols in Helloween. Each one is named after a famous Helloween song and has unique features that affect the Wilds on the reels. The songs are I'm Alive, Future World, Eagle Fly Free, Dr. Stein, March of Time, and I Want Out.
Are there any other special features in the game?
Yes, there are two more special features in Helloween. One awards 7 free spins, and another offers a multiplier of x2, x3, x5, x10.
What we like
Impressive graphics and gameplay
Selection of famous Helloween songs as the soundtrack
Variety of Wild-related bonus features
Explosive music immerses players in the band's world
What we don't like
Lower RTP compared to the average for online slots
Longer stretches between big wins