Helena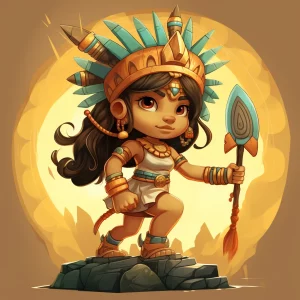 Ready for some excitement? Helena is a five-reel, three-row slot game with ten paylines that will have you on the edge of your seat! And for those of you who like to multitask (or just be lazy), there's an autoplay option to let the game spin for you. But don't worry, you can still place bets starting at a measly ten cents all the way up to a maximum bet of 100$.
But let's talk about the good stuff. The game features a Wild symbol that can help you win big by substituting for other symbols to create winning combinations. In fact, if you get a Wild symbol on all five reels, you're in for a whopping 40,000 coin payout! Who needs to pay to spin when you can just get them for free, am I right?
Stunning Design and a Mythical Theme
If you're a fan of Greek mythology, then Helena is the perfect slot game for you. With its refined and visually pleasing design, your eyes will be sparkling brighter than a terracotta vase at an archaeological site.
You'll be spinning with the legendary Paris of Troy, the mythic hero Achilles, and of course, the iconic figure of Helen of Troy herself. And that's not all – the game is packed with various thematic elements that will transport you to the ancient Hellenic culture.
Get Your Bet On!
Ready to gamble your cents and Dollars away? Helena has got you covered with betting options ranging from 10 cents to a max of 100$ per spin! This way the game is perfect for both penny pinchers and high rollers.
But remember, gambling can be addictive. So, if you find yourself betting more than you can afford, just remember that your wallet is not Helena's fault. She's just a game – a game that wants to take your money, but still, just a game. Don't blame Helena for your poor decisions, blame yourself!
Payout Potential: Cash prizes Galore!
Get ready to win big with Helena slot game! The game offers a maximum payout worth 40,000 coins, enough to buy you an olympian gold medal. Keep your eyes peeled for the high-value symbols of Achilles and Paris, who can pay out 3,000 times the bet when they show up on all five reels. Bet big, aim for the stars and you could soon be living like a god!
Volatility and RTP: The Financial Side of Helena
Helena is like that moderate friend who hangs out with both high and low-risk takers – it falls slap bang in the middle of the volatility scale. Surprisingly, its theoretical return to player is lower than the average, sitting at a modest 95.12%. However, don't let this discourage you, for Helena still offers decent payouts and is sure to keep you entertained, especially if you're into ancient civilizations. Who knows? You might even hit it big and become the real queen of the Nile – or at least win enough to buy her a ticket to a better place.
FAQ
What is the maximum bet I can place on Helena?
You can bet up to a maximum of 100 $ on Helena.
What is the maximum prize that can be obtained on Helena?
The maximum prize that can be obtained on Helena is equal to 40,000 coins.
What is the volatility of Helena?
The volatility of Helena is medium.
What is the theoretical return to player (RTP) of Helena?
The theoretical return to player (RTP) of Helena is 95.12%.
What are the symbols that can be found on Helena's reels?
Among the symbols that can be found on Helena's reels are classic playing cards, a terracotta vase, Paris of Troy, and the hero Achilles.
What is the Wild symbol of Helena?
The Wild symbol of Helena is the beautiful Helena who, in addition to having a wildcard function, can alone determine winning combinations that pay up to 40,000 coins when it appears on all reels.
What is the Scatter symbol of Helena?
The Scatter symbol of Helena is represented by a dawn, and if it appears at least three times, it awards 15 free spins.
Is there an Autoplay option on Helena?
Yes, there is an Autoplay option on Helena that allows you to play automatically by setting a predefined number of spins.
What we like
Autoplay option for convenience
Wide range of betting options
Visually stunning and refined design
Decent payouts and high-value symbols
What we don't like