Golden Ticket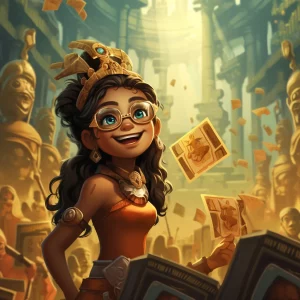 Prepare yourself for the ride of your life with Golden Ticket, the 5×5 game grid that will have you hooked from the first spin. With 25 symbols at every spin, you'll have the opportunity to win big and have a blast while doing it.
What sets Golden Ticket apart from other slot games is its unique mechanics. When you achieve a winning combination, the symbols involved disappear, making room for a golden ticket. This magical ticket acts as a Wild symbol, which gives you the chance to obtain chained combinations and potentially score even bigger wins!
Golden Ticket also features a bonus game that will have you on the edge of your seat. Trigger the bonus game by successfully clearing the entire game grid of symbols. In this bonus game, you will be playing a mini-game with your host, the Strongman, in which you will test your strength and aim to reveal the hidden prizes.
So what are you waiting for? Come and join the fun with Golden Ticket slot game. You will not be disappointed with the thrilling gameplay mechanics and the possibilities are truly endless. Just be careful not to get too hooked, as you might end up spending all your hard-earned cash on this game. But hey, there are worse things to be addicted to than winning big, am I right?
The Secrets of Golden Ticket's Bonus Mode
Are you ready for the ultimate challenge in Golden Ticket? Look no further than the Bonus mode, where the thrills and payouts can multiply in an instant!
But, how do you access this mode? Fear not, my friend, for I have uncovered the secret. Each symbol in the game can hide one of the letters that make up the word 'Bonus.' So, keep your sharp eyes peeled for those elusive letters and unlock the door to victory!
And let's face it, isn't finding hidden treasures half the fun of playing online slots? So, come on, don't be shy – give Golden Ticket a spin and see if you have what it takes to unlock the elusive Bonus mode!
Golden Ticket: A Feast for the Eyes and Ears
If you're looking for a slot game that delivers in both graphics and sound quality, look no further than Golden Ticket. This game takes place at a lively country fair filled with bright lights, vivid colors, and exciting attractions, all of which are superbly recreated in the game's visual design. From the spinning reels to the carnival tents, every last detail has been meticulously crafted to transport you to the heart of the fair!
But it's not just the visuals that impress in Golden Ticket; the sound design is equally impressive. As you play, you'll be treated to the sounds of a raucous crowd, with vendors enticing customers and carnival attractions blasting their joyful music in the background. It all adds up to an immersive experience that's impossible not to get swept up in!
Overall, Golden Ticket is a fantastic example of how great graphics and sound design can elevate a slot game to the next level. So what are you waiting for? Give it a spin and let the fun begin!
The Inspiration Behind Golden Ticket's Theme
Step right up and prepare to be amazed! The Golden Ticket slot game is a thrilling and entertaining circus-themed game that will have you on the edge of your seat. The game takes place in a country fair, complete with bright lights and colorful tents that transport you to the exciting world of the circus.
As you play the game, you'll notice a range of funny and interesting symbols that represent iconic circus characters and themes. These symbols include a clown, a strongman, and a conductor, to name a few. Not only are these symbols meticulously designed to elevate the overall atmosphere of the game, but they also create a sense of nostalgia for those who have experienced the thrill of the circus firsthand.
And speaking of nostalgia, have you ever been to a circus show where the acrobats performed stunning feats of daring? You'll be happy to know that this slot game has drawn inspiration from the world-class acrobats of the circus, infusing their feats of strength and agility into the game's mechanics. So don't be surprised if you find yourself cheering on some truly acrobatic spins and falls as you play!
In the end, Golden Ticket is more than just a game – it's a full-fledged circus experience that immerses you in a vibrant world of fun and excitement. So come on in, grab some popcorn, and enjoy the show – the Golden Ticket awaits!
The Uniqueness of Golden Ticket Compared to Other Slot Games
Are you tired of playing the same old slot games with repetitive themes? Look no further than Golden Ticket, a refreshing and original title inspired by the thrilling world of acrobats and the circus!
Not only does Golden Ticket stand out for its unique theme, but its gameplay mechanics are also top-notch. The cascade mechanism adds an extra layer of excitement to each spin, as the symbols fall into place and new combinations are formed.
Overall, Golden Ticket offers a comprehensive experience that players can enjoy from start to finish. Its uniqueness can be appreciated for its aesthetic and gameplay mechanics. And while some other slot games may have similarities, such as NetEnt's Crash-O-Matic, Golden Ticket still manages to offer a completely original and fun experience.
So why settle for the same old slot games with tired themes and gameplay? Give Golden Ticket a spin and see for yourself why it stands out from the crowd.
FAQ
What is Golden Ticket?
Golden Ticket is an online slot game with a circus theme that offers original and unusual gameplay mechanics. The game has a 5×5 grid that shows 25 symbols at each spin.
What is the main feature of Golden Ticket?
Golden Ticket's main feature is its cascade mechanism. When a winning combination occurs, the symbols involved will disappear and leave room for a golden ticket. The ticket will act as a Wild symbol, allowing players to obtain chained combinations.
How many symbols are in Golden Ticket?
Golden Ticket has 25 symbols at each spin on its 5×5 grid.
What is the bonus feature of Golden Ticket?
The bonus feature in Golden Ticket is triggered by unlocking the letters that spell 'BONUS' which are hidden behind the symbols. If players unlock all of the letters, they can access the special mode.
What is the RTP of Golden Ticket?
The RTP of Golden Ticket is 96.73%.
Is there a similar game to Golden Ticket?
One similar game to Golden Ticket is Crash-O-Matic by NetEnt, which also has a cascade mechanism and offers a varied gameplay.
What is the minimum bet for Golden Ticket?
The minimum bet for Golden Ticket is 0.20 coins.
What is the maximum payout of Golden Ticket?
The maximum payout for Golden Ticket is 5,000x the bet amount, with a max potential win of $500,000.
What we like
Unique and original theme inspired by the circus
Impressive graphics and sound quality
Innovative gameplay mechanics with cascade feature
Bonus mode adds excitement and rewards
What we don't like
Limited bonus mode access
Not as many bonus features as other slot games