Golden Ticket 2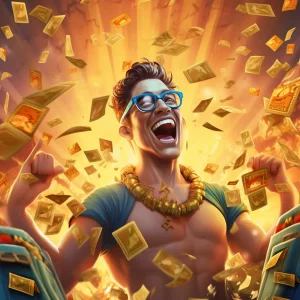 Get ready to experience the excitement of the circus tent with Golden Ticket 2 by Play N Go. This slot game offers a unique 5×5 reel grid filled with cascading symbols that can lead to some serious payouts. Not to mention, it adds a refreshing twist to the classic slot game format.
One of the best things about Golden Ticket 2 is the cascading symbol feature. This allows players to enjoy consecutive wins, boosting their final multiplier value. It's like stacking juggling balls on top of each other – each time you succeed, your prize gets bigger and better!
If you're lucky, you might even trigger the free spins round. This is where the real fun begins! You'll get the chance to enjoy free slot spins, increasing your chances of winning big without spending a dime.
And that's not the only trick hidden up this slot's sleeve. If you're struggling to line up the perfect combination, keep an eye out for Golden Ticket 2's wild functions. These can assist you in completing the winning combination, creating more generous payouts and making you feel like the star performer of the show.
Overall, Golden Ticket 2 offers a fantastic gameplay experience that will have you on the edge of your seat. With its unique cascading symbols and exciting bonus features, you'll feel like you're front row at the circus.
Impressive Graphics and Design
Let me start this Golden Ticket 2 review by talking about how charmingly delightful the graphics and design are! The vibrant visuals are so captivating that players would keep coming back for more. It's easy to navigate, and the user interface is incredibly easy to use.
The symbols in the game are classic circus props that include knives, targets, and clowns. With the Ringmaster holding the highest value, followed by knife throwers and clowns, there's never a dull moment in this game. The Wild symbol is represented by the tent, and it acts as a substitute for all other symbols, except for the scatter symbol.
The game developers did an exceptional job with the graphics. The colors used in the game are bright and eye-catching. You'll enjoy watching the animations come to life right in front of your eyes. The attention to detail is impressive, and you'll be transported into a magical circus world where anything can happen.
Not only is Golden Ticket 2 fun to play, but the graphics and design alone make it worth a spin. The game is perfect for those who love to play visually appealing games that are entertaining and easy to understand.
If you're looking for a game that looks and feels good, Golden Ticket 2 is your answer. It's visually stunning and will keep you entertained for hours. So, what are you waiting for? Give it a spin and join the circus!
Bonus Features
If you're looking for a slot game with fantastic bonus features, then Golden Ticket 2 should be at the top of your list. With 4 bonus features that players can unlock, Golden Ticket 2 offers something for everyone.
The cascading symbols feature is one of the most exciting. It increases multipliers, which can combine with wild multipliers and free spin rounds. And hey, who doesn't love free spins? That's right, even your grandma loves them. If players clear an entire bonus row, they can activate a combination of free spins and multipliers. Frankly, it's like winning two jackpots in one go.
If players clear the entire grid of symbols, they can win a prize equal to 50x their bet. This bonus offers the chance to be the king in the casino, and all of the games are your subjects.
Golden Ticket 2 also offers a multiplier feature, which can randomly activate on any spin. This feature gives players the chance to win even more money, which is always great for your bank account, but maybe not so much for your heart rate.
Overall, Golden Ticket 2 offers a one-of-a-kind slot game experience, packed with fantastic bonus features that will make any player feel like a winner, even if they don't hit the big jackpot. So, grab your popcorn, sit back, and enjoy the show.
Winning Potential
Golden Ticket 2 provides an opportunity for players to potentially win big – we're talking 20,578 times your bet big! That's enough money for a new car, a fancy vacation, or 10,000 cups of coffee – whatever your heart desires.
And with cascading symbols, multipliers, and bonus rounds, the winning potential is even higher. It's like spinning a wheel of fortune, only with cooler graphics and more chances to win. So grab your lucky charm, your four-leaf clover, or your magic crystal ball, because you're going to need it to hit that sweet sweet jackpot.
As with any casino game, luck is a key factor in winning big. But with the multipliers in Golden Ticket 2, you can turn even a small win into a massive one. It's like adding rocket fuel to your spaceship – except instead of going to Mars, you're going to millionaire city.
RTP: Gamble Smartly with Golden Ticket 2's 96.5% RTP Rate
Golden Ticket 2 has a Return to Player rate of 96.5%, which means that it is one of the most profitable online slot machines out there. Don't worry, we're not going to bore you with a math lesson about RTPs, but we will tell you that this game is worth the bet.
This RTP percentage means that you don't have to worry as much about losing your shirt while spinning the reels. Instead, you can concentrate on landing those multipliers and triggering those bonus games without feeling like you are gambling away your hard-earned cash.
Of course, no one can guarantee you a win while playing an online slot game (especially not us, we're just robots). But the probability of walking away with some serious payouts is more concrete with Golden Ticket 2's RTP rate. Let this slot game be your lucky charm as you spin those reels and try to hit those paylines!
FAQ
What is the RTP of Golden Ticket 2?
The RTP for Golden Ticket 2 is 96.5%, above the standard for online slots.
What are the game symbols?
Golden Ticket 2 features circus-themed symbols, including knives, targets, and clowns, with the Ringmaster symbol holding the highest value.
What is the Wild symbol?
The Wild symbol in Golden Ticket 2 is represented by the tent.
What are the bonus features?
Golden Ticket 2 has four bonus features, including cascading symbols, increasing multipliers, wild multipliers, and free spin rounds. Clearing an entire bonus row can activate a combination of free spins and multipliers.
What are the free spin options?
Clearing an entire bonus row can activate one of three free spin options: 5 spins with a 3x multiplier, 7 spins with a 2x multiplier, or 9 spins with a 1x multiplier.
What is the maximum win potential?
The maximum win potential for Golden Ticket 2 is 20,578 times your bet.
What is the sequel to Golden Ticket 2?
Golden Ticket 2 is actually the sequel to the popular Golden Ticket slot game.
What is the theme of Golden Ticket 2?
Golden Ticket 2 is a circus-themed slot game set in the 1920s.
What we like
Impressive graphics and design
Engaging gameplay features
Multiple bonus features
High RTP of 96.5%
What we don't like