Gold Volcano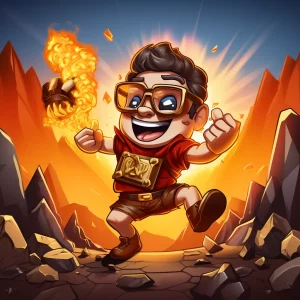 Ready to feel the heat? Gold Volcano is an explosive 8-reel slot game that will keep you on the edge of your seat. With cluster pays for wins and a minimum bet of just 20 cents, even beginner players will feel like they struck gold. And when it comes to features, Gold Volcano doesn't disappoint. You'll find all sorts of helpful events triggered at random, so it's always a surprise.
But the real gems of this game are the Crystallization and Eruption Features. With Crystallization, the symbols freeze in place and you'll receive a respin – increasing your chances for bigger and better wins. And the Eruption Feature is like a ticking time bomb, building up pressure until it explodes with even more rewards. It's like watching a real volcano eruption, without any of the ash and lava. Unless you play for too long.
All in all, Gold Volcano adds just the right amount of spice to the classic slot game formula. Give it a spin and see if you have what it takes to strike gold.
Unleash Your Inner Volcano and Win Big with Gold Volcano Slot Game
If you're looking for a thrilling and volcanic experience while winning big in the world of online slots, then you definitely need to check out the exciting game called Gold Volcano. This game offers players huge winning potential with a chance to win up to 10,000 times multiplied by the bet. That's like blowing the lid off a real-life volcano and walking away with all the treasures stored inside.
Gold Volcano has an RTP of 96.20%, which comes in handy when you're looking for games that offer decent payout percentages. With medium-high volatility, the game delivers frequent and sizable payouts that you can stay glued to your seat for. The game is loaded with fab bonus features that can pump up your winnings even more.
The bonus features in this game include Random Wilds, Symbol Shuffles, and Pressure Points that add wilds to the grid and increase potential payouts – the pressure is on! It's safe to say that the game's graphics and animations are also lava-licious! You'll feel like you're part of the action as the game's symbols leap out of the screen, and the game's theme will make you feel like you've suddenly been transported to the very top of a towering volcano.
So why not unleash your inner volcano and give Gold Volcano a spin? Who knows – you may just come out of it all with a massive payout that can make you feel like you've struck liquid gold!
Visual Effects
The visual effects in Gold Volcano are hotter than a lava flow! From the moment you load the game, you're transported to a world of excitement and adventure. The graphics are so visually stunning that you'll think you've been transported to an actual volcanic planet. The reels are placed deep within the volcano's crater, and the symbols represent all things volcanic, including magma, molten rock, and even crystals.
The game's designers have gone the extra mile to ensure that every little detail is perfect. This level of attention to detail is most apparent in the game's symbols and the volcano imagery. Each symbol is perfectly drawn and intricately designed, making the gameplay experience even more enjoyable. You'll find yourself staring at the symbols, not just for their monetary value but also for their beauty.
To add an extra challenge to the game, the volcano erupts with every winning spin! The lava flow and symbol shifting add an extra layer of excitement to the gameplay experience, making it a fun and engaging experience each time you play.
All in all, Gold Volcano's visuals are a feast for the eyes, and they will keep you entertained for hours. If you've got a thing for volcanoes and like your slots with a punch of excitement, then Gold Volcano is just the game for you!
Sound Design
If you're one of those players who enjoys a good soundtrack to their game, then you're in for a treat with Gold Volcano. The developers have gone above and beyond to create a dramatic and engaging musical theme that suits the exciting gameplay.
In fact, the soundtrack is so good that we found ourselves tapping our feet and bobbing our heads along with it. And with a good set of sound effects accompanying it, the experience becomes even more immersive. We can guarantee that you won't be able to get the theme tune of Gold Volcano out of your head even if you tried – it's that catchy!
The sound design in Gold Volcano truly elevates the game, and it's clear that the developers really put in the effort to create a top-notch gaming experience for players.
Symbols Design
Gold Volcano is set on the island of Cash-a-Mundo and let's just say the symbols will make you feel like you struck gold! The designers really stepped up their game with this slot game. From low-value cart suits in precious materials to the most valuable symbol – gold. Yes, that's right, gold! Talk about living the high life! And if you're lucky enough to get 30 or more gold symbols on the grid, you'll be laughing all the way to the bank.
There are not one but two wild symbols, which can help players create even more winning combinations. And of course, there's the scatter symbol, which in this case is a piece of volcanic rock. Not sure what volcanic rock has to do with gold, but hey, it looks cool and can help players win big.
All in all, the symbols in Gold Volcano are top-notch and will keep players entertained for hours. But be warned, you may start to feel like a pirate searching for treasure on the island of Cash-a-Mundo. Just don't forget to come up for air and take a break every once in a while!
Random Features
Are you ready to spice up your gameplay experience? Look no further, because Gold Volcano has got you covered with its exciting and unpredictable random features!
During the base game, players can activate a variety of random features that can shake things up in an instant. Prepare your lucky charms because you never know when you'll trigger a symbol shuffle, a layout change, or even some wilds added to the grid!
But that's not all! The Pressure feature is a personal favorite among many players. Not only can you add wild symbols to the grid, but they'll be placed in random squares for maximal excitement and potential wins! With so much going on, you better hold on tight to your seat and watch the action unfold.
One word of advice? Don't underestimate the power of random features. They may seem small, but they can turn a mediocre session into a thrilling ride in seconds. Now, if you'll excuse me, I need to go light some incense and make a prayer to the slot gods for some lucky triggers.
Wild Symbols
Wild Symbols
Who doesn't love a good wild symbol? I mean, they're basically the slot game equivalent of a wildcard in UNO. And in Gold Volcano, you've got not just one, but two wild symbols to play with!
The first one is your standard W, which substitutes for all symbols except the star scatter. But that's not the only trick up Gold Volcano's sleeve. The second wild symbol not only substitutes for all symbols, but also adds a 2x multiplier. Pretty sweet deal, huh? You can find this bad boy in the Pressure and Free Spins feature.
With two wild symbols at your disposal, you'll be hitting winning combinations left and right. Just remember to actually spin the reels, and not just stare at the pretty graphics. Believe me, I've been there.
Volatility and RTP
Are you ready to take the risk and win big? Gold Volcano offers an RTP of 96.20% and medium-high volatility, making it an exhilarating slot game that can lead to some juicy payouts. The maximum win of up to 10,000x multiplied by the bet is nothing to scoff at, and players should be prepared to see some explosive wins.
Of course, volatility is important to keep in mind. You don't want to blow all your gold on one spin like a dragon who just discovered a pile of treasure. That's why it's important to budget and keep control of your bets. But if you can handle the heat, the rewards will be molten hot.
Overall, Gold Volcano is a game that will keep players on the edge of their seats with its potential for big payouts and fantastic graphics. Just don't let it make you too fiery, and you'll come out on top.
FAQ
What is the Gold Volcano slot game about?
The Gold Volcano slot game is about a volcano capable of generating winning combinations for payouts up to 10,000x the bet.
Who developed the Gold Volcano slot game?
The Gold Volcano game is developed by Play 'n GO.
What is the theoretical return to player for Gold Volcano?
Gold Volcano has a theoretical return-to-player of 96.20%.
What is the volatility of Gold Volcano?
The volatility of Gold Volcano is between medium and high.
What are the symbols in Gold Volcano?
Symbols on the reels include low-value cards that are embedded in stone and valuable symbols represented by four precious materials and gold, the most valuable symbol.
Are there any optional settings in Gold Volcano?
Optional settings include placing controls on balance spending, such as stopping autoplay when the bonus feature is activated, a win limit, a loss limit, etc.
What similar slot machines are there to Gold Volcano?
If you want explosive volcanic action, the Playtech Jackpot Giant slot features a progressive jackpot element where the average jackpot win is just under $5 million. Prefer Play 'n GO titles? The Ring of Odin slot has 4 bonus features and offers 5,000x wins.
What is the minimum and maximum bet for Gold Volcano?
The smallest bet for Gold Volcano is 20 cents per spin, and the maximum is $100.00.
What we like
Exciting volcanic theme with catchy visual effects
Random features and bonus features add excitement and potential wins
Engaging soundtrack and sound effects enhance the gameplay experience
High winning potential with an RTP of 96.20% and up to 10,000x multiplier
What we don't like
Medium-high volatility may not appeal to players seeking more frequent wins
No progressive jackpot feature