Fruitilicious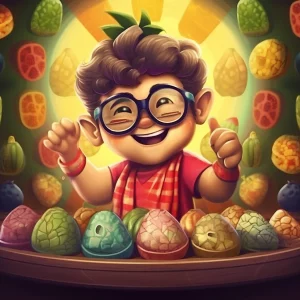 Are you a fan of simplicity and straightforwardness? Then Fruitilicious is the online slot game for you. No need to be dazzled by complicated features and bonuses that make your head spin. Fruitilicious has a clean, no-nonsense approach that gets straight to the point.
With five reels, three rows, and 5 paylines, Fruitilicious offers a simple yet satisfying gameplay experience. Sure, it may not have the bells and whistles of other slot games, but sometimes less is more, am I right?
Don't be fooled by the seemingly lack of excitement, though. Fruitilicious has a medium-high volatility, which means the winnings may not come as often, but when they do, boy, are they potentially lucrative! All it takes is some patience and a little bit of luck.
And let's be honest, who doesn't want a little bit of luck? So why not give Fruitilicious a spin? You never know, that juicy payout just might be waiting for you!
Bet Range
If you're feeling lucky, Fruitilicious has a bet range that will suit any player, from the occasional gambler to the high roller. Want to bet a few credits per line? No problem! Want to go all in and bet thousands of credits per line? Go ahead, we won't stop you.
The fixed paylines mean you don't have to worry about selecting how many lines to bet on, making it simple even for those new to the game. With a range of total bets between 50 and 10,000 credits, you'll have plenty of chances to make your fortune. Just watch out for that pesky fruit thief, we hear he's been on the loose lately!
Payouts
Are you ready to get fruity and make some money? Fruitilicious has all the classic fruit machine symbols, including lemons, cherries, plums, oranges, grapes, watermelons, and of course, the ever-elusive number 7. And let me tell you, this game is not messing around when it comes to payouts.
If you're lucky enough to land some lemons, cherries, plums, or oranges, you could be looking at winning up to 25 times the value of your bet! That's a lot of fruit juice for your bankroll. But, if you really want to cash in, keep an eye out for those juicy grapes and watermelons. These symbols can get you up to 100 times your bet. Now, if you really want to hit the jackpot, you gotta go for the big kahuna: the number 7. That bad boy can get you up to a jaw-dropping 1,000 times your bet.
One thing you won't find in Fruitilicious are any Wild or Scatter symbols. But hey, who needs 'em when you're raking in the dough with those sweet, sweet fruit symbols?
Game Design
Are you ready to experience a slot game that's sweet as a juicy watermelon?
Introducing Fruitilicious – the casino game that offers a fresh and exciting look. Unlike other monotonous fruit machines, Fruitilicious gives you a bold and inviting design with a combination of green and purple colors on the reels. I mean, who said fruits can't be stylish?
Although they're traditionally styled, the fruits are reproduced in an attractive and appetizing manner. Who thought a bunch of fruits could look like Instagram models?
But the best part about Fruitilicious is the simple and relaxing sound effects that don't distract you from the gameplay. It's like enjoying a calming spa day with fruits everywhere – except you're winning big bucks instead of a cucumber face mask.
You won't find a game with a better design anywhere else. With Fruitilicious, you'll enjoy how it looks just as much as how it plays!
RTP: How Fruitilicious Stacks Up Against the Competition
If you're looking to strike it rich and score some sweet, juicy paydays with your online slot games, then you want to know that your odds are in your favor. Unfortunately, the theoretical return to player or RTP of Fruitilicious is 95%, which is on the lower end of the spectrum. But hey, it could be worse! It's not like you're playing Fruitilicious to fund your retirement or anything.
Plus, who needs a high RTP when you've got the joy of watching those fruity symbols spin round and round, teasing you with the possibility of a big payout? That's the real thrill of slot games, right? And let's be honest, when you do manage to hit that big jackpot on Fruitilicious, it's going to taste all the sweeter knowing that the odds weren't exactly in your favor.
So, is Fruitilicious the best-paying slot game out there? No. Is it still a whole lot of fruity fun? You betcha.
FAQ
What is Fruitilicious?
Fruitilicious is a retro-style slot machine game with a fruit theme and simple gameplay, produced by the Novomatic software house.
Is Fruitilicious suitable for both casual and high roller players?
Yes, the game allows you to modify the amounts of the bets depending on your gaming strategies, with a minimum bet of 10 credits per line and a maximum of 2,000 credits per line.
What is the RTP of Fruitilicious?
The theoretical return to player or RTP is 95%, which is below average.
What are the main features of Fruitilicious?
Fruitilicious has five reels, three rows, and only five paylines. It is a medium-high volatile game, which means that you will have to be patient before getting any winnings, but that your patience could be rewarded with potentially very lucrative prizes.
What are the symbols in Fruitilicious?
The symbols include lemons, cherries, plums, oranges, grapes, watermelons, and the number 7. There are no Wild or Scatter symbols, but you can learn the value of each icon in the various combinations simply by consulting the paytable.
What is the maximum payout in Fruitilicious?
The number 7 is the most profitable symbol, with a prize of up to 1,000 times your bet.
Are there any special features or bonuses in Fruitilicious?
No, there are no special features or bonuses.
What is the design and sound of Fruitilicious like?
The look of the slot is bold and bright, with a combination of green and purple colors placed in contrast. The sound effects are simple and relaxing, and the game has a fresh and bright overall appearance.
What we like
Straightforward gameplay with no special features or bonuses
Wide range of betting options for players of all levels
Potentially lucrative prizes
Fresh and attractive game design
What we don't like
Lower than average RTP of 95%
No Wild or Scatter symbols