Frost Queen Jackpots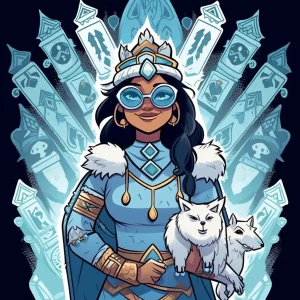 Are you ready to chill out with Frost Queen Jackpots? This slot game offers a traditional setup of five reels and three rows, with 20 paylines. It's perfect for players who enjoy a more classic gaming experience with a frosty twist!
The game's objective is straightforward. To win, you need to land three or more matching symbols on the same payline. The Ice Queen is the symbol you will want to see frequently as it pays the most, with the chance of returning up to 200 times your total bet. Who knew the frosty queen was so generous?!
It's worth noting that the game has an RTP of 96%, which falls within the average range for the market. But don't let that put you off just yet, because the fun has just begun!
Frost Queen Jackpots has several bonus features to explore. Players can trigger the Free Spins round by combining three or more of the game's scatter symbols. And if your luck continues, you could progress to the Progressive Jackpot Bonus, where the Ice Queen will lead you to the real treasures. As you can see, this game provides plenty of fun twists and turns that keep you entertained.
In conclusion, Frost Queen Jackpots offers a classic slot game with modern twists. The combination of excellent graphics and simple gameplay make it a perfect choice for both new and seasoned players. So put on your warmest coat and enjoy the cool Frost Queen Jackpots adventure!
Bonus Features
Are you ready to uncover the secrets of the Frost Queen Jackpots? It's time to put on your lucky socks, because this online slot game offers numerous exciting bonus features that will keep you on the edge of your seat!
First up, we have the Magic Mirror Feature, which is triggered when the mirror lands anywhere on the reels. As if by magic, you'll see payouts of either 50 or a whopping 500 times your bet! It's like your dreams of seeing a fairytale come true, except with more cash.
If you're up for even more treasure, you'll want to trigger the Treasure Room Bonus. In this mini-game, you'll earn money or unlock keys that will give you even more opportunities to win. Unlocking keys might sound like a scene from a Harry Potter movie, but this is an online slot game we're talking about here — and trust us, it's just as magical.
The Pick & Click Chest is where things can get really interesting. It's a random chest that pops up on screen, but don't be fooled — there are some jackpot free spins just waiting to be won! Choose the right chest, and you could be feeling richer than a pirate with a map to a hidden treasure trove.
Last but not least, you have the chance of winning one of the five available progressive jackpots. It's like winning the lottery, except you can do it from the comfort of your own home (and without having to listen to your Uncle Bob's opinions on what you should do with your winnings).
So, if you're looking for an online slot game that offers more excitement and surprises than a blind date, Frost Queen Jackpots is the one for you. Who knows — maybe you'll be the lucky one who unlocks all of the game's secrets!
Stunning Graphics and Design
If you're looking for a slot game that can transport you to a frozen fantasy world, look no further than Frost Queen Jackpots. Thanks to Yggdrasil Gaming, the game boasts stunning graphics that emanate the cold beauty of the icy kingdom. The game's background takes you to a snowy mountain range, while sparkling crystal symbols remind you of the gamut of treasures hidden within.
The star of the show, however, is the gorgeous Ice Queen symbol that stands out from the selection. Her artistic animation is enough to make your heart skip a beat. Meanwhile, other symbols have animations that stay true to the fantasy theme, making the game a true visual spectacle that's exciting to play.
Overall, Frost Queen Jackpots is a feast for the eyes and a testament to Yggdrasil Gaming's prowess in crafting stunning games. You may be so transfixed by its visuals that you'll almost forget about the actual gameplay.
Payouts and RTP
Let's talk about payouts and RTP in the Frost Queen Jackpots slot game. If you're looking for a game that offers generous payouts and chances of hitting big wins, you might want to give this one a try; with an RTP of 96%, it's definitely a contender.
If you're lucky enough to land winning combinations with the most valuable symbols, you can expect to win big. The Ice Queen symbol is the one to watch out for, as it offers players the biggest payout. Plus, with the game's free spins feature, your chances of hitting winning combinations are even higher, thanks to a 3x multiplier.
But that's not all – the Frost Queen Jackpots slot game also offers players the chance to win one of five progressive jackpots, making it an attractive option for high rollers. With a maximum payout of 1,265 times your total bet in a single spin, there's no doubt that Frost Queen Jackpots is a game worth your while.
So if you're ready to brave the frosty reels and take on the Ice Queen, give this game a spin and see what riches await you!
Theme and Storyline
Are you ready to enter the magical world of Frost Queen Jackpots? Brace yourself for a jaw-dropping winter wonderland adventure. The game follows the Ice Queen, who resides amidst a frozen kingdom, waiting for courageous players to come claim their fortune.
With an immersive and unique theme, players can enjoy breathtaking animations of symbols and highly-detailed graphics that bring the game to life. You will feel like you are on a journey to the North Pole, with polar bears, snowflakes, and ice blocks designed with intricate details that make the game all the more enticing.
It perfectly aligns with the game's atmosphere and will leave you humming tunes all day long. Yggdrasil Gaming has done an excellent job bringing this game's theme to life, and it's one you won't forget!
FAQ
What is Frost Queen Jackpots?
Frost Queen Jackpots is an online slot game created by Yggdrasil Gaming that features a fantasy, ice queen theme with five progressive jackpots and various bonuses.
How do I play Frost Queen Jackpots?
To play Frost Queen Jackpots, you need to set your bet and spin the reels. Winning combinations are created by landing three or more identical symbols.
What special features does Frost Queen Jackpots have?
Frost Queen Jackpots has several special features, including the Magic Mirror feature, Treasure Room Bonus, free spins with a 3x multiplier, and the Pick & Click Chest feature.
What is the RTP for Frost Queen Jackpots?
The RTP for Frost Queen Jackpots is 96%, which is in line with market averages.
Can I win real money playing Frost Queen Jackpots?
Yes, you can win real money playing Frost Queen Jackpots if you place a bet using real money at a reputable online casino.
How much can I win playing Frost Queen Jackpots?
You can win up to 1,265 times your total bet on a single spin while playing Frost Queen Jackpots.
What is the Magic Mirror feature?
The Magic Mirror feature is activated when the Scatter symbol, the mirror, appears anywhere on the reels. It awards a payout of 50 or 500 times your bet.
What is the Pick & Click Chest feature?
The Pick & Click Chest feature is activated by landing two Scatters in one spin. You can play with the chests and win a random key, access to the Jackpot Free Spins game, and up to four times your bet.
What we like
Numerous bonus features, including progressive jackpots
Exciting gameplay mechanics and twists
Beautiful graphics and design elements
High potential payouts with a 96% RTP
What we don't like
Average RTP for the market
Limited betting range