Forge of Fortunes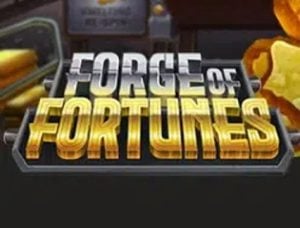 So, you're looking for a slot game that is simple, yet packed with excitement? Look no further than Forge of Fortunes!
With only 3 reels and a single payline, Forge of Fortunes may seem like a basic slot game at first glance. However, the Respins function provides a unique and thrilling experience that is sure to keep you on the edge of your seat.
Unfortunately, there aren't any special symbols like Wilds or Scatters in Forge of Fortunes. But hey, at least you won't have to try and decipher any confusing pay tables. Plus, with an RTP of 96.2%, you have a pretty good chance of winning some serious coin.
Overall, Forge of Fortunes delivers a straightforward slot game that will keep you entertained for hours. And who knows? Maybe you'll even forge your own fortune while playing!
Symbols
Brace yourself for some serious gold digging action as Forge of Fortunes presents slot symbols that are as shiny as they are rewarding. Don't be fooled by the coal and slag symbols though, they may not look like much but they can yield some pretty impressive payouts.
Of course, let's not forget about the gold nuggets – the stars of the show. Landing three of these on the payline is like stumbling upon a real-life gold mine – it activates the Respins function and gives you a shot at some massive cash winnings.
Just don't be tempted to start gnawing on them like a squirrel hiding a nut or you might end up with some broken teeth. Trust us, we've seen it happen.
Bonuses Like A Boss: Forge of Fortunes' Respins Feature
When it comes to bonus features, Forge of Fortunes treads lightly with only one: the Respins function. But what this game lacks in quantity, it truly makes up for in quality. To activate the Respins feature, all you need are three gold nuggets to land on the payline. Easy, right?
Once activated, hold on tight as the game grid begins to spin. And what does it spin for, you may ask? The Respins function awards a multiplier that can range from a decent 3x to an unbelievable 2,500x! Yes, you read that right. 2,500x. That would be enough to make even the most seasoned slots player swoon with excitement.
But beware, as coal may appear during the Respins feature. No, you're not naughty enough for Santa to come early. Unfortunately, coal means you lose a level of the Respin multiplier. But hey, the reels will continue to spin, and you'll never know what you might get on the next turn!
Winning Potential
Are you ready to hit it big? Forge of Fortunes offers a maximum payout that will leave you seeing stars! With a chance to win up to 2,500 times the initial bet, the ante has been seriously upped. Compared to many basic slot games, the potential for winning big is very promising. The Respins feature is by far the most practical way to win and gives the game an extra bump of excitement. It really makes you feel like you have control over your luck!
But don't get too greedy, there's no guarantee that you'll hit the jackpot right off the bat. In fact, it may take a few tries. But that's just part of the game, right? Keep spinning those reels and before you know it you'll be shouting 'bingo!'…or whatever it is you shout when you hit it big. Just don't spill your drink when you start celebrating!
Theme
Forge of Fortunes takes players deep into a gold mine where they are tasked with producing and forging gold for cash winnings. The game's setting immerses you into the world of mining, with symbols and gameplay mechanics perfectly complementing the theme. Speaking of which, it's high time we appreciate the star of the show, the symbols. The minecart brimming with golden nuggets, armored dwarf, flamboyant gnome, and hammer-wielding dwarf, all contribute to the quirky and charming ambience the game emanates.
However, if you're looking for a dynamic slot game with a plethora of innovative features, Forge of Fortunes may come up short. While the game doesn't lack in entertainment value, some players may find the lack of complexity unattractive. Nevertheless, this game is an effortless, no-fuss way to get your dose of slot gameplay.
FAQ
What are the symbols used in Forge of Fortunes?
The symbols used in Forge of Fortunes are gold nuggets, coal, and slag.
Does Forge of Fortunes have any special features such as Wilds or Scatters?
No, Forge of Fortunes does not have any special features such as Wilds or Scatters. The only extra feature is the Respin function.
What is the Respin function and how does it work?
The Respin function is activated when you complete a payline. The game grid will spin and can reward you with 3 gold nuggets, increasing the multiplier that will rise from a minimum of 3x to a maximum of 2,500x. If during the spins you find coal, you will lose a level and the reels will continue to spin.
What is the RTP of Forge of Fortunes?
The RTP of Forge of Fortunes is fixed at 96.2%.
Is Forge of Fortunes a mobile-friendly slot?
Yes, Forge of Fortunes is mobile-friendly and works perfectly with Windows, Android, and iOS operating systems.
What is the maximum win in Forge of Fortunes?
The maximum win in Forge of Fortunes is up to 2,500 times the bet.
Is Play N Go a reliable provider?
Yes, Play N Go is a reliable provider and one of the most important software and game providers in the world.
Does Forge of Fortunes offer many special features?
No, Forge of Fortunes does not offer many special features. It may not be the ideal slot for people who love innovation and twists.
What we like
Exciting Respins function
High max payout of 2,500x the bet
Simple gameplay
Mining theme
What we don't like
No special symbols, Wilds, or Scatters
May not appeal to players who prefer more complex games