Faust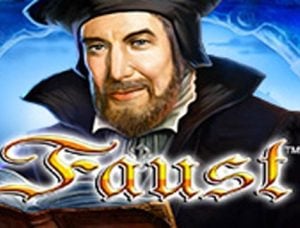 Faust slot game from Novomatic is a masterpiece that takes inspiration from the renowned literary work of Goethe. The game throws players into a dark and immersive world that takes them on a quest through the alchemist's laboratory to uncover the formula to defeat the devil. It's a journey for the brave-hearted, but well worth it, as this game packs quite the punch.
Faust slot game has five reels and 10 paylines. With a minimum bet of 0.20 $ and a maximum of 100 $, the game is easily accessible to players from all walks of life. The graphics and sound effects transport players to a fantasy world, full of potions, books and the devil himself.
The Faust slot game features the devil Mephistopheles, who plays the role of the wild symbol. When he appears on the reels, he can replace any other symbol to form a winning combination. Aside from Mephistopheles, the game also features other symbols such as Faust himself, Gretchen, and other alchemist's tools.
If you're feeling daring, give Faust slot game a spin. But beware, you may fall under its dark spell and find yourself playing for hours on end. With potential big wins, immersive graphics and a talented design team, this game is not to be missed.
Remember, the devil is in the details, and for Faust slot game, those are meticulously worked out. So what are you waiting for? Get playing and try your luck at defeating the devil.
Design and Atmosphere
Novomatic has really outdone themselves with the latest addition to their slot game catalog – Faust. This game has an atmosphere that encompasses everything that one would expect from an online slot game of this caliber. The alchemist's laboratory background, combined with an eerie and haunting soundtrack, creates a dark and mysterious mood that instantly draws you in.
The graphics are sharp and well-designed, and truly bring the game to life. As you spin the reels, each symbol pops out at you in vibrant detail, and the animations keep your eyes glued to the screen. The overall design of the game is polished and well-executed, making it one of the most immersive online slot games out there.
You almost forget that you're playing a game of chance, as the atmosphere is so intense, you feel like you're on a spooky journey to make a deal with the devil (just like Faust himself). Who knew sitting in front of a computer screen could transport you to such a vivid fantasy world?
All in all, the design and atmosphere of Faust is definitely the biggest selling point of the game. Novomatic has managed to create a game that truly immerses you in every aspect – from sound and visuals to gameplay and storyline. Give it a spin and see for yourself!
Symbols and Gameplay
Let's talk about symbols, baby! Faust is all about the alchemy lab and its tools, so don't be surprised if you see some weird stuff on the reels. Faust, Greta, and even food on a plate are among the symbols that can bring you some sweet rewards. Of course, there are also traditional playing card symbols from 9 to Ace. Mephistopheles, the cunning devil himself, is both the Wild and Scatter symbol. Not only can he replace all other symbols in a single play, but he can also unlock some awesome bonus features. I mean, who doesn't love a little devilish help?
The gameplay in Faust is as easy as brewing a potion. You just have to choose the number of paylines you want to play on, and then click the 'Play' button to start the spins. But hey, if you're feeling lazy or just need a break to grab a snack, there's an Autoplay function that can run a consecutive number of spins until you're ready to hit the stop button. Yes, it's that simple. Just be careful not to spill your drink while you're spinning those reels!
Bonus Features
Get ready to meet Mephistopheles, the devilishly charming character in Faust who plays a crucial role in determining your fate as a player. With his mischievous ways, Mephistopheles is both the winner and the loser in this game.
But don't be fooled by his devilish grin. With him, come the exciting bonus and free spins rounds that are sure to keep you on the edge of your seat. And when you trigger the free spins round, get ready for a special surprise – a symbol chosen at random will be transformed into the 'expanding symbol.' Watch as it takes over three entire positions whenever it appears during the free spins, increasing your chances of winning big bucks.
So, get ready to make a deal with Mephistopheles and see where your fate takes you in the Faust slot game. With its exciting bonus features and free spins round, you're sure to be entertained for hours on end.
Other Literary-Themed Slot Games
If you're a bookworm, or just love to combine your passions for literature and gambling, then you should certainly check out other literary-themed slot games as well. Let us introduce you to a couple of our favorites!
First up is Dante's Hell, a game developed by World Match which takes you on a journey through the underworld with Dante as your guide. This game is not for the faint of heart, as you'll encounter all kinds of demons and dangers along the way. But fear not, you can earn bonuses and free spins as you progress through Hell, Heaven, and Purgatory, which will make the journey worth your while – if you can make it out alive.
If you prefer something a little less perilous, then how about Pinocchio, a game inspired by Carlo Collodi's classic storybook? This Betsoft game will remind you of your childhood and take you on a thrilling and adventurous ride with Pinocchio and all his friends. You can unlock hidden bonus features and free spins as you spin the reels, and watch Pinocchio's nose grow and shrink depending on how well you're doing in the game. And who knows, with a little luck, you might even get a chance to help Pinocchio become a real boy once and for all.
So, there you have it – two more literary-themed slot games to add to your repertoire. Who knows what other hidden gems are out there? The possibilities are endless!
FAQ
What is the minimum bet in Faust?
The minimum bet in Faust is 0.20 $.
What is the maximum bet in Faust?
The maximum bet in Faust is 100 $.
Are there any special symbols in Faust?
Yes, Mephistopheles acts as both the Wild and Scatter symbol, replacing all other symbols in a single play, as well as unlocking the bonus features.
Can I play Faust on Autoplay?
Yes, Faust offers an Autoplay function that sets a consecutive number of spins to run until the stop button is pressed.
How do I trigger the bonus features in Faust?
The bonus features in Faust are triggered by landing three or more Mephistopheles symbols anywhere on the reels.
What is the expanding symbol in Faust?
In Faust, during the free spins round, a symbol is randomly selected to become the 'expanding symbol,' meaning that when it appears (still within the free spins), it expands to cover three positions.
What other literary-themed slot games are available?
If you're looking for other literary-themed slot games, World Match has developed Dante's Hell, and Betsoft offers Pinocchio.
How do I win in Faust?
In Faust, winning possibilities are varied, and you can earn from a minimum alignment of two symbols, always starting from the left to the right.
What we like
Immersive atmosphere with dark and eerie mood
Sharp and well-designed graphics
Simple and straightforward gameplay
Exciting bonus features and free spins
What we don't like