Dwarf Mine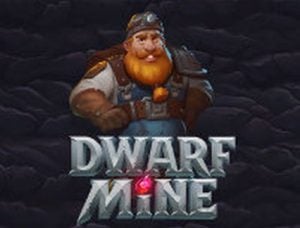 Are you ready to join the Dwarf Mine expedition? Dwarf Mine is a 5-reel, 1024-payline slot game that can be expanded up to 16,807 paylines. That's right, you read it correctly – 16,807 paylines! Not even a dwarf's beard has so many hairs.
One of the cool features of Dwarf Mine is the Expanding Reels. It's like the game is saying 'Hey, here's an extra row of symbols, enjoy!' You get this amazing feature by landing a bonus symbol that triggers the expansion of the reel set by one row. This expansion can increase your chances of winning massively and lead you to a free spin round where you can collect shiny collectible crystals.
The other feature that makes Dwarf Mine even more interesting is the Autoplay. With this feature, you can relax, sit back and watch the dwarfs do their work while enjoying a refreshing mug of ale. You can choose to spin the reels automatically for a selected number of times. This feature definitely gives you more chances of winning without sweating it.
But let's not forget the paytable – it contains eleven symbols in total, and each one is more unique than the next. Keep an eye out for the cool drinking mug, because one gulp of ale may just lead you to the mother lode. Just don't drink too much – you don't want to drink away your winnings!
Graphics and Design
Prepare to go on an underground fantasy adventure with Dwarf Mine, as the game takes you deep into the mines of the dwarves. The graphics are nothing short of spectacular, from the vivid colors to the sharp design, everything is tailored to help bring this exciting world to life.
As you spin the reels, you are transported to a world where ancient remains and dinosaurs exist alongside dwarves. The reels are neatly integrated into a primitive hydraulic excavator, operated by a red-bearded dwarf. Thanks to this clever design, the reels expand and retract, making the experience all the more immersive.
Explore the hidden treasures of the mines alongside a fun-loving group of dwarves. In fact, we wouldn't be surprised if you found yourself humming 'Heigh-Ho' while playing this game. We can't guarantee you'll strike gold, but we can guarantee you'll have a blast trying to find it!
Bonus Features: Mine Your Way to Big Wins!
Let's be real, we all love getting free stuff! Well, Dwarf Mine has two free spin rounds as its main bonus features, and that's what we call a win-win. But it's not just any free spin rounds… oh no! These spins take you deep down into the mine shafts, where the hidden treasures await.
The first free spin round is triggered by landing three scatter symbols on reels one, three, and five in a single spin. Easy-peasy, right? This feature awards 10 free spins on an EXPANDED reel set, with seven rows and a whopping 16,807 ways to win. That's right, you read it correctly – you have more chances to strike gold than there are inches in a dwarf's beard.
The second bonus feature is just as exciting and is aptly named the Collectable Free Spins. All you have to do is collect enough crystals of the same color, which appear only on the expanded rows. Think of it as a mini treasure hunt within the game. Once you've collected enough crystals, you get the chance to spin the reels again for free and score some serious treasure!
So, break out your miner's helmet and get ready to go on an adventure! With these bonus features, you'll be able to dig your way to some major coin collection. Who knows, you might even come across some TNT and blast your way to the jackpot. Just remember, it's all about having fun – which is easy to do with Dwarf Mine.
Betting Options
Dwarf Mine offers everything from pocket change to a king's ransom, with a minimum bet of £0.10 and a maximum bet of £125.00. So whether you're a high roller or just playing for fun, Dwarf Mine has you covered. Don't have enough for a cup of coffee? That's okay, you can still get in on the action.
Thanks to the game's coin system, you can easily adjust your bets by using the "-/+" button. So, go ahead and bet low or bet high: either way, you can enjoy the thrill of the game. If you're feeling lucky and want to go all in, just hit the "Max Bet" button and cross your fingers (but don't hold your breath).
Don't know how much to bet? Just ask your spouse or best friend—they probably don't know either. But seriously, betting is all about managing your bankroll, so it's important to bet within your means and set limits for yourself. Dwarf Mines provides plenty of options to help you do just that.
Similar Games
If you're a fan of Dwarf Mine, then it's a safe bet you'll enjoy other online casino games with a similar theme. Check out Dwarven Gold by Pragmatic Play! This game has all the same elements of Dwarf Mine but with a unique take on the dwarven mining experience. With a 5-reel, 25-payline setup, Dwarven Gold offers players a maximum payout of 6000 coins and a 6x multiplier. Plus, it's a great way to switch things up if you ever need a break from Dwarf Mine's whimsical tunes and bearded miners.
Another option to consider is Bonanza by Big Time Gaming. This high-octane game takes place deep within the mineshaft, where players spin their way through cascading reels in hopes of hitting the jackpot. With stunning graphics and a fast-paced gameplay, Bonanza is sure to keep you on the edge of your seat.
And finally, if you're looking for another game that features both dwarves and lots of wilds, Dwarfs Gone Wild by Quickspin is a fantastic choice. With 20 paylines and a max payout of 1060 times your stake, this game is easy to learn but hard to resist. Not to mention, the dwarves are just plain cute! So don't be afraid to venture outside of Dwarf Mine every once in a while and give these other dwarf-themed slot games a chance.
FAQ
What is Dwarf Mine game?
Dwarf Mine is an online video slot game by Yggdrasil with five reels and 1024 ways to win, featuring expanding reels up to 16,807 ways to win.
What is the minimum bet value for Dwarf Mine?
The minimum bet value for Dwarf Mine is £0.10 per spin.
What is the maximum bet value for Dwarf Mine?
The maximum bet value for Dwarf Mine is £125.00 per spin.
How can I trigger free spins bonus in Dwarf Mine?
There are two ways to trigger free spins bonus in Dwarf Mine: landing three scatter symbols or collecting enough crystals of the same color.
What is the payline for Dwarf Mine?
Dwarf Mine has 1024 ways to win instead of traditional paylines. Players can win by matching symbols on adjacent reels.
Is there an Autoplay feature available in Dwarf Mine?
Yes, there is an Autoplay feature available in Dwarf Mine that allows players to set a predetermined number of rounds to spin automatically.
What is the potential prize in Dwarf Mine?
The potential prize in Dwarf Mine can reach up to 3,904x the bet.
What is the theme of Dwarf Mine?
The theme of Dwarf Mine is the underground world of dwarves as they search for hidden treasures in the mines, featuring an expanding reel set inside a primitive hydraulic excavator operated by a red-bearded dwarf.
What we like
Expanding reels feature adds excitement
Collectable crystal bonus feature adds variety
Wide range of betting options
High-quality fantasy graphics
What we don't like
Limited number of bonus features