Coywolf Cash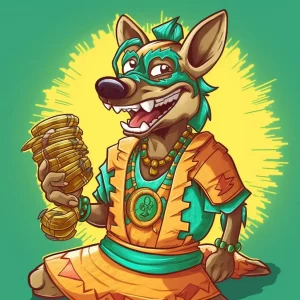 Step into the wild with Coywolf Cash, an online slot game where you can hunt for big wins. With five reels and twenty paylines, you have plenty of opportunities to win big. The game features a unique theme, with symbols like wolves, bears, eagles, and, of course, the elusive coywolf.
The betting range starts at just 20 cents, so even if you're broke after your last hunting trip, you can still take a spin. But if you're feeling daring and want to up the stakes, the maximum bet is a hefty $100. This game truly offers something for everyone.
5%. That means you'll have plenty of chances to hunt down some wins. With a volatility level that's high, you never know when the coywolf will strike and reward you with up to 5000 times the bet amount.
Overall, Coywolf Cash by Play'n GO is a wild ride that will have you howling for more. Whether you're a casual player or a seasoned pro, you'll find something to love in this game. So, what are you waiting for? Head into the wilderness and see if you can tame the coywolf and win big!
Graphics and Design
Get ready to experience the American wilderness like never before with Coywolf Cash, a visually stunning casino slot game. The graphics are so impressive, you might forget you're playing a game and start to look for your hiking boots! The backdrop is so realistic, you can almost feel the Arizona sun beating down on your face. Can we pause for a moment and appreciate the game's cute and endearing symbol characters? Who wouldn't want to be friends with an eagle cop? Or go on a road trip with an RV that looks like it needs a little bit of TLC?
Moving on to the attention to detail, it's clear the creators didn't cut any corners when it came to the design. The cacti look like they were taken straight out of a National Geographic magazine and the buffalo skull is so intricately designed, you can almost imagine it as part of a museum exhibit. Not to mention the bag of money with the dollar sign that's tempting us to keep playing and hit that big jackpot! Overall, the attention to detail raises the bar for slot games and brings a whole new level of immersion to the table.
Bonus Features
If you're a fan of online slot games, Coywolf Cash is a great choice with its several exciting bonus features. Let's dive into some more detail. First up, we have the Wild symbols. These helpful creatures will help players form winning combinations by substituting for other symbols on the reels. With them in your corner, you'll be racking up those payouts in no time!
But that's not all! Coywolf Cash also offers Scatter symbols which activate free spins and give access to the game's bonus round. Who doesn't love a good bonus round? And this one offers not one, but two different features to ramp up the excitement. The Prey Free Spins When Night Falls feature is as thrilling as it sounds – you'll be howling at the moon as you watch those payouts stack up. And the Wild Reel Feature is sure to leave you feeling wild, as it can turn an entire reel into wilds, leading to major payouts.
So, to sum it up, Coywolf Cash offers a variety of bonus features that not only increase your chances of winning big, but also add to the overall enjoyment of the game. With its fun graphics and engaging gameplay, Coywolf Cash definitely deserves a spot on your list of favorite online slot games.
Big Wins and Jackpots
If you're in it to win it, Coywolf Cash is the perfect slot game for you! With a high volatility level, skilled players are presented with plenty of chances to hit the jackpot. Offering a potential payout of up to 5000 times the betting amount, that's a colossal $500,000 at max bet! This isn't just a game, it's a treasure hunt!
On top of the sizable jackpot, Coywolf Cash's respectable 96.5% RTP rate means you're more likely to win a fair amount of small payouts as well. It's everyone's dream to hit the big jackpot, but those little wins add up and keep you playing. Trust me, I've got a closet full of winning slips (yes, that's what I'm calling them).
If you're a seasoned gambler or a lucky beginner looking for the thrill of hitting it big, Coywolf Cash is the perfect choice. So what are you waiting for? Start spinning those reels and see if fortune is on your side!
Compatibility
Are you tired of playing slot games that only run on a specific device? Well, Coywolf Cash has got you covered! This game is compatible with various devices, including desktop, mobile phones, and tablets. You can now take the game with you wherever you go and never have to worry about missing out on a win.
Even better, the game is optimized for different screen sizes and devices. So, whether you're playing on a small screen phone or a large screen tablet, you can rest assured that the gaming experience will be seamless. No more squinting at the screen or struggling to make out the graphics.
And you know what's even cooler? Coywolf Cash is available on various online casinos that support Play'n GO games. So, you can play the game on your favorite casino and have an enjoyable gaming experience.
All in all, Coywolf Cash's compatibility is top-notch. Whether you are playing on a desktop, mobile phone, or tablet, you'll always have access to this fantastic game. So, grab your phone, tablet, or computer, and start playing Coywolf Cash today!
FAQ
How many paylines does Coywolf Cash have?
Coywolf Cash has twenty paylines.
What is the minimum bet amount on Coywolf Cash?
The minimum bet amount on Coywolf Cash is just 20 cents.
What is the maximum bet amount on Coywolf Cash?
The maximum bet amount on Coywolf Cash is $100.
What is the highest win amount possible on Coywolf Cash?
The highest win amount possible on Coywolf Cash is 5000 times your bet amount, totalling $500,000.
What's the return to player rate for Coywolf Cash?
The return to player rate for Coywolf Cash is 96.5%.
What are the Wild and Scatter symbols in Coywolf Cash?
Coywolf Cash features Wild and Scatter symbols, which boost your wins and help you access special features for even more opportunities to win big.
What are some of the symbols in Coywolf Cash?
Some of the symbols in Coywolf Cash include an eagle cop, an unfriendly snake, cactus, bag of money with a dollar sign, buffalo skull, and RV.
Why is Coywolf Cash a must-play for experienced gamblers?
Coywolf Cash is a must-play for any experienced gambler looking for an exciting, immersive and potentially lucrative slot gaming experience.
What we like
Wide betting range for both casual and daring players
High volatility with chances to win big
Stunning graphics and immersive design elements
Several bonus features for more opportunities to win
What we don't like