Coils of Cash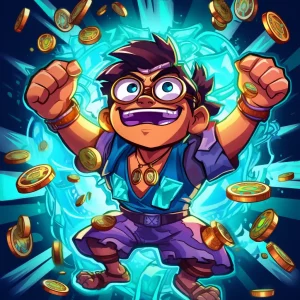 Are you ready to enter the world of Coils of Cash – a game that brings together the best of slot mechanics and a unique cascading reel engine? If yes, then let's dive in!
The stunning 6×3 slot game has a whopping 2,304 ways to win, making it an incredibly lucrative affair for players. But what sets it apart from its peers is the tantalizing Cascading Reels feature – it's like a never-ending cascade of deliciousness that only gets sweeter with each step. Each time players hit a winning combination, the matching symbols explode, making way for new ones to drop in, and new combos to form. The best part? The cycle doesn't end until the winning combos run out. Talk about the ultimate winning spree!
The Power Coil, a horizontal reel above reels 2 through 5, adds an additional layer of thrill to the game. With wilds galore and multipliers. That can boost winnings up to 5x, there's no limit to how much players can rake in.
In short, Coils of Cash isn't just a slot game – it's a rollercoaster of wins and excitement that you won't want to miss. So, go ahead and unleash the Coils of Cash today. Trust us; it'll be the ride of a lifetime.
Coils of Cash: What's the buzz about the RTP?
So the big question remains: what's the RTP for Coils of Cash? The answer is a whopping 96.20%! That's right folks, this game is packing some serious heat when it comes to the player's chance of winning big.
It's like finding a dollar bill on a crowded casino floor, except it's multiplied by the thousands. Who wouldn't want to grab a piece of that sweet, sweet pie?
With that kind of RTP, you can be sure that Coils of Cash is a game worth spending your time and money on. Your odds of hitting the jackpot are higher than that of your neighbor who's been playing the slot machine next to you for the past three hours.
So go ahead and give Coils of Cash a spin, you won't regret it. With an RTP like that, you just know the game is ready to shell out some big bucks. Your wallet will thank you.
Design and Atmosphere: Get Electrified with Coils of Cash!
If you're into online slots, you know how important a game's design and atmosphere can be. And let me tell you, Coils of Cash delivers the goods. From the moment you load up the game, it's clear you're in for a unique experience. Instead of the tired old themes you see in a lot of online slots, Coils of Cash takes place in an electric generator. That's right, you're spinning reels inside a freaking power plant! Let's see Sizzling Hot Deluxe try to top that.
And the attention to detail in Coils of Cash is impressive. The reels themselves are made up of moving coils, and the symbols are all tied into the electricity theme. You'll see all sorts of electrical equipment like generators, light bulbs, and even an old-school TV. Speaking of the TV symbol, that's the one you'll really want to see on the reels. It pays out up to 5 times your bet amount for six symbols and is a key part of why Coils of Cash is so much fun to play.
Another great thing about Coils of Cash is how well it works on both desktop and mobile. Some slot games are clearly optimized for one or the other, but with Coils of Cash, you're getting a top-notch experience no matter how you choose to play. So, whether you're sitting at home on your computer, or out and about with your phone, you can get your electric fix whenever you want.
All in all, Coils of Cash is an electrifying addition to the world of online slots. So plug in, power up, and give it a spin today!
Symbols and Multipliers in Coils of Cash
If you're a fan of combining classic playing cards and futuristic technology, you'll love Coils of Cash. The game features not only the traditional symbols found on most casino slot games, but also a variety of arcane electrical equipment. Watch out for the old TV symbol, as it's the highest-valued and can give you a payout of up to 5 times your bet!
But don't worry, Coils of Cash has even more ways to add to your winnings. The Power Coil is a horizontal reel that sits above reels 2 through 5. And just like your favorite TV show, it's all about the power! This coil is where you can find multipliers, which can give your earnings an electric boost of up to 5x their original amount.
Whether you're a fan of classic symbols or you're more of a futuristic tech junkie, Coils of Cash has something for everyone. So come on and spin those reels today to see if you have what it takes to hit the jackpot!
Unleash Your Inner Adventurer with Coils of Cash's Free Spins and Scatter Symbol
If you're looking for an online slot game that will keep you entertained for hours, Coils of Cash is worth checking out. Not only does it feature stunning graphics and an exciting soundtrack, but it also offers some fantastic opportunities to win big – including free spins and Scatter symbols.
The Scatter symbol in this game is an energy sphere. Land three or more of these symbols on the reels, and you'll unlock the coveted free spins phase. And let's be honest, who doesn't love free stuff? With three Scatters, you'll get 10 free spins. But as the number of Scatters increases, so does the number of free spins available to you. Four Scatters earn you 15, five Scatters land you 20, and an impressive six Scatters will get you 25.
So basically, if you want to take your chances to the next level, six is the magic number. During this free spins phase, the possibility of winning up to 30,000 times your bet will give you a major adrenaline rush – enough to make you feel like Indiana Jones, outwitting the odds and coming out on top.
And as they say, the more, the merrier. With ample opportunities to snag some free spins and a plethora of chances to win big, Coils of Cash is a game you don't want to miss out on.
FAQ
What is Coils of Cash?
Coils of Cash is a 6×3 online slot game with 2,304 ways to win, created by Play N Go.
What is the RTP of Coils of Cash?
The pre-set RTP (return to player) of Coils of Cash is 96.20%.
What are the special features of Coils of Cash?
Coils of Cash offers cascading reels, a power coil, and free spins as its special features.
How does the cascading reels feature work?
When a winning combination is achieved on the reels, the matching symbols disappear and new ones fall in to increase your chances of winning further. The process continues as long as there are paying combos.
What is the Power Coil feature?
The Power Coil is a horizontal reel above reels 2 through 5, that powers the game. Here, players can land wilds and take advantage of multipliers that make their winnings even juicier, up to 5x.
What is the Scatter symbol in Coils of Cash?
The Scatter symbol in Coils of Cash is an energy sphere.
How many free spins can be earned in Coils of Cash?
The number of free spins that can be earned in Coils of Cash range from 10 to 25, depending on the number of Scatter symbols landed on the reels.
What is the maximum payout in Coils of Cash?
The Free Spins feature can pay out up to 30,000 times your bet in Coils of Cash.
What we like
Cascading Reels feature for increased winning opportunities
Power Coil with wilds and multipliers up to 5x
Impressive retro atmosphere and exceptional graphics
Potential to win up to 30,000 times your bet in free spins
What we don't like
Limited number of free spins
May not appeal to players who prefer traditional slot themes