Charlie Chance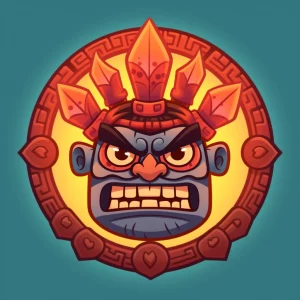 Get ready to step into the fiery underworld, where Charlie Chance awaits you. This online slot game has five paylines, which enhances the dynamics of the three-reel layout. That means more chances to win big and more opportunities to get lucky! Just like a set of hot sauce-coated chicken wings, the game promises to be explosive and exciting!
Charlie Chance in Hell to Pay will have you hooked with its regular and multiplier Wild symbols. But that's just the beginning of the fun. The game also features a series of respin features that make the game more thrilling and captivating. Just when you thought things couldn't get any better, there is a feature board with five features that can be triggered by three scatter symbols, which are represented by the symbol of a girl.
Keep an eye out for that girl symbol. As players chase her across the reels, they'll trigger some incredible bonuses filled with flaming graphics and devilish animations. It truly is a devilish delight!
Symbol Design and Their Values:
What do fruit slots and Weight Watchers have in common? Both are all about counting cherries and lemons! And that's exactly what you'll be doing in Charlie Chance slot game, which features familiar symbols like grapes, cherries, lemons, and apples, which make up the low-cost symbol category.
If you're looking for a bigger payout though, you'll want to keep an eye out for the medium set of symbols, which includes bells, the BAR symbol, and the infamous triple six. However, if you want to hit the jackpot, you'll want to land those bells, as they have the highest value. And while the other symbols may not be as profitable, they still pay out decent amounts that can keep players engaged and entertained.
Unique Theme:
Oh boy, does Charlie Chance have a unique theme! When was the last time you saw a combination of American cartoons of the 1920s and 30s and fruits? If there's a game that can bring the roaring 20s to the 21st century, it's this one. It's refreshing to see a slot game that doesn't stick to the same old tired themes.
Who would have ever thought that a cartoon world and a fruit theme could coexist? Well, the geniuses behind Charlie Chance sure did. The slot is quirky, and the fruit symbols are done in a fun cartoon style where even the most mundane symbol is given a unique personality. So, you're won't just feel like you're playing a standard slot game; instead, the game becomes an immersive experience in and of itself.
Boost Your Wins with Wild Symbols and Multipliers
Charlie Chance slot game offers a variety of bonuses to increase your chances of winning big bucks. One of the most exciting features is the Wild Symbol and Potential for Multipliers.
Who doesn't love a wild symbol? This cat-headed creature not only looks cool but can help you form matching combinations and increase your chances of winning. Plus, when the wild symbol appears with an additional multiplier value of x2 or x3, it's time to pop open the champagne. These multipliers can significantly boost any winning combination and could result in some insane payouts.
With the potential for multiplying wins in Charlie Chance, it's not just luck that's on your side- it's also the fun graphics and innovative technology that will keep you on your toes. So, what are you waiting for? Spin those reels and see if Lady Luck and her feline sidekick are on your side.
Get in Control of Your Bets with Charlie Chance
Are you ready for some classic slots gambling? Great, because Charlie Chance is here to bring all the excitement straight to your living room!
One of the most important features when it comes to spinning slots is the ease of control and selection of betting options. Charlie Chance slots are incredibly straightforward, so it won't take long before you're spinning faster than Usain Bolt. The controls at the bottom of the screen are labeled and contain everything you need to start the game.
If you're looking to test the waters and get a feel for the game without risking everything all at once, the autoplay mode makes everything easy-peasy. Simple hit the big green Spin button, sit back, and watch as your computer's screen comes alive with vibrant graphics and cool animations. You can even check your email, grab a bag of chips, or stretch your legs while Charlie Chance does all the work for you.
Bet selections are just as important when it comes to gambling with Charlie Chance. It's easy to go from the minimum bet of $0.10 per spin all the way up to $100.00. Yes, you read that right! Feel like a high roller? Charlie Chance has got you covered.
So why wait? Get in control of your bets and spin the reels today with Charlie Chance.
RTP Percentage and Volatility:
Are you tired of always feeling like you're playing a game of Russian Roulette with every spin? Then Charlie Chance could be the game for you! With a moderately volatile gameplay experience, this game delivers the perfect balance of risk and reward. Plus, with an RTP of 96.23%, your chances of coming out on top are higher than most. The only thing you need to worry about is waking up the next day with a chip hangover.
But let's be real, who wants to play a slot machine where they don't have to run the gamut of emotions? If you're not cussing at the machine or high-fiving your neighbour after a big win, are you even playing slots? Charlie Chance provides all the thrills of traditional slot machines with a lower risk of completely emptying your pocket. Trust us, you don't want to be the guy wearing a trenchcoat and sunglasses at the casino entrance, looking like you can't afford to lose.
In conclusion, if you're looking for a game that doesn't completely drain your wallet but still tests your luck, Charlie Chance is the perfect game for you. Just don't forget to grab a drink beforehand, because with a name like Charlie Chance, you never know what kind of wild ride you're in for.Comparison to Other Similar Slot Games:
If there's one thing that Charlie Chance in Hell to Pay has that other slot games don't, it's a hellish sense of humor. This is not your grandma's classic fruit slot game. Charlie Chance stands out with its noirish cartoon style that makes this slot game a total knockout.
Blueprint Gaming's Ted Pub Fruit slots certainly offers a similar pub-style fruit structure, as well as traditional symbols and classic bonus features, but it doesn't quite have that dark, devil-may-care edge that Charlie Chance brings to the table.
Charlie Chance takes the cake with its deliciously unique theme that features a fruit-inspired wonderland that's both quirky and amusing. With a feature board and a moderately volatile experience that appeals to most players, this game definitely stands out among similar titles.
So, while it's true that Ted Pub Fruit slots may offer similar bonus features and classic symbols, it doesn't quite have the same devilish charm that Charlie Chance in Hell to Pay delivers with each spin. This game is definitely the cat's meow.
FAQ
What is the RTP for Charlie Chance in Hell to Pay?
The game has an RTP of 96.23%, which falls within the average range of typical slot RTPs.
What is the most profitable symbol in Charlie Chance in Hell to Pay?
The bells symbol is the most profitable, paying 4x multiplied by the bet when three symbols or one or two symbols joined by wild symbols appear.
What features does Charlie Chance in Hell to Pay have?
The game has a wild symbol that can have a multiplier, five features displayed on the board like guaranteed win, respin with a random number of wilds, and a free spins feature that is triggered by three scatter symbols of a beautiful girl symbol.
What is the maximum bet in Charlie Chance in Hell to Pay?
The maximum bet that can be placed in the game is $100.00.
What other similar slot machines can be played?
A similar slot machine to Charlie Chance in Hell to Pay is Ted Pub Fruit slots by Blueprint Gaming that has a pub-style fruit structure and plenty of bonus features to discover.
Is Charlie Chance in Hell to Pay a high volatility game?
No, Charlie Chance in Hell to Pay is a moderately volatile game preferred by most players as they tend to be less unpredictable.
What buttons are present in the controls of Charlie Chance in Hell to Pay?
The controls have a big green Spin button for starting the game, an autoplay button for automatic spins, a window displaying the current bet amount, and another window displaying the balance amount. There are five buttons that activate or open the sound setting, fast spins, game rules, spin history, and the menu.
What symbols are present in the Charlie Chance in Hell to Pay slot machine?
The low-cost symbol category has grapes, cherries, lemons, and apples. The medium set symbol category has bells, the BAR symbol, and the triple six. The game also has a wild symbol and a scatter symbol of a beautiful girl.
What we like
Exciting respin features and feature board adds to gameplay
Unique theme that stands out from other slot games
Regular Wild symbol with added multipliers
Low minimum bet of just $0.10
What we don't like