Champions of Rome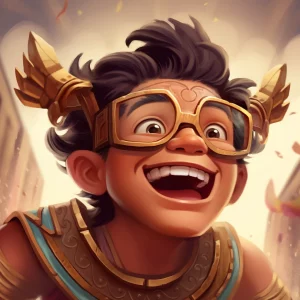 Buckle up, folks, for we're about to embark on a journey to the ancient city of Rome – where gladiators fought for their lives and riches were won by those brave enough to face the challenges of the arena. Champions of Rome is a slot game that perfectly captures the vibe of this epic time in history, with five reels, three rows, and 20 paylines that give players ample opportunities to trigger some real action.
Developed by Yggdrasil Gaming, this slot game offers players a chance to win fantastic prizes with multipliers going up to 3000x. It's not just about the payout, though – the game features superb graphics, animations, and sound effects that transport you to the heart of the Colosseum. You'll witness roaring crowds, flashing lights, and the clashing of swords as you spin the reels and fight for your share of the spoils.
The bonus spins in Champions of Rome are especially exciting since they introduce gladiator weapons like the trident, sword, or mace, which award different kickers. It's a thrilling moment when one of these symbols lands on the reels, and you know you're in for a surprise. Additionally, the scatter symbol triggers the free spins, where you get to witness some of the most epic battles of all time. The wild symbols play an additional role, especially in the Deathmatch Champions of Rome mode – but we won't spoil the fun for you.
Get Ready for the Stunning Graphics and Design of Champions of Rome
If you're a fan of the ancient Roman era and always imagined yourself as a powerful gladiator in the Colosseum, then Champions of Rome is the perfect game for you. This game takes you on a journey back in time, where you get to experience the excitement of fighting for your life and becoming the ultimate champion.
One thing that can't be denied is the graphics and design of this game. They are absolutely stunning! The developers have spared no expense when it comes to the design and bringing the ancient world of Rome to life. Every symbol is detailed to perfection, and the animations are smooth and seamless.
The game's backdrop is the famous Colosseum, which provides an authentic and immersive experience. You'll feel like you're right in the middle of the arena, cheering on your favorite gladiator to claim victory.
Champions of Rome features a standard grid of five reels, three rows, and 20 paylines. The layout is simple but effective, with plenty of space to explore the game's features and potential prizes. The symbols consist of various gladiators, weapons, and characters from the Roman era, which only adds to the game's authenticity and overall appeal.
Overall, Champions of Rome is a game that truly stands out in terms of its graphics and design. It's sure to transport you back in time and immerse you in the world of gladiators and Roman warriors. Don't waste any more time, join the fray and become a champion today!
Unleash Your Inner Gladiator: Maximum Payout and Potential Prizes
Are you ready to enter the arena and battle it out for some serious cash prizes? Well then, grab your sword and shield, because the Champions of Rome slot game is calling your name! With a maximum payout of 3000x, you'll need the skills of a true gladiator to walk away a winner. And don't worry, there are plenty of other prizes up for grabs along the way.
This game offers more symbols than you can shake a trident at, and each one offers the chance to boost your winnings. But the bonus spins are where this game really shines. And if you're lucky enough to land a wild symbol in the Deathmatch Champions of Rome mode, you're in for some serious coinage, with payouts of up to 200 coins.
Of course, you don't have to be a high roller to enjoy this game. With a minimum bet of just 0.20 pounds, anyone can give it a spin. And if you're feeling particularly brave, you can bet up to 100 pounds per spin. Just be sure to pace yourself and don't blow all your winnings in one sitting. Remember, it takes a true champion to manage their bankroll and come out on top!
Bonus Spins and Gladiator Weapons: An Epic Experience in Champions of Rome
Champions of Rome is a game that takes you back to the days of the Caesars, where gladiators were the stars of the show. If you're a fan of Roman history or just love the idea of fighting to the death in the Colosseum, then this is the slot game for you. But what makes Champions of Rome truly unique are the bonus spins and gladiator weapons that come with it.
So you're telling me I get to fight like a gladiator AND get extra rewards? Sign me up! During the free bonus spins of Champions of Rome, players get the chance to wield one of three gladiator weapons: a trident, a sword, or a mace. It's like choosing your starter Pokemon, except you're picking a weapon to give you an edge during the game.
The trident is my personal favorite, as it results in four wild gladiators positioned randomly. It's like having a gladiator army fighting on your side. The mace is no slouch either, resulting in 2×2 green wild gladiators that can crush any opponent in their path. And if you're feeling really daring, the sword is equipped with 2×1 or 1×2 red wild symbols that pack a fierce punch.
To add to the excitement, players can also choose between two modes for the free spins feature, each one with its own unique perks, allowing for a truly personalized experience. But it doesn't stop there! Additional scatter symbols can increase the initial eight free spins, letting you keep the gladiator action going longer!
All in all, Champions of Rome is a game that gives players a chance to experience the glory of the Colosseum without the danger of losing a limb. With bonus spins and gladiator weapons, every spin is an epic experience that is sure to leave you feeling like a champion!
User-Friendly Controls and Autospin
Are you tired of complicated and confusing slot game controls? Look no further than Champions of Rome! This game has simple and easy-to-use controls that even your grandmother could operate. All you have to do is select the value of your coins and the bet level, and voila! You're ready to start winning big.
Champions of Rome also features an Autospin feature, perfect for those lazy days when you just don't feel like clicking that spin button. Simply select how many times you want the reels to spin on their own and let the game do the work for you. And let's be honest, who doesn't love watching those reels spin all on their own?
And if you're still feeling a little lost, don't worry! The paytable in Champions of Rome offers detailed information on all of the symbols and their values, as well as the game's free spins and other bonus features. So even if you're new to the world of online gambling, you'll have no problem understanding this game in no time!
Similar Slot Machines to Champions of Rome
If you're looking for more excitement in the world of ancient Rome, you can't go wrong with Real Time Gaming's Caesar's Empire slot machine. In fact, we'd say that it's a colosseum-level competitor to Champions of Rome! With dazzling graphics and gameplay that will make you feel like you're in the heart of the Roman Empire, Caesar's Empire is the perfect game for history buffs and slot enthusiasts alike. And of course, what's ancient Rome without Julius Caesar himself? You'll find him featured prominently in this game, along with plenty of other iconic symbols from that time period.
But don't take our word for it – give it a spin yourself and you'll see why this game has become a fan favorite among online slot players. And don't worry, Caesar's Empire may be packed with thrilling features, but there's no need to worry about being fed to the lions! Just sit back, relax, and enjoy the ride. We can't guarantee that you'll emerge victorious like a true gladiator, but we can promise that you'll have a blast playing this game.
FAQ
Who created Champions of Rome?
The game was developed by Yggdrasil Gaming, known for creating exceptional slot titles.
What is the maximum winning potential of Champions of Rome?
The maximum winning potential is 3000x multiplied by the winning bet.
What are the gladiator weapons in Champions of Rome?
During free bonus spins, you can get one of three gladiator weapons: trident, sword, or mace. Each has a different kicker during the game.
What happens when scatter symbols land in Champions of Rome?
Once scatter symbols land, the player can choose between two modes for the free spins feature. The initial 8 free spins can increase in number when additional scatter symbols land.
How many levels are in the Deathmatch Champions of Rome mode?
There are three levels in the Deathmatch Champions of Rome mode. Advancing through all three levels can result in additional multipliers and a prize of up to 200 coins.
What is the smallest bet amount in Champions of Rome?
The smallest amount you can play is only 0.20 pounds per spin.
What other controls are available in Champions of Rome?
Other controls include Autospin, which spins the reels on its own for a set number of times, and the paytable which displays information on the game's symbols, payouts and bonus features.
What other slot machines are similar to Champions of Rome?
If you enjoy Ancient Rome-inspired slot games, we recommend trying Caesar's Empire, produced by Real Time Gaming.
What we like
Stunning graphics and design
Unique gladiator weapons feature
User-friendly controls and Autospin
Up to 3000x multipliers
What we don't like
Minimum bet might not be suitable for some players