Canine Carnage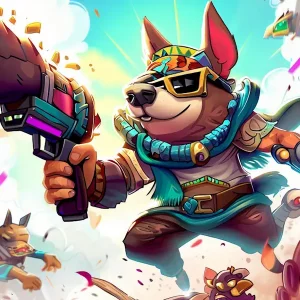 Looking for a slot game that will have you barking with excitement? Look no further than Canine Carnage! With a game grid of 5 reels and 3 rows, this game offers players a minimum bet of $0.10 and a chance to win up to 1,000x their bet. Just be careful not to chase your tail while spinning those reels!
One of the great things about Canine Carnage is its mechanics. The game is easy to understand and play, making it a great choice for both new and experienced slot players. And with a theoretical return to player of 96.2%, this game definitely has some bite!
But don't let that high RTP fool you – this game still packs a medium level of volatility. Which means you might not win every time, but when you do, it'll be a howlin' good time! So what are you waiting for? Give Canine Carnage a spin and fetch yourself some big wins!
Symbols and Features: Get Ready for Pawsome Rewards!
Get ready to enjoy a doggone good time with Canine Carnage! This online slot game features an impressive selection of special symbols and features that are sure to get your tail wagging!
First, let's talk about the symbols. Canine Carnage features nine basic symbols, with playing cards being the lowest in terms of value. But when it comes to the highest-paying symbols, the canine characters reign supreme. We just couldn't resist their wagging tails and adorable faces.
And speaking of special symbols, the Wild symbol pays the most and substitutes for all other symbols, except for the special ones. You know, like those pesky mailmen who always seem to evade us.
But don't worry, the bulldog collecting symbol is here to help. When combined with the Golden Bones symbol, players can receive instant prizes. And who doesn't love instant gratification? It's like a belly rub for the soul.
Another random feature is the Multiplier, which randomly gives players a x2, x3, or x5 multiplier in the base game or the Free Spins round. It's like finding that perfect spot to scratch behind your ear.
The three gasoline drums are the Scatter symbols and trigger the free spins, where only the Golden Bones symbols appear. And let's be real, there's nothing better than a bunch of golden bones — except maybe belly rubs and treats, of course. But, players can collect instant prizes in the Cash Pot bowl, and if the multiplier or divisor symbols appear, they can win even more. It's like finding that hidden stash of treats that your human thought you didn't know about.
So, what are you waiting for? Come experience the excitement and rewards of Canine Carnage. Who knows, maybe you'll even earn enough bones to treat yourself to a nice steak dinner.
Beautifully-Designed Graphics and Animations: Prepare to be Wowed by Canine Carnage
If you're looking for a slot game with top-notch graphics and animations, look no further than Canine Carnage! The game's designers have gone all out to give you a truly immersive experience that you won't find anywhere else.
The armored truck background is a work of art, and you'll be blown away by the detail in the canine characters. From the fur on their coats to the expressions on their faces, everything is crafted to a level of perfection that is rare in online slot games.
The animations are what really bring the game to life. Every time you spin the reels, you'll see the dogs jump into action, snarling and barking as they compete for your attention. The movements are so fluid and realistic that you'll forget you're playing a game and feel like you're watching a movie.
It adds a whole new level of intrigue and excitement to the game. Who knew the end of the world could be so much fun?
In short, Canine Carnage is a feast for the eyes and ears. Don't miss your chance to experience it for yourself!
Soundtrack: A Perfect Dose of Adrenaline
I can't imagine playing Canine Carnage without the soundtrack. It's so fitting that it deserves its own spotlight. The composition of this soundtrack is simply magnificent!
I found myself tapping my feet as the music progressed, and it's rare for me to actually groove to a game's background score. It's not just background music; it's a soundtrack that fits the game's setting to a tee and enhances your gaming experience.
This game has a lot of bells and whistles, but the soundtrack is the shiny new coat of paint that ties everything together, and I have to say it's one of the best parts of the game. If you're not tapping your foot by the end of your session, then you are doing it wrong!
Setting and Theme: An Exciting Post-Apocalyptic World of Humanoid Dogs
If you're looking for something outside the norm, Canine Carnage is the game for you. The world of Canine Carnage is set in a post-apocalyptic future where the world has turned on its head, and dogs are now the dominant species. The game is set in the midst of a desert where the four primary characters, humanoid dogs, are on a journey to find Canine Carnage – a place where they can live out their days free from the dangers of the desert.
Canine Carnage is one of the few online slot games that features a dystopian setting, and the overall theme is both unique and exciting. The slot offers an immersive and thrilling playing experience that will keep you coming back for more.
In terms of the visual presentation, Canine Carnage is a visual masterpiece. The graphics and animations are top-notch, and the entire game is designed to be both creative and entertaining.
All in all, Canine Carnage is a great choice if you're looking for something offbeat and unique. It's a fun and exciting game that is sure to keep you engaged for hours on end!
FAQ
What is the minimum bet for Canine Carnage?
The minimum bet for this game is $0.10.
What is the theoretical return to the player in Canine Carnage?
The theoretical return to the player in this game is 96.2%.
What are the special symbols in Canine Carnage?
The special symbols in this game are the Wild symbol, the Golden Bones symbol, and the gasoline drum Scatter symbol.
What is the highest-paying symbol in Canine Carnage?
The Wild symbol is the highest-paying symbol in this game.
What is the maximum win in Canine Carnage?
In this game, players can win up to 1,000x their bet.
What does medium volatility mean?
Medium volatility means that the slot has a good balance between spins and win amounts.
Can I play Canine Carnage on my mobile device?
Yes, Canine Carnage is available on tablets, smartphones, and PCs.
What is the Free Spins round in Canine Carnage?
During the Free Spins round, only the Golden Bones symbols appear, and instant prizes are collected in a Cash Pot bowl and redeemed when the collecting symbol appears. Multiplier or divisor symbols might also appear, giving players even higher wins!
What we like
Great mechanics and high level of play
Impressive selection of symbols and features
Beautifully-designed graphics and animations
Adrenaline-filled soundtrack
What we don't like
Only medium volatility
Free spins could have better rewards