Black Mamba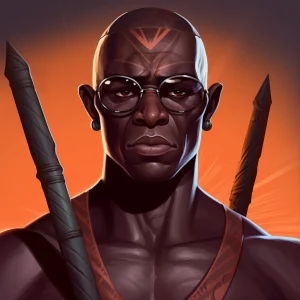 If you're looking for a slot game that rocks, Black Mamba from Play'N'Go has got you covered! This game packs a high-energy punch that perfectly captures the spirit of the Italian rock/heavy-metal band it honors. Get ready for a wild ride of electrifying graphics, powerful sounds, and non-stop action!
The game's graphics are designed like a real rock concert, complete with a game board taking center stage and a venue's walls in the background. The band members rotate on the right, playing their iconic instruments with passion and precision. On the left, you'll find speakers that emit powerful distorted riffs that will make you want to crank up the volume to 11.
But Black Mamba is more than just aesthetics – this game has plenty of features to keep you entertained. You can activate free spins, unlock bonus rounds, and enjoy the game's medium volatility while an RTP of 94.5% means there are plenty of chances to hit it big. You might even feel like you're in the front row of a real Black Mamba concert – minus the sweat and bruises!
Main Characteristics of the Slot Machine
Are you ready to rock out with the latest online slot game, Black Mamba? This game is unlike any other with its unique clustering payout system and cascading reels. The game's grid consists of five reels, and wins are calculated by groups of symbols. It's like being a part of a rock band, only instead of performing, you're winning big! With a minimum bet of $0.20, anyone can start playing and have a chance at the maximum bet of $100. That's right, you heard it here first, the maximum payout is 5,000 times the bet you placed! There are so many chances to win big, it's like hitting the jackpot on every spin.
Be warned, though, this game is of medium volatility, so it's not for the faint of heart. The risk is well worth the reward, as Black Mamba shreds with an RTP of 94.5%. That's almost as likely as a drummer keeping time! The game can be played anywhere, anytime, so you can jam out to your favorite tunes while spinning for wins. During gameplay, free spins can be activated, creating even more opportunities to win and advance to the next level!
Symbols and Features of Black Mamba
Are you ready to rock and roll with the Black Mamba slot game? This game is all about music, and the symbols on the reels are a testament to that. You'll see the band members as the higher payout symbols, and Martina as the lead singer will payout the highest, with an x2 multiplier. And if you're lucky enough to land the Wild symbol, represented by a slithery snake, you can replace all other symbols except for the band members, generating high payouts. Just be careful not to get bit!
During the regular game, the band members randomly appear on the right-hand side to provide different bonuses. It's like having your own personal band playing for you while you spin. And between four and six band symbols activate the 'Concerto' function where each musician takes turns performing with their own bonus. It's like going to a concert, but you don't have to deal with the crowds or overpriced drinks!
To obtain Free Spins, you need to clear the entire grid. This might sound daunting, but trust us, it's worth it. During free spins, the multiplier on the speaker increases, and every full counter results in an instant award of two additional free spins. It's like getting an encore from your favorite band, but you don't have to suffer through the awkward silence and fake crowd chants for it!
So if you're a music lover and a fan of online slot games, then Black Mamba is the perfect game for you. It's like rocking out to your favorite tunes while winning big at the casino. What more could you ask for?
Experience the Thrill of Cluster Wins Payout System
Black Mamba is not your ordinary slot game. It takes the road less traveled and offers players an exciting new payout system. Say goodbye to the traditional paylines and hello to the cluster wins payout system. Yes, you read that right! Wins are generated not in individual lines but in groups of symbols clustered together.
Now, let's talk about how this system can change your slot game experience. First of all, it adds a whole new level of excitement to the gameplay. Every win is unexpected because you never know which symbols will cluster together. Second, since the payout system doesn't rely on paylines, the chances of hitting a winning combination are much higher. It's like getting a bonus every time you spin the reel.
One of the symbols that players need to watch out for is the Wild symbol, featuring a slithering snake. Unlike other slot games where the Wild symbol simply disappears once it appears, in Black Mamba, it shimmies down a lower position every time it appears until there are no more winning combinations. It's like watching a real snake slither through your screen, except this one brings you money and not venom.
So, let's do a quick recap. No paylines? Check. Higher chances of winning? Check. A cool Wild symbol that brings you money? Check. Black Mamba offers all these and more. Are you ready to experience the exciting new payout system? Give Black Mamba a spin and see for yourself why it's the talk of the town!
RTP and Volatility
Are you ready to rock and roll with Black Mamba? This game packs a punch with its RTP of 94.5% and medium volatility. Of course, you don't need me to explain what RTP means, because as a true slots fanatic, you already know that means "Return to Player." But did you know that medium volatility means you can expect a mix of payouts that can range from modest to mighty? It's like being in a band – some gigs pay better than others, but the thrill of the performance is always there.
If you're looking to amp up your excitement level, Black Mamba is the perfect casino game for you. With generous chances to win and payouts that don't disappoint, you'll be headbanging your way to victory in no time. Just be careful not to get too carried away with the solos – remember, you want to keep some cash in your pocket for next time!
Concerto Bonus:
Are you ready to rock? With Black Mamba, you'll feel like part of the band and be ready to hit the jackpot! Between four and six band symbols are your ticket to the 'Concerto' function, where you'll get a front-row seat to the action. The feature puts band members center stage, and you can hear them perform amazing tunes while waiting for their bonuses to be revealed.
Who said that online slots can't be entertaining? Black Mamba not only offers you the chance to win considerable payouts but to have a great time in the process. Plus, the 'Concerto' function is incredibly unique, providing a new level of excitement to the standard casino experience. I mean, come on, when was the last time you saw a band playing for you in a slot game?
The 'Concerto' function might be even better than a real-life music show – you won't have to fight the crowds, deal with sticky floors, or overpriced drinks. Instead, you can enjoy the fantastic music and unique bonuses from the comfort of your own home, all while winning actual money. So, tune in, and turn it up, because Black Mamba is one heck of a ride!
Get Ready for Free Spins!
So you want to know about free spins in Black Mamba, huh? Well, buckle up and get ready for some serious gaming action!
To activate free spins, you'll need to clear the entire game board. But don't worry, it's easier said than done. You'll need some serious skills to get to that stage. And when you do, you'll be rewarded with the chance to earn some impressive payouts.
But that's not all! During free spins, the speaker multipliers increase by one for each winning combination. So, if you're lucky enough to hit a few wins, you'll see some serious cash start rolling in. And that's not all! Each full counter results in an instant award of two additional free spins. So, if you keep on winning, you can keep on spinning for even longer.
In conclusion, free spins in Black Mamba provide players with ample opportunity to increase their winnings and have a great time. So, what are you waiting for? Start spinning those reels and see if you can clear the board and activate those free spins!
Bonuses Offered by Band Members
Black Mamba is not your ordinary casino game. This slot game offers you a chance to rock your way to maximum winnings. The band members – Fred, Alexandra, Cecilia, and Martina – offer you some of the sweetest bonuses you could ever imagine.
First up is Fred. He's the type of guy who transforms everything into gold. In this case, he transforms symbols into other symbols. If Lady Luck is on your side, Fred's transformation can lead to some serious winnings.
Alexandra is the band's drummer, and boy, does she know how to bang those drums. In Black Mamba, Alexandra destroys two sets of symbols, and this increases the chances of new, winning combinations appearing on the reels.
Next up is Cecilia, the bass player. Cecilia is the cool chick who always knows how to lighten up the mood. In Black Mamba, Cecilia makes up to two Wild symbols appear on the reels. Wilds are your friends because they represent any symbol on the reels and help you form winning combinations.
Martina is the lead singer and the reason why everyone comes to see Black Mamba's concerts. In this game, Martina creates a Martina symbol, which is the one that pays out the most. She also destroys the last line, and a new set of symbols appears on the reels. This increases your chances of hitting a winning combination.
These bonuses are fantastic opportunities to maximize your winnings. Not only are they fun and entertaining, but they also offer you a chance to really cash in. So, crank up the volume and join Black Mamba in their journey towards rock stardom and massive payouts!
Rock Your Socks Off with the Music and Sound Effects
If you're a fan of hard rock and heavy metal, then you're in for a treat with Black Mamba. This game features an electrifying soundtrack that will have you head-banging at your computer screen. The combination of guitar and drum solos creates a high-energy atmosphere that'll keep you spinning those reels for hours on end.
From the moment you hit the spin button, you'll be treated to a feast for your ears. The background music is perfectly suited to the genre, making you feel like you're at a live concert. The sound effects also add to the experience, with lightning bolts and guitar riffs punctuating each win you haul in.
Not only is the music and sound effects on-point, they're also seamless. You won't experience any jarring transitions or annoying interruptions while playing Black Mamba. The soundscape adds to the immersive quality of the game, making you feel like you're really in the thick of it.
In fact, the only downside to the music and sound effects might be that they're too good. You might end up head-banging so hard that you forget that you're spinning the reels of a slot game! But hey, if that's the worst that can happen, we're all for it.
FAQ
What is Black Mamba?
Black Mamba is an online slot game developed by Play'N'Go that draws inspiration from an Italian rock/create-metal band with the same name.
What type of music can you expect in Black Mamba?
You can expect heavy metal music with catchy guitar and drum solos and a chanting refrain that matches the rock-and-roll theme.
Is the Black Mamba slot machine easy to play?
Yes, the square grid in the front has 5 cascading reels and offers payout systems based on groupings of symbols for immediate wins. The game has a medium volatility and an RTP of 94.5% and is available at multiple wagering levels.
What is the maximum amount I can increase my bets to?
The highest bet for Black Mamba is $100, while the minimum wager begins at $0.20.
What can I expect from the symbols in the Black Mamba slot?
All symbols in the game relate to elements of rock music. The band member symbols pay out more, with the highest payout coming from Martina's symbol, while the Wild symbol is represented by a snake that offers good payouts.
Can I expect bonuses for playing Black Mamba?
Yes. The game offers bonuses and special symbols that enhance your gameplay and chances of winning. The band members on the right-hand side provide various bonuses such as transforming symbols into other symbols, making Wild symbols appear, and creating Martina symbols. Free spins are also available in the game.
Is there a particular feature to look out for while playing Black Mamba?
During free spins, the speaker's multiplier increases by 1x for each winning combination, and every time the counter is full, an instant award of 2 extra spins is granted.
What is the potential winning amount in Black Mamba?
Players can gamble to win up to 5,000 times the original bet.
What we like
Cluster payout system for instant gratification
Concerto bonus provides excitement and value
Free spins offer generous payout opportunities
Music and sound effects adhere to theme
What we don't like
94.5% RTP may be lower compared to other games
Not suited for players looking for lower volatility