Big Catch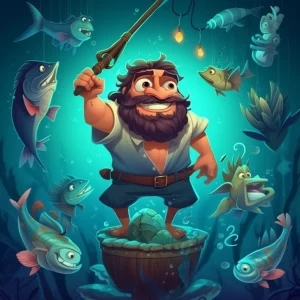 They say simplicity is the ultimate form of sophistication, and that's precisely what you'll experience when playing Novomatic's Big Catch. Don't expect any flashy animations or complicated game features, just straightforward and easy-to-understand gameplay mechanics. The absence of Autoplay might seem a bit disappointing, but once you start spinning those reels, you'll quickly realize it's not necessary.
However, the game still manages to keep the excitement and fun levels high. Thanks to the potential of unlocking free spins with a Bonus Game, players keep spinning to see what happens. It's like opening a can of soda; you never know when it might explode, but you're always eager to give it a try.
Big Catch has a straightforward design without any over-the-top visual effects, keeping it minimalistic and streamlined. The game takes place in an underwater world filled with animated symbols that bring the cartoonish theme to life. It's like SpongeBob's underwater world, minus all the wacky characters. And hey, maybe we'll see SpongeBob and his friends make an appearance in the next version of the game.
Overall, Big Catch's simplistic approach makes it a perfect game for anyone looking to enjoy a relaxing, easy-to-play, and fun slot. The underwater theme adds a unique flair to the gameplay, and the possibility of accessing free spins adds just the right amount of anticipation. It's a game that catches attention and holds it, unlike the big one that always got away.
Symbols and Payouts
When diving into the world of Big Catch, you'll feel like you're swimming in an oversized fish tank. The symbols are all designed with a playful and stylized look, making it a fun experience for players of all levels. Starting with the classic playing card symbols, you'll see numbers from nine to Ace, all resembling squishy sea sponges. If you're lucky enough to land the game's symbol or an anchor, you're in for a big payout!
The real catch is the Wild symbol, represented by an adorable pink starfish. This little guy can dive onto reels three, four, and five and will substitute every other symbol when creating a winning line. With the starfish leading the way, you're sure to rack up some big winnings!
Speaking of sea creatures, did you hear the one about the clam that went to the casino? He was shell-shocked when he hit the jackpot!
Bonus Features And Free Spins
Are you ready to reel in some big wins? Big Catch offers a unique bonus feature that will have you hooked! Randomly awarded at the end of each spin, the free spins in Big Catch take you on a wild underwater adventure where the Bonus Game is automatically activated. Watch as all of the reels are submerged in water, making it feel like you're in an aquarium that's filling up.
A fishing hook, operated by the Start button, appears on the screen and you get to catch different fish during the bonus game. The fun part is that each fish corresponds to a multiplier that ranges from 1 to 100x! Now that's what we call a big catch!
Just be careful not to catch an old boot – that means the bonus game is over and you'll be returning to the reels empty handed. But don't worry, you can always try again and catch even bigger fish next time. With this exciting bonus feature, Big Catch is one fishing trip that you won't want to miss!
Comparing Big Catch to Other Marine-Themed Slot Games
When it comes to online slot games set in a marine environment, Big Catch is just one of many options available. However, this game stands out from the others with its innovative features and exciting gameplay.
Of course, we can't forget about Miss Ocean, which offers a vibrant and stunning environment filled with intriguing sea creatures. And if you're a fan of highly-detailed graphics, Playson's Aquarium is definitely worth checking out. With stunning visuals and a complex game structure, this game delivers a fun and immersive gaming experience that rivals even Big Catch.
But let's be real, we're all here for Big Catch's fishing-inspired gameplay. Who doesn't want to cast a line and reel in some wins? And with its multiple bonus features, including a thrilling fishing mini-game, it's no wonder so many players keep coming back to this game.
Overall, while Big Catch may have some competition in the marine-themed slot game category, it holds its own with its unique features and exciting gameplay. And let's be honest, who doesn't love the thrill of the catch?
Developer and Software
Are you ready to reel in a big catch? You better be, because the Big Catch slot game is here to make a splash! And who else could bring us such a fantastic game other than Novomatic, a well-known and respected software house in the gaming industry for over 40 years. These folks could catch Moby Dick with their expertise in developing high-quality slot games like Big Catch.
The software behind Big Catch is so stable and reliable, that it's like having a trusty fishing pole in your hands. It ensures that you will have a seamless and enjoyable gaming experience, with no glitches or frozen screens. So, you can just focus on the Big Catch and not worry about your computer swimming away.
FAQ
What is Big Catch?
Big Catch is an online slot game developed by Novomatic that features an underwater theme.
How many reels and paylines does Big Catch have?
Big Catch has 5 reels and 20 paylines.
Does Big Catch have Autoplay?
No, Big Catch doesn't have Autoplay.
What is the Wild symbol in Big Catch?
The Wild symbol in Big Catch is a pink starfish that can replace all other symbols when completing a winning line.
How do I trigger the Bonus Game in Big Catch?
The Bonus Game in Big Catch is triggered during free spins, which are awarded randomly at the end of each spin.
What happens during the Bonus Game in Big Catch?
During the Bonus Game in Big Catch, all reels are submerged in water and a fishing hook appears on the screen. The hook catches different fish, each of which corresponds to a multiplier ranging from 1 to 100x. The bonus game ends when the hook pulls up an old boot.
Are there similar slots to Big Catch?
Yes, there are several online slots with a marine environment theme like Big Catch. Some similar slots are Miss Ocean and Aquarium.
Is Big Catch a complex slot?
No, Big Catch is a structurally simple slot but still provides a fun and enjoyable gaming experience.
What we like
Simple and intuitive gameplay mechanics
Possibility of accessing free spins with a Bonus Game
Colorful and engaging underwater theme
Reliable and stable software for a smooth gaming experience
What we don't like
Lack of special features and Autoplay
Limited bonus game with repetitive fishing hook mechanic