Battle Royal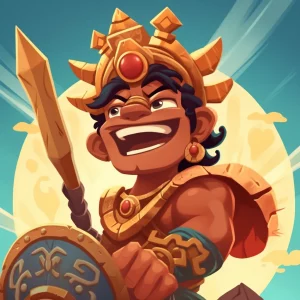 Battle Royal is a 5-reel, 20-payline slot game with high volatility and a maximum winning potential of 5,000 times your bet. That's almost as epic as a final battle of a kingdom! Wait, this is an online casino game, not an episode of Game of Thrones, right?
Anyway, the game features standard icons that transform into symbols with consistent winnings. Plus, there are some fun bonus features too! For example, there's the 'Long Live the King' feature where you can pick from several items to manipulate a guillotine and collect rewards. Play the game right, and you might just save the king's head and pocket some winnings!
But, the best part of the game is the free spins feature. Trigger three or more scatter symbols and unlock the Royal Family's Treasure Chamber. Here, you get to pick from symbols to reveal stacked wilds and free spins to rack up your winnings.
The minimum bet starts at $0,20, which is a steal for all the fun you're going to have playing Battle Royal. And for the high rollers out there, the maximum limit is $100,00 per round. That's so high it would make you feel like royalty, or at least a knight of the casino.
Bonus Features
Battle Royal is packed with a variety of features that can keep you entertained for hours. The game offers three bonus features, each with its unique glitch and thrills. So let's dive into the bonuses and see what Battle Royal has to offer!
The first bonus feature is called Royal Flush, which can trigger randomly at any point during the standard game. It's like getting a royal flush in a game of poker, except instead of bragging rights, you get free spins and an opportunity to win some serious cash!
Then there's the Free Spins function, which is becoming a standard offering in most online casino games. But Battle Royal takes it a step further with its unique visuals and audio that will make you feel like you're really in the arena waiting for your opponents to strike.
The last but not least is the LONG LIVE THE KING function. This feature allows players to choose chests that contain various prizes, including real money. And if you manage to find a Key icon, you'll trigger a multiplier that can significantly increase your booty of free spins. Just make sure you don't anger the king with your selection of chests, or it might be off with your head!
Overall, the bonus features in Battle Royal make it stand out from the crowd. They offer a perfect mix of excitement and adventure, making it impossible to stop playing. So, Long Live the King, and let's get spinning!
Symbols and Paylines
Get ready to join King Henry VIII and his six wives on the reels of Battle Royal. The symbols in this game include the usual card suits with low values and the more valuable symbols associated with the monarchy of England. Keep an eye out for the King Henry VIII symbol – this is the game's wild and can help you increase your winnings with a 30x bet placed on a pay line.
But that's not all – if you manage to land the Wife symbol, things get really interesting. If the Wife symbol is fully visible or shows its upper part, it will be beheaded, turning into an extra wild. It's a gruesome feature, sure, but it's all in good fun. Meanwhile, the free spins continue until all five consorts meet the same fate. And if the sixth wife manages to escape, you will go directly into the extra feature: LONG LIVE THE KING.
Overall, Battle Royal is a fun and quirky game that offers some unique and entertaining features. It's perfect for those who enjoy slot games with a twist, or for anyone who wants to pay tribute to one of England's most controversial kings. Just don't let your head get too caught up in the game – after all, we don't want you to go the way of the unlucky wives!
Betting Limits: How Much Can You Afford To Lose?
Do you ever feel like you're in a medieval battle when you're playing online slot games? Well, now, with Battle Royal, you can finally experience the thrill of battle and the possibility of riches in the same breath. But before you charge into the fray, let's talk about betting limits.
The minimum bet may be only $0,20, but don't let that fool you. This is a high-volatility game, which means you may need to make multiple bets to hit that big win. You know, like an intense battle where you have to keep pushing forward despite setbacks. But don't get too carried away – the maximum bet is $100,00! That's a lot of money to risk, but you gotta ask yourself: are you feeling lucky?
One thing you should know – Battle Royal has a maximum winning potential of 5,000 times your bet. So, if you're going to risk it all, at least you know that your reward could be massive. Just make sure you don't end up losing your shirt in the process. Remember how knights used to have banners and nobles their crests on their shields, maybe it's a good idea to have your credit score printed out on yours too.
Theme and Atmosphere
Battle Royal is inspired by the medieval atmosphere of the Tudor dynasty and is based on the history of Henry VIII and his six wives. If you're a history buff, this game is right up your alley! However, if you're feeling a little squeamish or are easily spooked, it might be best to give this game a skip. With sharp guillotines and bloodthirsty executions galore, Battle Royal definitely isn't for the faint of heart.
But fear not, my dear readers! For those who are brave enough to give Battle Royal a spin, the game is surprisingly enjoyable. The animations are stunningly rendered and the sound effects make you feel like you're right there in the action.
That being said, if you're in the mood for something a little less dark and twisted, you might want to check out one of the game's more lighthearted counterparts. Maybe give Banana Rock a whirl – who doesn't love a slot game with a name like that?
FAQ
What is the minimum and maximum bet for Battle Royal?
The minimum bet is $0,20 and the maximum is $100,00 per round.
What is the winning potential of Battle Royal?
The winning potential of Battle Royal is 5,000 times your bet on every free spin.
Are there any special symbols in Battle Royal?
Yes, there are special symbols in Battle Royal such as the wild King Henry VIII icon and the beheaded Wife icon that turns into an extra wild.
What is the Royal Flush function in Battle Royal?
The Royal Flush function is randomly activated in the standard game of Battle Royal.
What is the Free Spins function in Battle Royal?
The Free Spins function in Battle Royal rewards you with unmissable free spins with additional extra wilds.
What is the LONG LIVE THE KING function in Battle Royal?
The LONG LIVE THE KING function in Battle Royal lets you act as an accomplice helping the sovereign to recover the riches and escape from the dungeons by choosing chests containing prizes in real money.
How many bonus functions are there in Battle Royal?
There are three bonus functions in Battle Royal: Royal Flush, Free Spins, and LONG LIVE THE KING function.
What happens if the King ends up in the middle of the ghost in the LONG LIVE THE KING function?
If the King ends up in the middle of the ghost, he dies and the bonus function ceases its activity.
What we like
High winning potential of 5,000 times your bet
Three satisfying bonus features
Transforming symbols increase winnings
Variety of betting limits
What we don't like
Not the best choice for players who prefer a fun atmosphere
Only one high-paying symbol (King Henry VIII)