Bat Stax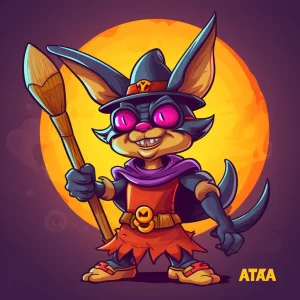 Bat Stax may sound like the name of a low budget superhero but it's actually a fantastic slot game with 5 reels and 3 rows, and trust me, these reels are ready to drive you bat-stax crazy! With 20 fixed paylines to choose from, the game is perfectly designed to satisfy your gambling cravings.
If your finger gets too tired from all the clicking, you can always take advantage of the Autoplay feature. Unfortunately, there's no predefined number of autoplay spins, so you'll have to keep an eye on the screen like a vigilant bat, ready to take over the reins as soon as a big win or thrilling bonus feature triggers.
Bat Stax is a slot game with medium volatility, which means you can expect a good balance of small and big wins throughout your gameplay journey. With a theoretical RTP rate of 95.2%, the game promises a fair chance to become a bat-cave legend. Don't be scared by the RTP figure, though. I've seen a few lucky bats strike lucky wins on this game and leave the casino as big winners.
If you're a high roller, you'll be ecstatic to learn that the maximum betting range is an impressive 200 tokens per spin. Just keep in mind that each token's value corresponds to $0.01, so don't be alarmed when your wallet starts to feel as light as a bat's wing!
Symbols and Paylines
Get ready for a spooky good time with Bat Stax! The symbols in this Halloween-themed slot game will send shivers down your spine, but don't worry, they'll also send winnings straight to your wallet. The lowest-paying symbols are the playing cards, so don't get too excited when you see those on the reels. But keep your eyes peeled for the spiders and cats, as they offer more generous payouts.
The wise old owl is worth keeping an eye out for as well. Even just two of his symbols will reward you, so he's definitely a friend to have on your side. And of course, the highest-valued regular symbol is – you guessed it – the bat. This symbol is sure to give you a boost, but keep your eyes peeled for the special symbols as well.
The Wild symbol in Bat Stax is represented by the witch's hat, which is fitting because it has some serious magic powers. It can replace all symbols except for the Scatter, which is represented in this game by the Halloween pumpkin with the Bonus inscription. To win, all you need to do is align three adjacent symbols from the left reel to the right – sometimes, only two symbols will do the trick. And with a betting range that goes from a minimum of 1 token per line up to a maximum of 200 tokens, with each token's value corresponding to $0.01, there are plenty of opportunities to hit it big.
So grab your broomstick, throw on your witch's hat, and get ready for some spooky fun with Bat Stax! With great symbols, generous payouts, and plenty of betting options, this game is sure to cast a winning spell on you.
Bonus Features: Get Your Bat Wings Ready!
If you're looking for heart-stopping moments and the chance to win big money, Bat Stax is the right online slot game for you. The game includes a number of innovative and unique bonus features that will keep you on the edge of your seat.
First off, there is a Scatter symbol, which is represented by a grinning Halloween pumpkin with the word Bonus on it. When you land three or more Scatters, you'll trigger a round of 10, 15, or 25 free spins. During these bonus rounds, you'll have even greater chances to win. For instance, only two bat symbols will be enough to win during free spins instead of the typical three.
If you see a bat flying in front of a full moon, it means that the bat symbol is about to take over the reels. This is called the Bat Feature, and it's definitely worth getting excited about. When the Bat Feature is active, one symbol appears on the reels and covers multiple positions, which can in turn lead to some seriously big payouts. If two bats appear, they'll fill the first two reels with the same symbol. If three appear, they'll fill the first three reels with the same symbol. If you're lucky enough to get five bats, the entire grid can be filled with the same symbol, leading to a massive payout!
All in all, the bonus features in Bat Stax are not only exciting but also generous. They can take our winnings to another level by awarding us with free spins and the chance to multiply our wins through the Bat Feature. It's no surprise that this game is quickly becoming a popular choice among slots enthusiasts. Just make sure to hold on tight to your hat (or should I say, your bat wings) when the big wins start rolling in – you won't want to miss a thing!
Volatility and RTP
Bat Stax is a game that won't scare you with its volatility level. It's a medium-level game, which means that the wins come quite frequently throughout the game. And who doesn't like frequent wins? Not me, that's for sure. I like to see my balance go up and up, like a bat flying high in the night sky. Speaking of bats, they sure are creepy creatures, right? But in this game, they bring luck and good fortune, so you might want to make them your allies.
But enough about the critters, let's talk numbers. The theoretical return to player (RTP) for Bat Stax is 95.2%. What does that mean? Well, it means that in the long run, for every $100 bet, the game will return $95.2 to the player. Of course, that's just a theoretical calculation, and your actual results may vary. But it's still a good indication of the game's generosity, wouldn't you agree?
My Hauntingly Fun Time with Bat Stax
Get ready for a spine-chilling experience with Bat Stax, the online casino game that pays homage to Halloween with its dark blue, black, and purple theme set in a cemetery on a foggy night. As soon as I started playing, I was fully immersed in the eerie graphics that created a chilling atmosphere.
The creators of Bat Stax did an excellent job with the game's graphics, especially the animation that accompanies the winnings and bonuses. It's not every day that I get rewarded with a swarm of bats flying across my screen, but it sure makes for an exciting gaming experience. The music is also very haunting and adds to the game's overall spookiness.
But don't let the game's creepy vibe scare you off. The betting range is very accessible, starting from just one token per line up to 200 tokens. This makes Bat Stax an attractive game for all players, whether you're a seasoned gambler or just starting out.
All in all, I had a blast playing Bat Stax and would recommend it to anyone looking for a good ghostly time. The gripping graphics, thrilling animations, and accessible betting range make it a go-to game in my online casino game library.
FAQ
What is Bat Stax?
Bat Stax is an online slot game that pays tribute to Halloween through its graphics and gameplay features.
What is the minimum bet in Bat Stax?
The minimum bet in Bat Stax is 1 token per line.
What is the maximum bet in Bat Stax?
The maximum bet in Bat Stax is 200 tokens per line.
What is the value of each token in Bat Stax?
Each token in Bat Stax corresponds to $0.01.
What is the volatility of Bat Stax?
The volatility of Bat Stax is medium, with frequent good-level winnings.
What is the theoretical return to player (RTP) of Bat Stax?
The theoretical return to player (RTP) of Bat Stax is 95.2%.
What are the special symbols in Bat Stax?
The special symbols in Bat Stax are the witch's hat (Wild) and the Halloween pumpkin with the Bonus inscription (Scatter).
What can I win with the Scatter symbols in Bat Stax?
Depending on the number of Scatters, you can win 10, 15, or 25 free spins in Bat Stax.
What we like
Great graphics and chilling atmosphere
Medium volatility ensures frequent winnings
Exciting bonus features, including free spins
Accessible betting range for all players
What we don't like
Autoplay feature lacks a predefined number of spins
Limited paylines for more advanced players