Banana Splash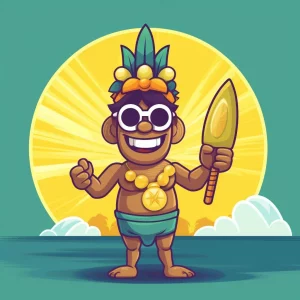 Banana Splash is more than just a simple and easy-to-play online slot game; it's a game which can literally make you go bananas. With five reels and three rows, there are nine paylines to choose from. A true slot aficionado can choose to activate one, three, five, seven, or all nine. The choice is yours – just make sure you don't go overboard and become the banana man or woman.
Players can place wagers ranging from one token to a hundred tokens – enough to merit a cheers from every chimp in the jungle. Beginners must take note that betting on more paylines will provide you with greater opportunities to form winning combinations. As the saying goes, the more, the merrier. Experience the joy of winning with Banana Splash and go ape for this game.
Graphics
If you're a fan of adorable fruit-themed games (who isn't?), then Banana Splash is the one for you. It's like Fruit Ninja meets a day at the beach! The graphics are bright, colorful, and super fun. The fruits are all cartoon-style renditions, which will make you feel like you're playing a game that's straight out of your childhood. Plus, the blue ocean background will have you feeling like you're really at the beach, without the sand in your toes.
The graphics are not the fanciest around, but they're well-designed and add to the overall experience of the game. They look like they came straight out of those old ice cream billboards from the 80s. But let's not bring back the 80s hairstyles, please. The game doesn't feature any special effects or 3D animations, but that doesn't detract from the gameplay. Sometimes simple is better, like plain vanilla ice cream. It's not fancy, but it gets the job done.
Paylines
Are you ready to go bananas? Then you should definitely give Banana Splash a spin! This slot game is a great way to have some fun and hopefully win big. But before we dive into the juicy details, let's talk about paylines.
Banana Splash has nine paylines, which is more than enough to keep you entertained. The best part? You have total control over how many paylines you activate. You can choose to play with just one active payline or go all out by activating all nine. And let's be real, the more paylines you have, the higher your chances of winning big are!
But what about bets? Don't worry, Banana Splash has got you covered. You can bet anywhere from one token to 100 tokens per activated payline. That means if you activate all paylines, the maximum bet per spin will be 900 tokens. Of course, if you prefer to play it safe, you can always go for the minimum bet of 1 token. It's entirely up to you!
In short, Banana Splash's paylines and betting options are easy to understand and give you room to play at your own pace. So go ahead and splash some bananas around, you never know when luck might strike!
Symbols
If you're looking for a game that perfectly captures the carefree spirit of summer, you'll definitely want to check out Banana Splash. This delightful slot game features a collection of colorful fruit symbols that have been given a fun and playful beach theme. With six high-paying fruit symbols, there are plenty of chances to win big while soaking up the sun and sand.
Take a spin and you might just come across a pineapple sporting a lifebuoy, a melon jamming out to some bongo beats, or a strawberry hitting the waves with some water skiing action.
Of course, no slot game would be complete without the standard number and letter symbols, which range from 9 to Ace. But it's the joker of the bunch, the banana, who serves as the Wild symbol in this game. With the power to substitute for any other symbol on the reels (except the Scatter), the banana can really help you rack up those wins in no time.
Speaking of the Scatter symbol, keep an eye out for the beach cabin. When three or more of these symbols appear on the reels, you'll trigger the game's bonus feature and be awarded up to 32 free spins! That's right, Banana Splash is one of those rare games where you can score big without having to risk any of your own coins. Now that's what we call a day at the beach!
Return to Player
Are you wondering how much of your hard-earned bananas you can expect to get back playing the Banana Splash slot game? Well, the theoretical Return to Player stands at a respectable 95.79%. That's not too shabby, but don't get too excited, this percentage only applies in the long run. Banana Splash is still a lot of fun, and you can win big if you trigger its bonus features. Speaking of bonuses, did we mention that Scatter symbols can unlock them? That's right, you gotta go 'nana with Banana Splash and catch those Scatters if you want to increase your winnings.
If you're on a tight budget, Banana Splash will be especially appealing. With only x9 paylines, this game is way cheaper than a tropical vacation. Needless to say, it's also much easier on the liver, although it'll make your eyes go zoom! Pow! with its colorful graphics and playful sound effects. And honestly, we'd rather watch juicy fruits spinning than listen to Uncle Bob talk about his knee surgery or Aunt Marge's latest quilting project.
FAQ
What is Banana Splash?
Banana Splash is an online slot machine game produced by Novomatic with a beach and fruit theme.
Are there any special features in Banana Splash?
Yes, there are Scatter symbols and a Wild symbol with a joker function that can help you increase your winnings.
How many paylines does Banana Splash have?
Banana Splash has nine paylines that you can choose to activate from one to all nine.
What is the betting range for Banana Splash?
You can place bets starting from one token up to 100 tokens per line, for a maximum bet of 900 tokens.
Is Banana Splash recommended for beginners?
Yes, Banana Splash is recommended for beginners as it has simple graphics and gameplay, making it easy to learn about the world of slots.
Is there a demo version of Banana Splash?
Yes, Novomatic offers Banana Splash in a demo version for players to practice before investing real money.
What is the theoretical return to player (RTP) of Banana Splash?
The theoretical return to player (RTP) of Banana Splash is 95.79%, slightly below average but still acceptable.
What are the symbols in Banana Splash?
The symbols in Banana Splash are colorful fruits like pineapples, melons, strawberries, watermelons, and oranges, as well as playing card symbols from 9 to Ace.
What we like
Simple and easy to play for beginners
Fun and colorful beach theme with tasteful graphics
Flexible paylines and adjustable betting options
Acceptable RTP and bonus features
What we don't like
No special effects or 3D animations
Slightly below-average RTP