Annihilator
Annihilator is a slot game that will take you on a musical journey. Get ready to rock out with the devil himself as you spin the reels of the game. With a traditional 5×3 layout, 10 paylines, and a theoretical return to player of 96.2%, you have a chance to land some impressive wins. But let's be honest, you're here for the music.
The game offers a range of bets, from $0.10 to $100 per spin, so you can choose the level of risk you're comfortable with. If you're feeling lucky, you can activate the bonus rounds, scatters, and wilds. These features expand and increase your chances of winning, while the music blasts in the background. It's like having the front row seat at a rock concert, but with a chance to win some money.
One of the best parts of the game is the option to change the music playlist. If you're not feeling the devilish tunes, you can switch to some classic rock or metal. You can even create your own playlist by choosing from the available tracks. Now, that's what we call customizing your gaming experience.
Overall, Annihilator is a game that will appeal to anyone who loves rock music and enjoys a good slot game. The features are great, and the music is exceptional. Just be careful not to rock out too hard and blow out your speakers!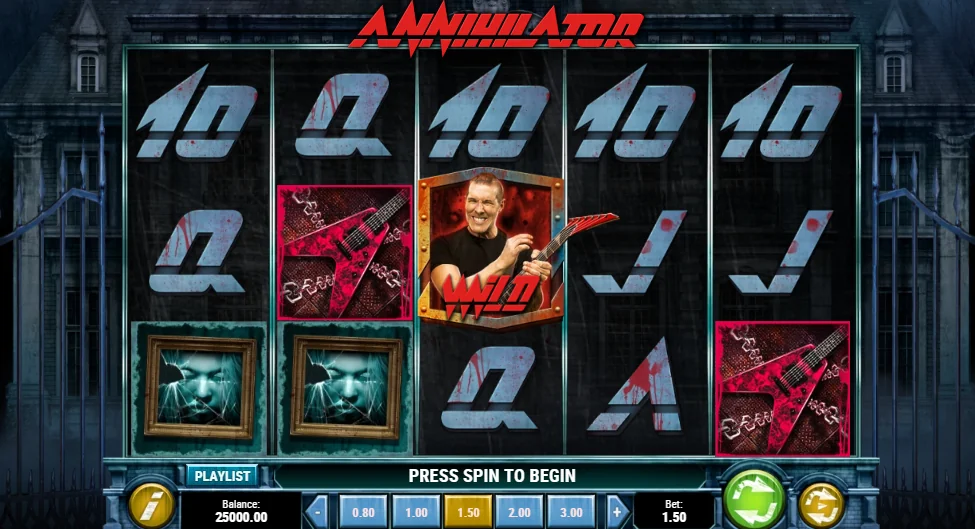 Symbols in Annihilator
Are you ready to rock? Annihilator's got you covered with some impressive symbols in their casino slot game. Don't worry; you won't find any boring playing cards here. Instead, spin the reels and watch as cards from 10 to Ace pay less than the others. But don't get too excited yet; you'll want to keep your eyes on the themed symbols.
First up, the 2010 album's cover enclosed in a frame is sure to catch your eye. It's like a mini rock concert on your screen! Lastly, we have the woman with a doll from their debut album, Alice in Hell. We don't know about you, but we've never seen a doll look so scary.
The Scatter symbol represented by the devil from the Refresh The Demon album is not only cool-looking, but it also activates the Set the World on Fire bonus when it appears three times. That's right; you get eight free spins! And if that's not enough, the Wild symbol represented by Jeff Waters himself will replace all symbols except for the Scatter and Bonus symbols. It's not just any Wild symbol; it's an expanding one that can cover the entire reel and remains active until you get a win. Talk about a head-banging good time!
What we like
Expanding wild symbol for bigger wins
Quality graphics and music
Two bonus features for extra excitement
Maximum win of up to 5,000 times your bet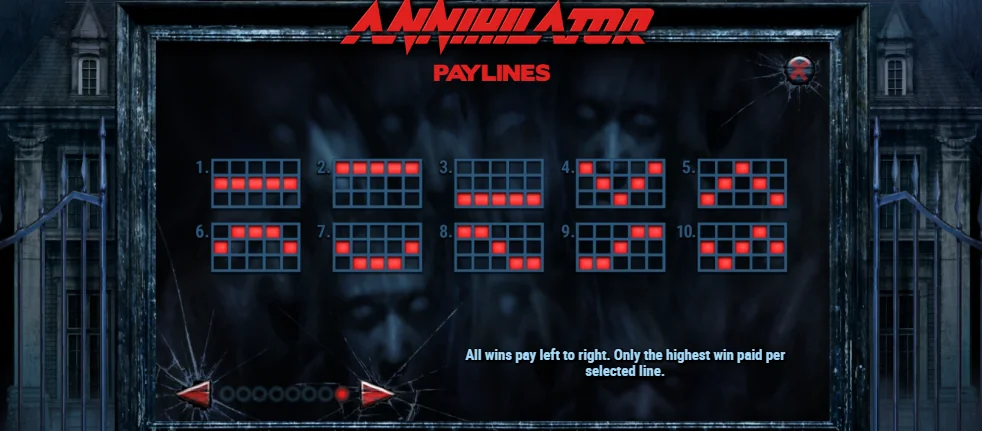 Annihilator Slot Graphics
Annihilator's graphics are meticulously designed to pay homage to the thrash metal band led by Jeff Waters. Set in a grand, spectral villa, each symbol represents the characters that have graced the covers of their numerous albums. The graphics are captivating, and the music, which is the band's hits, is excellent.
As soon as I saw the villa, I started imagining myself sipping on some fine whiskey while listening to thrash metal music. The band symbols on the reels definitely got me pumped up, and at times I even found myself humming along to their songs. The attention to detail in the graphics and music really adds to the overall experience of the game.
If you're a fan of the band, then you'll be thrilled with how their music is incorporated into the game. Even if you're not a metalhead, the graphics are impressive enough to draw you in and keep you entertained. Just be warned, you might find yourself headbanging along to the tunes!
Bonus Features
Are you ready to Set the World on Fire? Annihilator might just help you do that with its two amazing bonus features! Just watch out for the fire alarms and don't get too carried away!
The Set the World on Fire bonus is activated when you see the Scatter symbol appear three times. Not only does this award you with 8 Free Spins, but you'll also get to turn up the heat on those reels and set them ablaze with some incredible winnings!
But that's not all – there's also the Fun Palace bonus! This bonus is activated when the Bonus symbol, represented by the doll from Annihilator's debut album, appears three times. Now it's time to choose your fate – there are three sets of dolls and a hidden prize is waiting for you to uncover it. So go ahead and pick your favorite set – just don't be too surprised if the dolls come to life and start rocking out!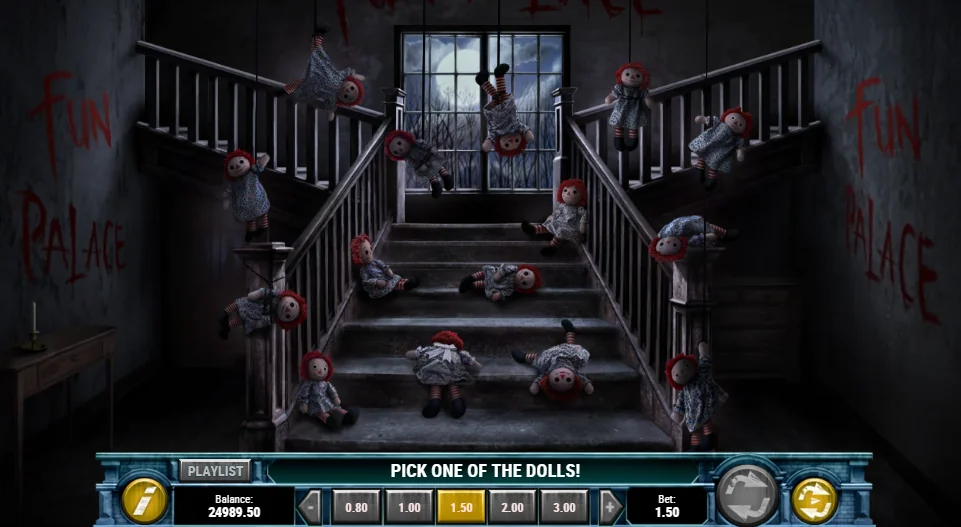 Payouts
Get ready to annihilate the competition with this exciting slot game! With a maximum win of up to 5,000 times your bet, you'll be feeling like a rockstar in no time. And speaking of rockstars, the themed symbols in this game will have you feeling like you're at a sold-out concert.
Of course, not all symbols are created equal. The playing cards from 10 to Ace may pay out less, but hey, you gotta start somewhere, right? And don't forget about the expanding Wild symbol – it's like having a backstage pass that lets you cover the entire reel and gives you a chance at one hell of a payout. So crank up the volume, because this game has some serious winning potential!
FAQ
What is the Bonus symbol's function in Annihilator?
The Bonus symbol is represented by the doll, an icon from Annihilator's debut album. If it appears three times, you activate a special feature called Fun Palace, where you'll have to choose one of three sets of dolls and uncover the hidden prize.
What is the Annihilator Scatter symbol's function?
If the Scatter symbol (the devil from the Refresh The Demon album) appears three times, it activates the Set the World on Fire bonus, which gives you 8 Free Spins.
What are the key features of the Annihilator slot?
The game grid is traditional, with 5x3, 10 paylines and a theoretical return of 96.2%. Bets range from €0.10 to €100, with a max win of 5000x the bet. Bonus rounds, Scatters, and Wilds with expansion capabilities guarantee free spins and excellent winning opportunities.