Agent Destiny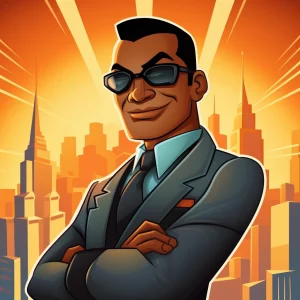 Are you ready to put on your spy suit and embark on a thrilling adventure? Look no further than Agent Destiny, the ultimate spy-themed online slot game!
This game, developed by Play'n GO, will take you back to the swinging 60s with its retro comic-book style. With five reels and 20 paylines, players will be hooked on the gameplay, which includes a range of exciting features.
The game's colossal symbols are a sight to behold, and locking reels amplify the excitement as you spin the reels in anticipation. Keep an eye out for those wild symbols, which will help you on your way to big wins.
This game is perfect for fans of spy movies, comic books, and most importantly, winning big. With impressive graphics and plenty of ways to win, Agent Destiny will keep you entertained for hours on end.
Exploring the Incredible Features of Agent Destiny
What makes Agent Destiny stand apart from its peers? It's the incredible features, of course! One of the key features is the Linked Reels – it's like having a twin on the reel set! These two reels will display the exact same symbols, which guarantees you a real chance to earn big rewards.
And if that wasn't enough, there's also the Colossal Symbols feature. Watch as the reels expand to reveal large symbols, taking up multiple parts of the reel set. It's a sight to be seen and more importantly, a feature that offers immense earning potential! And don't forget, Agent Destiny also has the Free Spins Bonus feature. By increasing your chances of winning without affecting your capital, it takes the excitement to the next level.
What's better than playing a game that combines mystery, intrigue, and humor, all while keeping you on the edge of your seat? Nothing! So what are you waiting for? Join the mission and try your luck at Agent Destiny today.
Graphics, Sound Effects, and Music
The graphics and audio elements of the Agent Destiny slot game work cohesively to create an exciting spy-themed experience. The game's comic book-style visuals are reminiscent of the 60s, and the quality sound effects enhance the overall gaming experience. As someone who has played his fair share of online slot games, I have to say that Agent Destiny is a breath of fresh air.
The game's graphics are not only visually appealing, but they help to create an atmosphere that truly immerses you in the world of espionage and secret agents. The sounds of gunfire, explosions, and secret mission music further complement the overall experience. It's easy to get lost in the game and feel like you're a spy on a mission instead of sitting in front of your computer or mobile device.
In fact, the sound effects and music of Agent Destiny are so well-done that I found myself humming the theme song long after I finished playing the game. And let's be honest, when was the last time you played an online slot game that had such catchy music that it stuck with you after you turned off the game?
Mastering the Art of Winning in Agent Destiny
If you're new to Agent Destiny, you might be wondering what it takes to win this thrilling game. Fear not, because it's a lot easier than you might think! To start, you need to land three or more matching symbols on any of the 20 paylines to rack up your wins. And with a default setting betting on all paylines, you're bound to land a decent winning combination soon.
The highest paying symbols in the game are the picture symbols – particularly, the iconic hero of the game, Agent Destiny himself. Land five of him, and you'll be happy to see a payout of up to 15X the stake. That's what we call a win-win! But don't stop there; keep your eyes peeled for the coveted wild symbol, which pays out a massive 60X the bet when five matching symbols land on the same payline.
So, there you have it – quick and easy tips to help you get ahead of the game. But what else can we tell you? Well, we could make some clever Agent Destiny jokes, but we don't want our sense of humor to bomb like a failed mission, do we?
Jokes aside, Agent Destiny is one of those games that proves to be both entertaining and rewarding, with the potential to pay out large sums if you're lucky enough. So buckle up, put your best foot forward, and let's see if you can save the world while also winning some cash.
Get Those High-Paying Symbols!
When it comes to Agent Destiny, your path to wealth and fame is paved with high-paying symbols. Throughout the game, you'll encounter a variety of symbols, but it's the picture symbols that you'll want to keep your eyes on.
As you play, you'll quickly realize that Agent Destiny is the head honcho. Not only is she the game's protagonist, but she's also the most valuable symbol on the board, boasting a multiplier of 15x. Let's face it, if you're going to all the trouble of taking down the bad guys, you might as well be rewarded for it.
That being said, the wild symbol is the real cherry on top of this slot game. Not only does it have the highest payout in the game, but it's also super fun to see those matching symbols pile up. With five matched symbols paying out 60x the winning bet, it's safe to say that you'll be hyped up and ready to take on the world in no time.
Unleashing the Power of the Wild Symbol
Let's talk about the wild symbol in Agent Destiny. Have you ever seen a safe that can replace other symbols in a slot game? Neither have we! But that's exactly what you'll find in this game. This safe is impregnable – just like one of those things you see in an action movie, but in this case, it opens to reveal the riches that can be yours.
This symbol is so powerful that it can replace all other symbols in the game to form those winning combinations you're looking for. Agent Destiny is all about the thrill of the chase, and with this wild symbol, you can chase those big wins with even greater confidence.
With this safe in your corner, you'll feel like the master thief in your own heist movie. Just make sure the alarms don't go off, because they're not nearly as forgiving as the reels in this game.
Target Audience and Overall Impression
Agent Destiny is one casino slot game that is sure to appeal to a broad range of gaming enthusiasts. Whether you are a seasoned pro or a beginner, you are guaranteed to love the thrill of spinning the reels and unlocking the game's exciting features.
The game boasts a vintage comic book style that will appeal to those who have a love for all things retro. From the visually stunning graphics to the engaging sound effects, Agent Destiny offers an immersive and entertaining gaming experience like no other!
If you're looking for a game that keeps things interesting, then Agent Destiny is definitely worth a spin! With features such as free spins, linked reels and colossal symbols, players are sure to be entertained for hours on end. And if you're lucky enough, you might just earn yourself a big win too!
Overall, Agent Destiny ticks all the boxes when it comes to a top-quality slot game. So if you're a fan of comic book-style visuals, engaging sound effects and exciting features, be sure to give this game a try!
FAQ
How many paylines are there in Agent Destiny?
There are 20 fixed paylines in this game.
What is the maximum payout in Agent Destiny?
The maximum payout in Agent Destiny is up to 5000x.
What are the special features in Agent Destiny?
The special features in Agent Destiny include locking reels, colossal symbols, free spin bonus, and linked reels.
How do I activate the bonus round in Agent Destiny?
The bonus round in Agent Destiny is activated by landing three, four, or five scatter symbols. These scatters are also wild, so they replace any symbol within a payline to get a winning combination.
What is the most valuable symbol in Agent Destiny?
The most valuable symbol in Agent Destiny is the wild symbol, paying out 60x the winning bet when five matching symbols land on the same payline.
Are there any other similar slot machines to Agent Destiny?
Yes, Microgaming has produced the Agent Jane Blonde slot, which is also a spy themed slot machine.
What is the RTP of Agent Jane Blonde?
The theoretical Return to Player (RTP) of Agent Jane Blonde is 96.10%.
How many paylines are there in Agent Jane Blonde?
There are ten selectable paylines in Agent Jane Blonde.
What we like
Exciting features like Linked Reels and Colossal Symbols
Free Spin Bonus increases your chances of winning
Comic book-style visuals and quality sound effects
Wild symbol pays out up to 60x the winning bet
What we don't like
Play Agent Destiny Free | A Retro Spy-Themed Slot Game