African Simba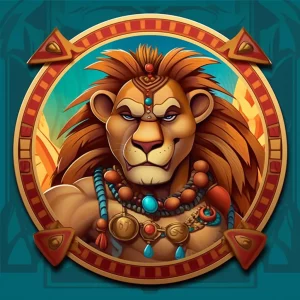 Ah, African Simba. A slot game that offers players the chance to go wild with winnings! This Novomatic game has five reels that feature a plethora of African critters, from lions to elephants and everything in between. And with 243 paylines, players can win in more ways than one. Who doesn't love numerous winning combinations?
But let's be honest. No one wants to hit the Spin button over and over again. That's why African Simba also offers an Autoplay function. It allows for uninterrupted gameplay, so you can sit back, relax, and imagine you're on an African safari without having to lift a finger. Unless, of course, it's to click the Autoplay button.
In conclusion, African Simba is a great choice for players who love animals and want to win big. Just try not to get too excited when the lions roar; you don't want to scare away all the other animals. Unless, of course, you're trying to make them run towards your winning paylines. Then go wild!
Maximum Win
Are you after the big bucks? Well, look no further! The maximum win you can snag in this game is a mind-boggling jackpot worth $50,000!
Who knows what you could do with all that cash. You could commemorate the game in your own unique way – maybe going on a safari yourself or indulging in some fine African cuisine.
Just remember, though, if you don't win the jackpot, don't go roaring mad like a lion. There's always next time, and if all else fails, you'll have a whale of a time playing African Simba!
Theme and Design
Are you ready to go on a wild adventure in the African savanna? Then, African Simba is the slot game for you! This game is all about the king of the jungle, Simba the lion and the beauty of the African landscape.
But let's talk design because let me tell you, the graphics in African Simba are stunning! The warm color palette with shades of orange, brown and green, gives the game a realistic feel. The animals are beautifully crafted, making it feel like you are actually on a safari. The landscape may lack special effects and animations, but it still gives a great visual appeal. Now, if only we could hear some tribal music, that would have been the cherry on top. 😉
Bonus Round: Free Spins and Triple Wins!
Are you ready to triple your wins and earn some free spins? Then keep your eyes peeled for the Scatter symbol in African Simba! If you manage to land three, four, or five of these symbols on the reels, you'll trigger the exciting bonus round.
Now, let's be honest – who doesn't love free spins? And with 12 of them up for grabs in the African Simba bonus round, you'll have the chance to rack up some serious earnings without risking any of your own money. It's like having your cake and eating it too (just don't tell your dentist).
Not only will you get free spins in the bonus round, but all of your wins during this feature will be tripled. That's right, TRIPLED. So, if you're lucky enough to hit a big payout during the free spins, you could be looking at a very healthy bankroll by the time it's all said and done.
In summary, the bonus round in African Simba is definitely worth playing for. It adds an extra layer of excitement to the game, and gives you the chance to earn some serious cash. And let's be real, who wouldn't want to see their winnings tripled? So, get spinning and see if you can trigger the bonus round!
Gamble Your Way to Riches with African Simba's Gamble Feature
Ready to up the ante in your slot game experience? Then you'll want to check out African Simba's Gamble Feature. Brace yourself as this heart-pumping feature lets you double your winnings– or lose it all to the lions. You heard that right– the lions. If you're a daredevil who loves to take risks, then this is the feature for you.
But let's start with the basics. How does the Gamble Feature work? It's simple: after any win, players can choose to go for it all or keep their winnings and move on. If the former is your choice, then you'll be taken to a separate screen where you'll have to choose between red or black. If your guess is correct, then congratulations! You've just doubled your earnings. Not too shabby, right?
So what's the catch? Well, if your guess is wrong, then you'll lose all your winnings and be sent back to the base game. It's a gamble, all right, but that's what makes it so thrilling. The excitement of possibly doubling your earnings and the fear of losing it all will keep you on the edge of your seat.
African Simba's Gamble Feature is not for the faint of heart, but that's what makes it stand out from other online slot games. It's a great addition to the game that adds another layer of excitement and risk. Are you ready to take the plunge? Give it a try and see if you have what it takes to beat the odds.
FAQ
What is the theme of African Simba?
The theme of African Simba is the African savanna and its diverse wildlife, fronted by the lion king himself, Simba!
How many paylines does African Simba have?
African Simba has 243 paylines.
What is the minimum bet in African Simba?
The minimum bet in African Simba is $0.2.
What is the maximum bet in African Simba?
The maximum bet in African Simba is $100.
What is the Wild symbol in African Simba?
The Wild symbol in African Simba is Simba himself, who acts as a substitute for all other symbols except the Scatter.
What is the Scatter symbol in African Simba?
The Scatter symbol in African Simba is represented by a landscape image with the Kilimanjaro in the background.
What happens when the Scatter symbol appears in African Simba?
When the Scatter symbol appears three, four, or five times, it triggers the bonus game awarding 12 free spins and tripling all wins.
Is there a Gamble feature in African Simba?
Yes, after any win, players can choose to try their luck in the Gamble feature, with a 50% chance of doubling their earnings.
What we like
Numerous winning combinations
Autoplay function for uninterrupted gameplay
Realistic graphics and warm color palette
Bonus round and Gamble feature increase excitement
What we don't like
Lack of special effects and animations