Magic Oak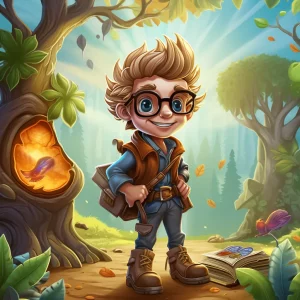 Featuring 20 fixed paylines, Magic Oak is a 4×4 slot game that's loaded with hidden surprises. The minimum bet is a mere $0.01 per line – so cheap you might just win every time! Be warned though, the maximum total bet is $100. To make things even more interesting, players can choose an automatic spin range between 10-500. Your odds of winning are pretty good too, with an RTP of 96.71%.
If you want to walk away a winner, make sure you get at least 4 symbols – but don't get too greedy, the max is 16 – in adjacent positions. Plus, keep an eye out for the Wild symbol. It's tricky and alluring, subsituting all the symbols except Scatter and increasing your chances of winning big.
Bet on Your Luck: Magic Oak Betting Options and Limits
Hold onto your hats, high rollers! The minimum bet to join the enchanted forest in Magic Oak is $0.01 per line, with 20 fixed paylines. That's cheap enough for even the biggest penny pinchers, but doesn't mean you'll miss out on any of the excitement.
And for those willing to risk it all? The highest total bet that Magic Oak offers is a whopping $100. So, go ahead and break open that piggy bank – just make sure you've got what it takes to handle the game's mystical, high-stakes twists and turns!
Symbols and Paylines: A Forest Full of Fun
Did your fuzzy dice bring luck on your last casino visit? Then, it's time for you to explore the enchanted woodlands of Magic Oak – this slot game's home! Caution: Wild animals and playing card suits may accompany you on your journey.
For as low as $0.01, players can place their bets and win big. Make four symbols appear on Magic Oak's reels, and you could be $0.05 richer! Want more? How about $4 for scoring sixteen symbols?
Speaking of scoring, the cash prizes? They are something worth howling about! The owl can pay out a maximum of $50, while the fox and rabbit high-five you with $12. But hey, don't forget about your other furry friends like the raccoons and boars whose payouts range from $15 to $25 respectively. To win, keep your eyes on the prize as 4-16 symbols must appear in adjacent positions.
Get wild and scatter with Magic Oak
If you're looking for some excitement in your online slot game, the Wild and Scatter symbols in Magic Oak might just be your ticket! The Wild symbol is like a chameleon, blending in with any other symbol and boosting your winnings by substituting everything except the Scatter. And if you're lucky enough to get 16 Wild symbols at once, you'll get a payout of $250!
As for the Scatter symbol, well, let's just say that it's like the party animal of the slot game. You need four Scatter symbols to activate the free spins, and then it's time to let loose and enjoy the ride. Click on each Scatter to reveal your prizes, which can be 2, 3, or 4 free spins (hey, it's better than nothing!). Just remember, during the free spins, the Scatter can't make an appearance on the reels.
Unlocking the Magic Oak Special Features and Bonuses
Prepare yourself for some enchanted gameplay as Magic Oak – a mystical slot game with a woodland theme – introduces an exciting feature. Next to the game grid, there is a plant that emits blue and yellow glows. Your eyes will be drawn to them as they accumulate and hover next to the reels. Once unleashed, the blue glow will magically transform all same-type symbols on the reels into the coveted Wild symbol. As for the yellow glow, cast it onto any one symbol on the grid and watch it transform into the Wild symbol. Trust me; the forest spirits have your back with these tricks up your slots sleeve!
FAQ
What is the minimum bet for Magic Oak?
The minimum bet per line is $0.01.
Can I modify the 20 paylines of Magic Oak?
No, the paylines are fixed and cannot be changed.
What is the highest total bet for Magic Oak?
The highest total bet is $100.
What is the minimum and maximum number of automatic spins for Magic Oak?
You can choose between 10 and 500 automatic spins.
What is the RTP of Magic Oak?
The RTP of Magic Oak is 96.71%.
What is the function of the Wild symbol in Magic Oak?
The Wild symbol can substitute all symbols except the Scatter and can pay out up to $250 if 16 times appear on the reels.
How can I activate the free spins in Magic Oak?
You need to get 4 Scatter symbols to activate the free spins.
What is the function of the colored glow in Magic Oak?
The blue glow replaces all symbols of the same type with the Wild symbol, while the yellow glow replaces a single symbol with the Wild symbol.
What we like
Variety of betting options and limits
Exciting gameplay mechanics and features
Generous payouts for winning combinations
Free spins feature adds extra excitement
What we don't like