Mad Cars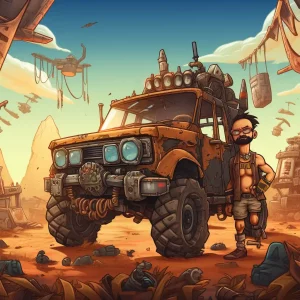 Get ready to race through the post-apocalyptic wasteland in Mad Cars, the online slot game that will have you revving your engines. The game grid is set on a rusted industrial site, and with 5 reels and 6 rows, players have 50 pay lines to choose from. You'll need to land three identical symbols from left to right on those pay lines to win big.
With a minimum bet of $0.10, automatic spins, and an RTP of 96.39%, Mad Cars gives you plenty of opportunities to rev up your engine and drive off into winnings. The medium volatility guarantees you won't run out of gas, and its elongated design will leave you breathless. So fasten your seat belt and join in on the chaos!
Symbols and Bonuses – Buckle up for Mad Cars!
If you're feeling low-value and need a pick-me-up, Mad Cars has you covered with its 8 basic symbols including tools and dice. But keep your eye out for the 4 protagonists – they're high-value and ready to take you on a wild ride! And speaking of wild rides, you won't want to miss the special symbols like the Instant Prize Car, Scatter Car, and Gas Symbol that can lead to big winnings.
While there are no Jokers or Scatters for free spins in this game, don't despair! You can still win big with the Car Bonus – just keep an eye out for the right conditions. And for the real thrill-seekers out there, the Mad Bonus Feature will have you racing for the chance to win a high sum and bragging rights as the ultimate road warrior.
Get Rich and Stay Wild with Mad Cars
Ready to ride into the danger zone and make some dough? With Mad Cars, players have the chance to win big without risking it all. The game's affordable minimum bet of $ 0.10 means you can keep playing without getting stuck in the slow lane.
When it comes to volatility, Mad Cars hits the sweet spot – not too hot, not too cold. You might have to wait a bit for the big wins to come, but rest assured – with an RTP of 96.39%, they'll be worth the ride. Plus, regular play can land special symbols that offer some major payouts.
But the real highlight of the game is the Mad Bonus Feature – a high-stakes car race that could have you cruising away with a hefty sum. We're talking serious road rage. So buckle up, put the pedal to the metal, and let's get this show on the road!
Play Anywhere: Mad Cars on All Devices
Rev up your engines and get ready to play Mad Cars on any device! This slot game runs smoothly on desktops, smartphones, and even tablets! It's so accessible, you could play it on your smart fridge (although we don't recommend it)!
Mad Cars offers the same high-speed experience, no matter which device you choose to use. So, whether you're dodging traffic on your commute, or lounging on the couch, you can take Mad Cars for a spin!
Mad Cars: Foolish Fun Adventures
Mad Cars is a great post-apocalyptic themed game that proves that the end of the world can be a hilariously fun and foolish adventure. With its cartoon-style graphics, Mad Cars is a motley crew of crazy characters that could make even Mad Max roll his eyes.
The game's graphic design beautifully contrasts the colorful carnage against the barren backdrop of an abandoned industrial site. It's like watching a cartoon on LSD. Another notch in the belt that shows that the designers of Mad Cars definitely had some fun with this one.
Last but not least, the game's metallic and industrial soundtrack gives the game just the right amount of ambiance to make players feel the full driving force of their destructive fury as they plow through pipelines and scaffolding with reckless abandon.
FAQ
What is the minimum bet to play Mad Cars?
The minimum bet is $ 0.10.
What is the RTP for Mad Cars?
The RTP for Mad Cars is 96.39%.
What is the volatility of the game?
Mad Cars has a medium volatility.
Are there classic Scatter and Wild symbols in Mad Cars?
No, in this slot, there are no Jokers that replace symbols or Scatters that give free spins.
Are there automatic spins in Mad Cars?
Yes, automatic spins from a minimum of 5 to a maximum of 100 are present.
Can I play Mad Cars on my cell phone?
Yes, Mad Cars is available for every device.
What is the Mad Bonus Feature?
The Mad Bonus Feature is a car race. Winning the challenge is equivalent to taking home a very high sum.
Is it difficult to understand the function of special symbols in Mad Cars?
Although it may seem challenging at first, it will be enough to make a few trial spins to become familiar with all the bonuses.
What we like
Unique post-apocalyptic theme
Elongated game grid with 50 fixed pay lines
Special symbols for high-value winnings
Playable on all devices
What we don't like
No free spin feature
Limited number of bonus features